Silicon Valley-based Founder Institute Launches Pre-Seed Startup Accelerator across the Midlands - News Anyway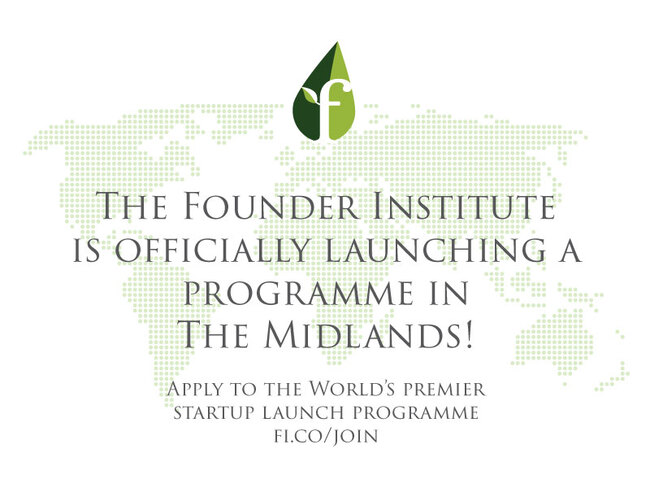 Online programme aims to help build 20 promising technology companies per year 
The Founder Institute (FI.co), the world's largest pre-seed accelerator, announced today that it is officially launching its newest chapter for the Midlands. Based in Silicon Valley and with chapters across 200 cities, the Founder Institute provides high-potential entrepreneurs and teams with the devoted support network and structured growth process needed to get to traction and funding. Any aspiring entrepreneur or team interested in building an enduring technology company across the Midlands is invited to apply to The Birmingham & the Midlands Virtual 2021 Founder Institute at http://fi.co/apply/birmingham.
In an effort to ensure the health and safety of the programme's mentors, partners, and participants, this Founder Institute cohort will be held completely online, allowing anyone to build a business alongside some of the Midlands's top entrepreneurs and investors from the comfort of home. The Birmingham & the Midlands Virtual 2021 Founder Institute will also host a series of free online startup events, where attendees can learn how to build a company and learn more about the programme. See the full list of events at http://fi.co/events/birmingham.
Leading the efforts to launch the Founder Institute across the Midlands are local startup leaders: Assim Ishaque, Sally Dhillon, Drew Currie and Steve Hooper
In addition, many of the region's top startup investors, founders, and executives have expressed interest in mentoring entrepreneurs in the programme:
Eric Collins: As seen recently on Channel 4's The Money Maker, CEO Impactx – biggest investor of underrepresented groups
Maxine Laceby: Founder & CEO Absolute Collagen
Roger Wood: Director, Midven incorporating the Midlands Engine Investment Fund
Randa Bennet: CEO, vHelp.co.uk
Cas Majid: CEO, Wow Group of Companies, Executive Director, Birmingham Tech Week and former President, Asian Business Chamber of Commerce
Deepak Jayaprakash: Chief Financial Officer, Moteefe & ex-Expedia
Emilie Normann: Head of Research, Analysis and Higher Education, Foundation for Entrepreneurship and the Technology Pact
Joel Blake OBE: President Commonwealth Chamber of Commerce
Melissa Snover: CEO & Founder, Nourish3d
Kali Bagary: Chairman, TechFINIUM Limited
Kari Lawler: Barclays Entrepreneur Awards Midlands Icon of the Year, Founder of Youth4AI & UK Space Agency SatelLife Winner
Naomi Nash: Tech Nation & diversity in tech campaigner
Viola Jardon: Lead, Cambridge Institute for Sustainability Accelerator
Navdeep Bains: Silicon Valley-based financial consultant, ex-Hewlett- Packard & now Pure Storage
Nick Gostick: Director, Smart Innovation Hub, Keele University
Steff Wright: Chairman, Gusto Group
Richard Bohan: Founder of Blockchain Capital & CEO & Co-founder Crypto Capital Investments
Safraz Ali: Managing Director, Pathway Group Limited
Pam Sheemar: Director, Birmingham Tech & Global Co-Chair Multicultural Network NatWest
Mike Feerick: CEO, Alison Online Training & social philanthropist
Steve Hobbs: Director, Ask Better Questions
The Founder Institute Birmingham & the Midlands Virtual 2021 pre-seed accelerator program begins on September 28th, 2021, and aspiring and early-stage entrepreneurs looking to build solutions for the future will have the opportunity to:
Get constant feedback and regular office hours with 50+ Birmingham Mentors, investors, and entrepreneurs.
Make quick progress on their business using a proven, structured process to get to traction and funding that has helped alumni build great products and raise over $1BN in funding.
Get fast-tracked to a suite of post-programmes, including Funding Lab, to continue getting expert support for years to come.
Expand their support network to include startup founders, CEOs, and investors from the Founder Institute's global network of 5,000+ alumni and 20,000+ mentors across 200+ cities
Anybody who is interested can apply to The Birmingham & the Midlands Virtual 2021 Founder Institute at http://fi.co/apply/birmingham, and those that apply by the Early Application Deadline (August 1st, 2021) are eligible for reduced pricing.
Learn more about the Founder Institute at FI.co

—-
About the Founder Institute

The Founder Institute (FI.co) is the world's largest pre-seed startup accelerator. In the programme, early-stage entrepreneurs and teams build their business alongside a critical support network of startup experts that share equity in their success, and through a structured and challenging business-building process that has helped alumni raise over $1BN. Leaders of the world's fastest-growing startups have used the Founder Institute to raise funding, get into seed accelerators, generate traction, recruit a team, build a product, transition from employee to entrepreneur, and more. Based in Silicon Valley and with chapters across 200 cities and over 90 countries, the Founder Institute's mission is to Globalise Silicon Valley and empower talented and motivated entrepreneurs to build companies that will create one million new jobs.
The Founder Institute was founded in 2009 by Adeo Ressi and Jonathan Greechan. It is operated out of Palo Alto, California.
Press Contact: Jonathan Greechan (j AT fi DOT co)
Published by PRFire