5 tips for overcoming your pandemic screen addiction - Journal of Accountancy
---
5 tips for overcoming your pandemic screen addiction - Journal of Accountancy
Posted: 06 May 2021 05:03 AM PDT
Even before the pandemic, many Americans spent nearly half their days staring into a screen. Market research firm Nielsen found the average American logged nearly 12 hours of screen time with their televisions, smartphones, and computers every day in 2019.
And that number has likely gone up over the past year as a result of the massive shift to remote work, increased dependence on virtual gatherings, and the never-ending influx of news.   
"People are more glued to their devices than ever," said Doreen Dodgen-Magee, Psy.D., a psychologist and author based in Portland, Ore. "We feel like we're doing due diligence, when in reality it's creating extra, what I call ambient anxiety."
Dodgen-Magee said technology overuse can lead to a decreased capacity to focus on one thing at a time, inability to resist distractions, and increased difficulty returning to a calm state of mind. Screen addiction can also contribute to physical issues, including chronic headaches, eye strain, and posture problems.
"The body has to contort itself into all sorts of pretzels," said Nancy Colier, a New York-based psychotherapist and author of The Power of Off: The Mindful Way to Stay Sane in a Virtual World. "Simultaneously, people are experiencing depression at epidemic rates, and the screen has come to represent not just the absence of sunshine, but also, the absence of change and possibility — in a word, hope."
While most people don't have the option to step away from screens entirely, experts maintain that there are ways to restore balance and use technology in healthier ways.
Here are five tips for overcoming your pandemic screen addiction.  
Recognize the issue. Just as with other addictions, the first step to beating your screen viewing compulsion is admitting you have a problem.
Technology dependence isn't officially recognized as an addiction in the United States, but Dodgen-Magee pointed out that the compulsion has many of the same markers as other addictions and initiates release of the same neurotransmitters. 
Most people don't have the option of going cold turkey when it comes to technology because we depend on it to do our jobs and communicate with others, so Dodgen-Magee recommends dealing with a screen addiction in a similar way as you would an eating disorder. We have to eat in order to live, and we need to use technology to function in the world. 
"Rather than thinking about things like cold turkey or technology fasts, I am a big believer in learning to take steps of moderation," she said.
Instead of trying to go without technology entirely, she recommends setting your wireless router to turn off and on at certain times of the day, putting a passcode on your phone or laptop, organizing your cellphone so there aren't a bunch of apps cluttering your home screen, and turning off all unnecessary phone notifications. Anything you can do to tone down digital stimuli and encourage moderation will help you wean yourself off your devices, she said.
Amplify your sensory environment. As you work to cut back screen time, it can help to bulk up on the sensory offerings in your environment.
"If we just say 'no' to our devices and screens, but we haven't given ourselves other options, we will fail every time," Dodgen-Magee said.
She recommends making your spaces smell great with candles or oil diffusers and keeping small fidget toys around that don't involve cognition. For example, rather than a cognitive toy like a Rubik's Cube, consider having a Koosh ball or rail spinner on your desk to capture your attention and give you something to do other than interact with screens.
Delineate your workday. The rapid shift to remote work has blurred the line between work and leisure, so it can help to draw your own boundaries.  
Colier recommends turning off all technology for the first half hour of the day in order to set your own intentions rather than allowing your inbox or the news cycle to dictate your day. She also urges people to shut down all devices including televisions for the last hour of every day and pick up a book, simply be quiet, or listen to relaxing music to allow your body and mind to calm down.
In addition to instating analog bookends to your days, it can also help to sprinkle in tech-free breaks between tasks. Every 90 minutes, or after you've completed a chunk of work, Colier recommends getting up and taking a tech-free walk around your neighborhood or house as a way to clear your head and shift gears from your head to your body, from being outwardly focused to being inwardly focused. 
"Get away from your phone for at least a half an hour a day," she said. "And if you can get away from technology for a full day once a week, it changes your whole life."
Have a clear purpose to your screen time. Internet rabbit holes can easily eat up hours of the day if you're not careful. In order to avoid mindless scrolling, make sure you have a clear purpose every time you check your inbox, open a tab, or pick up your phone.  
Pause before you pick up your phone or turn on your computer to consider what your goals are, recommends Mari Swingle, Ph.D., a practicing clinician based in Vancouver and author of i-Minds: How and Why Constant Connectivity is Rewiring our Brains and What to Do About it.
Increasing your awareness around your habits and setting time limits on your usage can help you snap out of reflexive patterns.
Consider choosing set times throughout your day to check your email, rather than grazing through your inbox all day. And if you find you habitually use your phone to check the time and then get sucked in by notifications, consider getting a watch. Swingle pointed out that a phone isn't just a phone anymore, so if you want it to be a tool of communication again, you're going to have to change your behaviors and adjust the settings on your devices.
"You can alter your behavior slightly so it's about the human connection as opposed to the stimulus of the ding," Swingle said. "Make sure there's a purpose to every activity. If you're going in because you're bored or want to feel good, that's a huge warning sign."
Devote some time to silence. Research has shown that 10 minutes of meditation a day can have an outsized influence on many aspects of our lives.
Those 10 minutes don't have to look the same for everyone. You can spend them practicing mindfulness meditation, directed boredom, or even just sitting quietly. Regardless of how you spend that time, the practice has the potential of reducing stress and increasing the gray matter in the regions of the brain that are being depleted by screen use, according to Dodgen-Magee.  
Aside from the documented benefits of daily meditation, devoting time each day to quiet reflection and breathing offers an excellent excuse to step away from our screens.  
"Technology screams information at us all day," Colier said. "We appreciate the information, but it creates a cacophony in our mind, and one of the most healing experiences we can offer ourselves is silence."
— Hannah Pitstick is a freelance writer based in North Carolina. To comment on this article or to suggest an idea for another article, contact Chris Baysden, a JofA associate director, at Chris.Baysden@aicpa-cima.com.
Inmates sent home during COVID-19 got jobs, started school. Now, they face possible return to prison - USA TODAY
Posted: 05 May 2021 03:00 AM PDT
In the weeks and months since he was sent home, RJ Edwards found a job, bought a car, got an apartment for him and his mother and started working toward a bachelor's degree in computer science.
He works as an operation manager for a solar company in Tampa, Florida, while taking online classes at Hillsborough Community College. He wears an ankle monitor and calls his halfway house every day to report his whereabouts – part of the terms of his home confinement. Twice a week, he attends drug therapy sessions, a consequence from years of drug and alcohol abuse. He also paints, a skill learned after nearly a decade of imprisonment.
Nine months since leaving prison, Edwards faces the possibility of being forced to return – a devastating scenario for him and potentially thousands of others who spent the past year rebuilding their lives.
Edwards, 37, is among the more than 24,000 nonviolent federal prisoners who have been allowed to serve their sentences at home to slow the spread of COVID-19 inside prisons. But a Justice Department memo issued in the final days of the Trump administration says inmates whose sentences will extend beyond the pandemic must be brought back to prison.
Isolated and scared: The plight of juveniles locked up during the coronavirus pandemic
Formerly incarcerated woman, released under the CARES Act, fears being sent back to prison
After 16 years in prison, Gwen Levi was released on home confinement under the CARES Act. Now, she fears she will be sent back after the pandemic.
Jessica Koscielniak, USA TODAY
Advocates urged the Justice Department to rescind the memo, which was issued by the agency's Office of Legal Counsel. They say it defeats the whole idea of rehabilitation and contradicts President Joe Biden's campaign promise to allow people with criminal pasts to redeem themselves.
"They let us go, and we reintegrate, and then it feels like nothing matters. All the hard work you put in, it doesn't matter. We're just a number to them," said Edwards, who has five years left to serve.
During a congressional hearing, Sen. Chuck Grassley, R-Iowa, raised concerns about sending people back to prison, especially those who have been following the rules.
Of the 24,000 prisoners who were allowed to go home, 151 – less than 1% – have violated the terms of their home confinement and three have been arrested for new crimes. 
"This highlights how effective home confinement can be," Grassley said.
Amid ramped up vaccination efforts, prison advocacy groups fear that inmates, many of whom have been out for a year, will soon be brought back to prison.
"These people are twisting in the wind, and they're growing anxious every day," said Kevin Ring, president of Families Against Mandatory Minimums. "It's not simply that (the Justice Department) should fix it. They should fix it yesterday."
"This doesn't seem that difficult," said Ring, who himself served time in federal prison. "They know how to change Trump policies they don't like, right away."
Reincarcerating people who, for the past year, have been law-abiding would disrupt their rehabilitation and would do little to improve public safety, according to a letter more than two dozen groups sent to Attorney General Merrick Garland last month.
"Establishing community ties and deepening family connections are known to be significant positive factors for reducing recidivism," according to the letter. "Disrupting that process would mean disrupting safe re-integration into society and damaging networks that are vital to improving public safety."
Keeping people behind bars is also costly.
In 2018, the annual cost of housing just one federal prisoner was about $37,000 or $102 per day. 
Federal Bureau of Prisons Director Michael Carvajal pushed back against criticisms that officials will disrupt people's lives. 
"If they have successfully been out there, we're going to use good judgment and common sense and work within the law to make sure that we place them appropriately," Carvajal told lawmakers last month. "I don't want somebody to believe that the Bureau of Prisons somehow doesn't want to let people out. That's not accurate. We want to let them out within our authorities and within the law."
Officials said they don't believe the issue is urgent.
A statement provided by the Justice Department said the Bureau of Prisons can choose to keep inmates on home confinement if they're near the end of their sentences. For inmates with years left to serve, the prospect of going back to prison is not imminent because Biden extended the COVID-19 national emergency declaration, and the public health crisis is expected to last for the rest of the year, the department said.
"There's no rush" to bring prisoners back, Carvajal told lawmakers. 
Federal law allows inmates to serve either the remaining 10% or six months of their sentence, whichever is shorter, through home confinement.
The Coronavirus Aid, Relief, and Economic Security Act, signed last year by President Donald Trump in response to the pandemic, allowed prison officials to send home thousands of nonviolent and elderly inmates who had not met these criteria. Among those released were former Trump campaign chairman Paul Manafort, who has since been pardoned, and Trump's former personal attorney Michael Cohen.
According to the Justice Department memo, the coronavirus relief act was not intended to allow inmates to stay on home confinement after the pandemic, and the Bureau of Prisons must be prepared to potentially take "a significant number" of prisoners back to its facilities.
It's unclear exactly how many inmates will have to go back to prison once the pandemic is over.
In the past year since they were sent home, the majority of these inmates have finished their sentences or have met the criteria to stay on home confinement.
As of mid-April, 4,500 inmates on home confinement would not have qualified if not for the pandemic, although many of them are likely to meet the criteria in the next months. About 2,400 have more than a year left in their sentence, Carvajal told lawmakers.
A little more than 300 have five years left to serve.
That includes Edwards, who was sentenced to 17 years for wire fraud.
He was sent home in July. By August, he found a job.
If he's sent back to prison, his mother, who sometimes needs help getting out of bed in the morning, will be by herself, Edwards said. His brother can help, but he does not live in the area.
Edwards said he found out about the memo Jan. 28, his birthday, two weeks after it was issued.
"I remember the feeling, just the pain, the shock. It's really been hard ever since, living every day thinking about that. It's always on my mind," he said. "It just feels like there's a black hole and nothing's happening. It's scary."
Gwen Levi said sending her back would not only put her at risk of getting COVID-19; it's also costly and impractical. The 75-year-old, who has four years left to serve, has degenerative joint disease, hypertension, cataracts and is in remission from lung cancer.
Levi was serving more than 30 years for drug conspiracy charges. It was reduced to 24 years as part of the First Step Act, a Trump-era criminal justice bill that shortened sentences for nonviolent drug crimes.
Last summer, Levi left prison, believing it was for good. 
She has since immersed herself in volunteer work for criminal justice groups in Baltimore. One of her sons started plans for a family business, she said.
"Returning me back would shut down all the progress that I am making," she said. "We're beginning to think about things for the future. To have to go back to the past would be devastating."
COVID-19 in prisons: Feds to expand home confinement for elderly inmates to avoid larger coronavirus outbreak
Like Edwards, Jesse Rodriguez was sent home last summer and found a job. He's a certified technician for a heating and air conditioning company in Odessa, Texas, and attending online classes at Odessa College. 
He, too, thought he would spend the rest of his sentence outside prison. Rodriguez, 45, has four years left in his 15-year sentence for drug charges.
"You let us out for a reason, because we weren't a threat to society. You let us join back with our families. I mean, it's harder for the family than it is for us," Rodriguez said. "Your family, they miss you when you're gone."
Rodriguez has four children: two daughters in their 20s and two sons, ages 12 and 13. Sending him back to prison would jeopardize about $600 in child support payments he makes every month for his boys, he said. Rodriguez fears losing their father again would lead them down the wrong path. 
"It's important that I stay in their lives," he said.
For Edwards, going back to prison means all his hard work this past year would've been a waste.
"If I knew I was going back," he said, "I wouldn't have made all the choices I made."
He wouldn't have bought a car or rented a bigger apartment that his mother wouldn't be able afford by herself with her Social Security income. 
He wouldn't have started college. 
Advocates say coming auto insurance change to harm past crash victims needing critical care - FOX 2 Detroit
Posted: 06 May 2021 09:50 PM PDT
FOX 2 - New auto insurance reforms are set to take effect in July. But there could be unintended consequences that some say would hurt those most vulnerable as they recover from life-threatening auto accident injuries in Michigan.
It is part of the auto insurance reform that went unnoticed until it was signed into law - and now if lawmakers don't do something about it - there will not be critical care for people who cannot care for themselves.
In 2005, Maureen Howell's son was critically injured in an auto crash.
"He went around the curve in St. Charles, two minutes from home, and reached for his cell phone which had fallen on the floor, and went up a hill, went airborne, his car hit a tree head-on," said Maureen Howell.
Howell says her son who was studying to be a doctor, was injured so badly, he's has been forced to have around-the-clock care ever since.
"We were advised multiple times to take him off life support for his own good, but we just thought he had a chance for survival," she said.
Through the catastrophic claims fund, Maureen and her husband have been able to give the same acute care he's needed.
but because of the new auto insurance laws that go into effect July 1st, that's expected to change.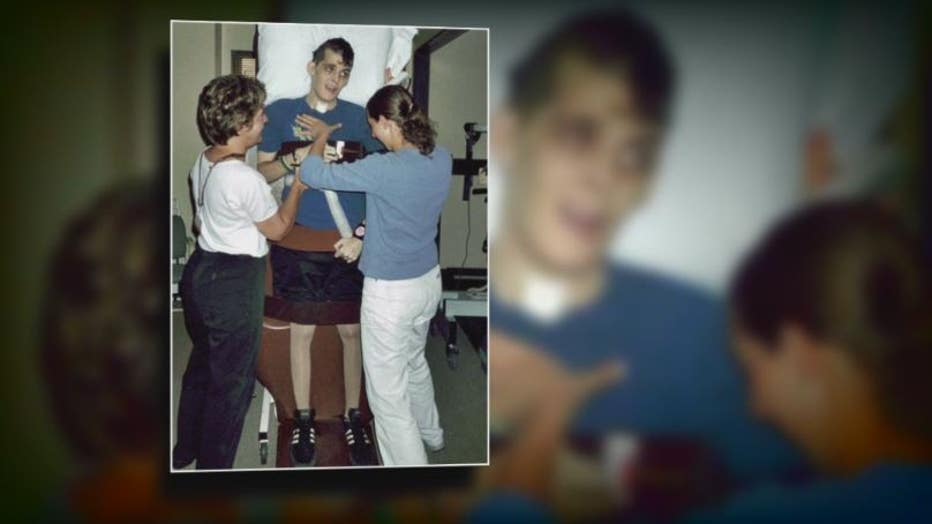 In 2005, Maureen Howell's son was critically injured in an auto crash. Now she says his medical care will end this July.
"Eighteen-thousand people being cared for from the Michigan Catastrophic Fund and all of those will lose their care they have right now," said Bob Mlynarek.
Insurance payment rates for home health care, nurses and caregivers will be cut by 45 percent..
Mlynarek who co-owns 1st Call Home Healthcare in Clinton Township, says thousands of nurses and health care aids will lose their jobs,  medical care facilities will be forced to close, and because relatives won't be able to afford 24-hour care - they will have to find other work.
On top of that, public long-term care facilities won't be able to accommodate the influx of thousands of catastrophic care patients.
"They are going to have nowhere to go, our system is not set up for it," said Mlynarek. "You are going to have people in wheelchairs dropped off at the hospital on July 2nd."  
Bob and Maureen are part of the Facebook group "We Can't Wait" which is pushing lawmakers to pass two bills that would eliminate the drastic payment cut and replace it with what's been described as a fair and reasonable fee schedule.
But they claim the bill is stuck in the insurance committee because of Republican Senate Majority Leader Mike Shirkey.  
In response - his office issued this statement:
"These are certainly difficult and heart-wrenching circumstances, and we will look at taking up additional reforms that may be necessary when the plan goes fully into effect in July."
By then, the group "We Can't Wait" fears it may be too late. Especially because many people don't realize that patients who are receiving catastrophic care right now, are not grandfathered in, and time is running out.
"Simply put - if your son didn't have the care he has ...?"
"He would have had died," Maureen said.