Remote-only, work-from-home job listings - Fast Company
---
Remote-only, work-from-home job listings - Fast Company
Posted: 21 Aug 2020 12:00 AM PDT
So you've been working from home since March. You don't miss the commute, and you've found you're actually more productive. Now you're having serious reservations about going back to the office.
Why not let the good times roll and just work from home forever? Take it from me: It's the best.
Also take it from me: It's not always easy to find remote jobs, especially when it comes to traditional job-hunting sites. Here's where to track them down.
1. Established Remote Companies
The Established Remote Companies page on Github is a great first stop if you're looking for companies with a remote-first mindset that have been around for a bit.
The list isn't exhaustive, but it does showcase only companies that have at least 50 employees and that hire across multiple time zones. It's also geared toward engineers, with a column for necessary coding skills, but many of the companies listed here hire remotely for other positions, too: marketing, HR, legal, and the like.
Start here to get a feel for what's available and who's who among some of the more serious players in the remote-first space.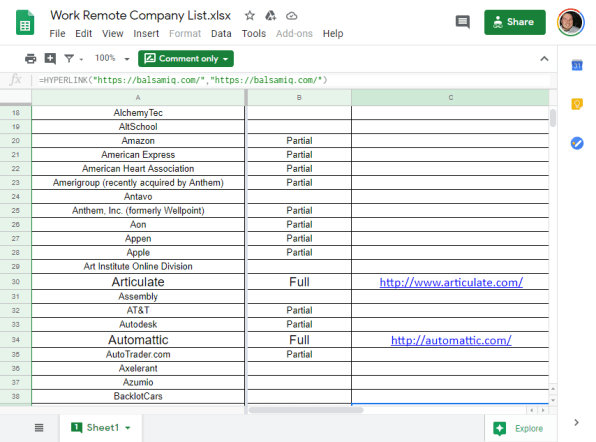 2. Work remote company list
If you'd rather drink from the firehose, there's a great shared Google Spreadsheet that contains a list of almost 300 fully and partially remote tech companies.
This one will require a little more work on your end, as most entries don't even contain links to available jobs to the respective sites, but as long as you're willing to do some cutting, pasting, and googling, there's plenty on offer here.
3. NODESK
Swing by NODESK.co for a whole bunch of great resources—articles, tools, and more—geared toward the remote work lifestyle, and then stay for its excellent remote jobs board, which pulls postings from more than 650 remote-friendly and remote-first companies.
The board is populated by tech jobs that can be searched by position type in nine categories. You can also  subscribe to the newsletter or Twitter feed if one of those options is more appealing to you.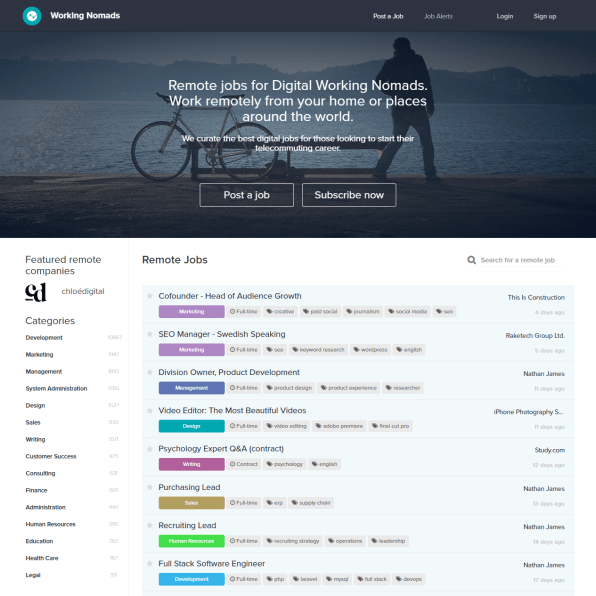 4. Working Nomads
Perhaps the broadest job aggregator on the list here, with 15 categories and helpful tags on each posting, Working Nomads is a great option that's got a little something for everyone: At last count, there were almost 25,000 remote jobs to choose from.
The site's newsletter is also hands-down helpful, letting you subscribe to only certain job categories and opt for daily or weekly updates.
5. Meerkad
Still haven't found what you're looking for? Try Meerkad. The site pulls in remote job listings from traditional job boards and company sites but also goes the extra mile by hand-curating jobs from Facebook groups, Twitter, Reddit, and several other sites.
The site is free, but to get the most out of it, you'll need to sign in with one of your social accounts and you'll be asked to answer a series of questions. Once you're a member of the community, you'll be able to post jobs, upload your résumé for others to find, and follow apply-now links to where the jobs are actually posted.
These 10 small cities could become the next work-from-home destinations - CNBC
Posted: 04 Sep 2020 07:22 AM PDT
The past few months, like most summers, have been a busy season for moving. While reports differ on whether 2020 is seeing a mass exodus from major cities or simply the acceleration of an ongoing and predictable trend, the reality of the coronavirus pandemic's impact on migration patterns is likely somewhere in between.
With that said, recent home price gains suggest there may be more demand in relation to supply for lower-priced homes in affordable suburban and rural areas. For movers hoping to take advantage of an extended or permanent work-from-home arrangement, it may be helpful to know where their new neighbors have a history of succeeding and supporting their community while working remotely.
For example, 20.2% of residents in the Truckee-Grass Valley region of California regularly worked from home in 2018, according to a Bloomberg analysis of the U.S. Census Bureau's 2018 American Community Survey. By comparison, at a national level, just 5.3% of U.S. employees reportedly worked from home that year.
The analysis ranks the top metropolitan and micropolitan areas (ranging in population from 10,000 to 500,000 people) with the highest shares of people who regularly worked from home in 2018, doing so at two to four times the rate of the national average.
Other small cities with high shares of remote-working communities are scattered throughout Minnesota, southwestern Utah, northern Colorado and pockets of Florida. These smaller communities may offer residents the space and lower cost of living to invest in a home-office setup. A precedence of remote working communities could also indicate solid city-wide infrastructure to support teleworking, such as reliable internet connectivity or proximity to rising, mid-size cities that boast more job opportunities. Truckee-Grass Valley is about an hour's drive from Sacramento and three hours from San Francisco, for example.
Indeed, employers have been moving beyond major city limits for quite some time, says Mark Muro, a senior fellow with the Brookings Institution's Metropolitan Policy Program.
"There have been instances of people and firms moving out [of big cities], but in aggregate we still see concentration," Muro tells CNBC Make It. Referring to the new realities of social distancing due to the coronavirus, he says, "will the next five  years be the period it reverses? Maybe so. It might be better for the country."
According to Muro's research, more than 90% of the country's growth in innovation jobs between 2005 and 2017 happened in just five cities: Boston, San Francisco, San Jose, Seattle and San Diego. This labor market growth, and resulting concentration, has contributed to rising costs of living in these areas, greater income inequality and homelessness, while also drawing resources and investments away from neighboring metros.
A greater embrace for remote work could help redistribute economic opportunity, Muro says, and it could spur better innovation in technology, research and development: "I think we're leaving behind a lot of people and missing out on great ideas," he says.
Here are the top 10 small cities with higher-than-average shares of residents who worked from home in 2018, along with cost of living and housing information based on most recent Census data.
1. Truckee-Grass Valley, California
Share of people who work-from-home: 20.2%
Median household income: $66,299 per year
Median rent: $1,034 per month
Median home value: $456,000
Estimated population: 99,696 people
2. Faribault-Northfield, Minnesota
Share of people who work-from-home: 14.7%
Median household income: $53,125 per year
Median rent: $813 per month
Median home value: $148,400
Estimated population: 66,523 people
3. St. George, Utah
Share of people who work-from-home: 13.4%
Median household income: $55,061 per year
Median rent: $971 per month
Median home value: $261,800
Estimated population: 171,700 people
4. Boulder, Colorado
Share of people who work-from-home: 12.3%
Median household income: $66,117 per year
Median rent: $1,466 per month
Median home value: $645,600
Estimated population: 326,078 people
5. The Villages, Florida
Share of people who work-from-home: 11.7%
Median household income: $61,533 per year
Median rent: $1,752 per month
Median home value: $269,300
Estimated population: 128,754 people
6. Punta Gorda, Florida
Share of people who work-from-home: 11.6%
Median household income: $61,598 per year
Median rent: $998 per month
Median home value: $313,200
Estimated population: 184,998 people
7. Bend-Redmond, Oregon
Share of people who work-from-home: 11.5%
Median household income: $63,468 per year
Median rent: $1,185 per month
Median home value: $363,200
Estimated population: 191,996 people
8. Lawton, Oklahoma
Share of people who work-from-home: 11.4%
Median household income: $47,262 per year
Median rent: $828 per month
Median home value: $113,900
Estimated population: 125,696 people
9. Kapaa, Hawaii
Share of people who work-from-home: 10.7%
Median household income: $84,472 per year
Median rent: $1,360 per month
Median home value: $499,500
Estimated population: 72,133 people
10. Fort Collins, Colorado