Government to fund private tutors for English schools - The Guardian
---
Government to fund private tutors for English schools - The Guardian
Posted: 17 Jun 2020 04:06 PM PDT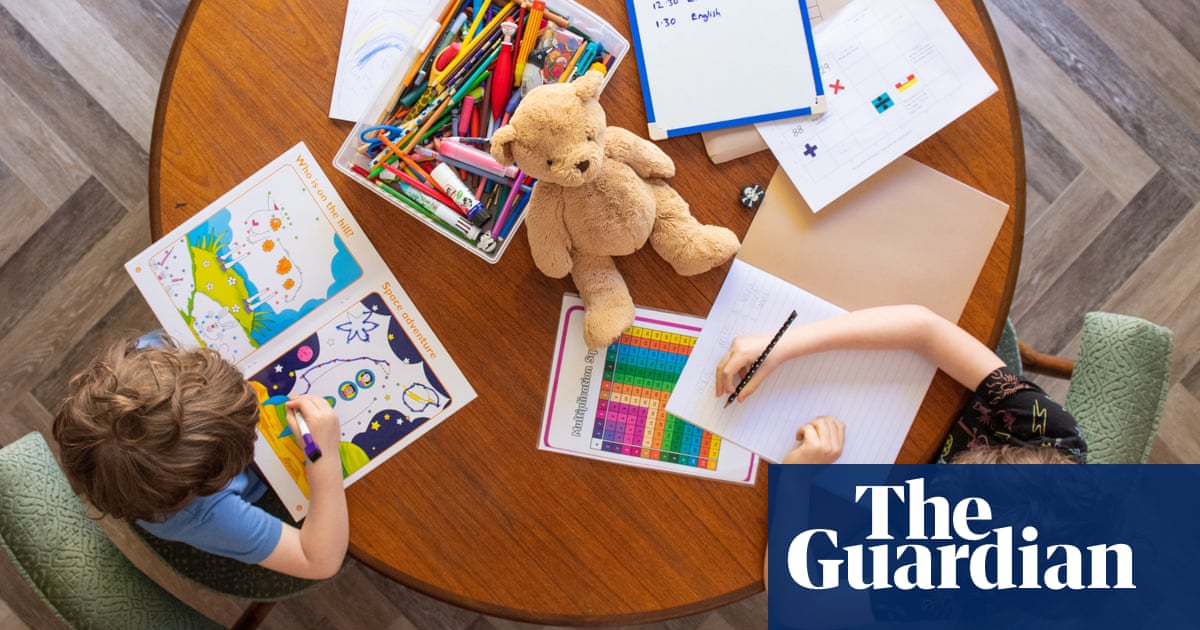 The government is set to announce a year-long national tutoring programme aimed at helping pupils in England to catch up on lost learning as a result of school closures due to the coronavirus pandemic, the Guardian has learned.
Under the plans, schools will be funded to hire private tutors from approved agencies to deliver one-to-one and small group lessons to pupils who have fallen behind with their studies after months out of school. Many have not accessed any remote learning throughout lockdown.
The multi-million-pound programme, to be funded by government, is expected to involve thousands of tutors and will be delivered in schools, with a mixture of online and face-to-face sessions, designed to support and complement pupils' regular school work.
The catch-up lessons will be available to pupils from all year groups in both primary and secondary and can be accessed by all schools, but will be targeted particularly at those serving disadvantaged communities where learning loss is likely to be greatest.
The detail of the comprehensive tuition scheme is being finalised ready to be announced later this week, as the government tries to head off scathing criticism of its handling of children's education during the pandemic.
One study last week found that around 2 million children in the UK have done little or no schoolwork throughout.
Union leaders reacted cautiously to the proposals, saying ministers couldn't just present ideas that "simply sound good", and raised concerns about whether it was possible to scale up the provision of private tutoring.
Boris Johnson, under pressure during prime minister's questions on Wednesday, told MPs his education secretary Gavin Williamson would announce a "big catch-up plan" for pupils very shortly. "It's vital that kids get the catch-up on the education they have lost," he said.
The government is encouraging secondary schools to bring in pupils for a one-off face-to-face review meeting before the end of term to find out what progress the student has made and what additional support might be required going into the next academic year.
Some academy trusts are also looking at bringing in pupils a week early before the start of the autumn term to enable teachers to identify learning gaps and start preparing students for the rigours of academic study after a long gap.
Hamid Patel, the chief executive of Star Academies trust that operates 29 state schools in England, said his group planned to help those most affected by the prolonged absence, including disadvantaged pupils and the year groups at significant transition points or facing exams next year.
"Our strategy to bridge widening gaps, foster resilience and set our pupils up for success is built on planned interventions over a 12-month period. We intend to use a set of measures including summer holiday camp, Saturday school and planned literacy and numeracy catch-up sessions within the school timetable."
The government's tuition programme is expected to be available from September and will form one of the main strands in the government's education catch-up offer. "The overall catch-up package is quite significant," said one source close to the project. "It will be long-term, at least a year. All schools will be able to access it, but it will be targeted at those with high numbers of disadvantaged pupils."
Summer holiday schemes are more likely to focus on sports, arts and citizenship – rather than academic work – with the aim of supporting pupils' mental health and physical wellbeing after being locked down at home throughout the pandemic.
The Sutton Trust, Education Endowment Foundation, Nesta and Impetus, who earlier this month jointly launched a new online tuition pilot to support disadvantaged pupils as schools began to open to more pupils, are expected to be involved in developing the catch-up tutoring programme.
Launching the pilot, they quoted evidence supporting the use of one-to-one and small-group tuition as a cost-effective way to help pupils who are struggling; regular sessions of 30 minutes, three to five times a week over six to 12 weeks, to achieve the best results, adding five additional months' progress.
One of the four models being piloted involved the Tutor Trust – a not-for-profit charity which recruits and trains university students and recent graduates as tutors in the core subjects of maths, English and science – who provide one-to-one tuition in state schools. The charity's co-founder and chief executive, Nick Bent, said: "We want to play our part in this national effort to help disadvantaged pupils catch up."
Leora Cruddas, the chief executive of the Confederation of School Trusts, said it was vital that the government's catch-up programme should be a long-term endeavour, rather than just a summer holiday scheme. "Where tuition can have value is where it's done alongside the curriculum. If the government is going to be spending money, I would suggest that those programmes start in the autumn and are strongly aligned with the work a school is doing."
Geoff Barton, general secretary of the Association of School and College Leaders, added: "With so much legitimate concern about the growing gap between advantaged and disadvantaged young people, it's essential that any plans to address the issue are based in evidence of what works rather than what may simply sound good.
"The starting-point should be a review by the child's teacher of where the child is now, and what their curriculum needs to look like. Schools should then be able to direct any additional resources, such as 1:1 after-school tuition, small group work, textbooks, to turbo-charge pupils' learning."
Mary Bousted, joint general secretary of the National Education Union, said: "We've got nothing against extra support for literacy and numeracy. The question with all these things is, if you are using private providers, how easy is it to scale up."
Meanwhile, more than 1,500 of the UK's leading paediatricians and child health specialists have told Boris Johnson he needs to urgently publish the government's plans for children to return to school, in an unprecedented warning that their absence "risks scarring the life chances of a generation of young people".
The letter circulated by the Royal College of Paediatrics and Child Health (RCPCH) – the first time it has asked its members to sign a joint message to the prime minister – quickly attracted hundreds of signatures in support of its blunt message: "Left unchecked, Covid-19 will exacerbate existing problems and deepen structural social and health inequalities."
State updates career, tech education plan - Arkansas Online
Posted: 04 Jul 2020 01:44 AM PDT
Arkansas is starting the 2020-21 school year with a greatly refreshed career and technical education plan that is an overhaul of a plan that dates back to at least 2008 and really decades before that.
The revised career and technical education plan that targets students in grades five through 12 and is newly approved June 26 by the U.S. Department of Education "presents opportunities like no other," said Angela Kremers, director for the Arkansas Division of Career and Technical Education.
"Parents may still have the perception of what CTE is from what was there when they were in school, when it was called vocational education or vocational-agricultural education," Kremers said. "It is not the same. We have so many innovative programs -- such as cybersecurity and unmanned aerial systems or drones. You name it, we have it.
"This is a lot more innovative and sophisticated than in years past," she said.
Commonly referred to as Perkins V in both Arkansas and in the nation, the new plan is the result of the Strengthening Career and Technical Education for the 2st Century Act, which President Donald Trump signed into law in July 2018.
The federal act is the reauthorization of the Carl D. Perkins Career and Technical Education Act of 2006 or Perkins IV.
The reauthorized law is intended to strengthen connections among schools, colleges and employers to prepare students for high-skill, high-demand, high-wage careers whenever students join the job market -- be it after high school or during and after post-secondary education.
"With Perkins V -- this is not the blue collar pathway. This is all-collar," Kremers said. "We don't want students to feel like they are tracked. When they are part of CTE, they may become an engineer. They may become a physician. They may be a welder. It really is to prepare them for any path that they choose. It just gives them a very closely connected program of study based on their interests into whatever path they may choose."
Perkins V comes with federal funding to the state -- about $13.2 million in this new fiscal year and in each subsequent year, depending on a formula that takes into account U.S. Census data on population and poverty.
About 85% of the money goes to the school systems to supplement career and technical education classroom equipment and to offset other expenses, including the cost of exams students take at the completion of their program of studies to be certified in the field.
In 2018-19, the last year for which data is available, there were 213,329 students in career education programs. A total of 43,158 industry-recognized exams were given to Arkansas career and technical education students that year, 32,584 of which received passing scores -- a 75.5% pass rate.
Arkansas offers 16 career clusters that overarch 64 programs of study. Each program of study includes three courses that lead to an exam for an industry or career-recognized certificate.
One example of the career clusters is the new Education and Training cluster, leading to a teacher assistant certification, Kremers said. Examples of other clusters are architecture and construction; health sciences; hospitality and tourism; transportation, distribution and logistics; manufacturing; agriculture, food and natural resources; and science, technology, engineering and mathematics or STEM subjects.
Kremers said the strengths of the new plan include an emphasis on ensuring equity in supporting students in their career preparations and the alignment of the programs with the workforce.
"We had to completely overhaul every single one of our programs of study and align those 100 % with high-skill, high-wage and in-demand jobs," she said, adding that some programs had to be eliminated if they were no longer as relevant as they once were.
"We didn't want any 'going nowhere' jobs. We wanted equal opportunities for all students and for all students to be prepared for jobs that at least produce at a minimum a livable wage."
These millennials are reinventing the multibillion-dollar education industry during coronavirus - CNBC
Posted: 08 Jun 2020 09:25 PM PDT
In a new series, CNBC Make It speaks to young entrepreneurs who are pivoting their businesses, or starting anew, to address some of the challenges raised by the coronavirus pandemic. 
The coronavirus pandemic has sparked the world's largest-ever remote learning experiment.
At its peak in mid-April, the virus caused nationwide school closures in 190 countries, impacting 90% of total enrolled learners, or almost 1.6 billion people globally.
That's been a major learning curve for students, parents and educators moving their teaching online. But it's also been a boon for one of the world's fastest-growing industries: education technology. 
CNBC Make It spoke to three founders tapping into the multibillion-dollar business opportunity to learn more. 
Learning the basics
Even before the outbreak, education technology, also referred to as edtech, was growing rapidly.
From a $107 billion market in 2015, the industry is expected to triple by 2025 to be worth $350 billion, as more people look for learning resources online. Analysts predict that growth will be led in large part by Asia's growing youth population.
One person who spotted that opportunity early on is Divya Gokulnath, co-founder of the world's most valuable edtech platform, Byju's. The 33-year-old entrepreneur and her co-founder, Byju Raveendran, started the $8 billion business in India in 2011, first by providing in-person lessons to supplement school classes.
But as demand grew, the pair took their classes online in 2015 with the launch of Byju's — The Learning App, a subscription service offering short video content on core primary and secondary school curricula.
"With technology as an enabler, you can actually take great quality content, create it in one small part of the country, to all over the world," Gokulnath told CNBC Make It. 
That rationale has proved vital under the coronavirus pandemic. Following nationwide school closures, Byju's offered students free access to its app, causing its total registered users jumping more than 25% to 50 million. 
"The 50 million is good," Gokulnath said of the company's users, which span India and the Middle East. "But what we track is actually the engagement on the app, which is now, during Covid, 100 minutes per day. And we also see an 85% renewal in our annual subscription rate."
The whole digital divide that we talk about, it's a short-term problem.
Divya Gokulnath
co-founder, Byju's
The company has also fast-tracked a number of developments — such as live classes and localized language — to support more students during the outbreak. Gokulnath said that could help close the education gap, especially for children in remote communities with poor access to high-quality teaching.
"What would be easier to do: Give them an internet connection or set up schools and give them good teachers?" said Gokulnath. "So the whole digital divide that we talk about, it's a short-term problem. And it's easier to solve using technology because technology can really solve anything at scale."
Making teaching personal
As access to the internet has grown across the globe, so too has demand for education apps.
The coronavirus has only exacerbated that. In March, when Covid-19 was declared a pandemic by the World Health Organization, education app downloads worldwide surged 90% compared to the weekly average in the fourth quarter of 2019.
That's a market Timothy Yu, founder and CEO of on-demand tutoring app Snapask, is tapping into. Since launching in Hong Kong in 2015, the platform, which is worth about $200 million, has connected 3.5 million high school and college students in Asia with tutors for interactive question-and-answer sessions.
Over 10% of those users came in February and March, when 29-year-old Yu partnered with educators and local authorities to offer free support.
"When the outbreak happened, we could see the surge happen from the back end," said Yu. "Hong Kong definitely started first, and then we can see ... Singapore and Taiwan."
Yu's strategy has not only helped students gain personalized support in addition to their regular online classes, which he hopes will drive future demand. It has also eased the burden on teachers and provided remote work for Snapask's some 300,000 tutors. 
If we really want personalized learning to happen, we all need to be very data driven.
Timothy Yu
founder and CEO, Snapask
"A lot of schools, since the suspension ... they have been using Zoom or different types of conferencing tool. But then it's still a one to many types of teaching. To have a much better way to manage this ... Snapask can use our technology to match the students to the best tutor," said Yu.
Yu said that learning data could pave the way for a better educational experience in future — one that's tailored to students' individual needs. 
"The services that we are providing are just hitting the bare minimum to allow learning to go on," said Yu. "If we really want personalized learning to happen, we all need to be very data driven," he said, calling for more collaboration from schools and authorities.
'Upskilling' for the future
Education doesn't just end after school or college, though. In an era of increasing tech disruption, continuous learning has become ever more important to safeguard jobs for the future. 
The World Economic Forum has predicted that by 2022 over half of employees will require significant reskilling or upskilling to do their jobs — and that was before Covid-19. Now, as unemployment rates reach record highs, economists are predicting that many of those jobs may not return at all. 
That's something David Blake is addressing with Learn In, an upskilling service that helps workers learn new skills, which Blake says has a better alternative to job losses. The 36-year-old launched the business with his co-founders and $3.5 million funding in mid-April, just as U.S. unemployment claims soared.
"Historically it was this: Lay people off, fire people, furlough people or retain people. And we're saying there's a better way, there's a third option," said Blake. "In scenarios where you're going to have to meet payroll reductions, do so by — instead of laying people off — by putting people into low-cost, high-quality training programs."
The idea goes like this: Learn In works with employers to figure out the skills needed to future-proof their businesses, and the investment it will take. Employees are then invited to complete relevant short-training courses — either at full, reduced or no pay — with the guarantee of returning to work at the end. 
If they aren't upskilling their people now, they're going to be caught flatfooted.
David Blake
co-founder, Learn In
That's not only beneficial for employees, who may otherwise be laid off, said Blake. It's also more cost-effective for employers, who can save on rehiring when the virus subsides. Estimates suggest replacing staff can cost as much as 50%-60% of an employee's annual salary. 
"(Companies) know that if they aren't upskilling their people now, they're going to be caught flatfooted behind six months from now, 12 months from now," said Blake.
And while career breaks or learning sabbaticals are not new, Blake said the pandemic has shown that work and education no longer needs to be mutually exclusive — which could make all the difference in building a more effective workforce in the long term. 
"At every other point, there's a tension between productivity and learning. Any time you're spending over here learning, is not time you're spending on productivity," said Blake. "Companies that can be smart about using the time to upskill their people ... is always going to be a win."
Don't miss: Loneliness is on the rise due to the coronavirus. These entrepreneurs are making tackling isolation their business
Like this story? Subscribe to CNBC Make It on YouTube!