Tucson Startup Focused on Artificial Intelligence (AI) Water Management Project Helps Sustain a European Nation - Send2Press Newswire
---
Tucson Startup Focused on Artificial Intelligence (AI) Water Management Project Helps Sustain a European Nation - Send2Press Newswire
Posted: 28 May 2020 04:00 AM PDT
TUCSON, Ariz., May 28, 2020 (SEND2PRESS NEWSWIRE) — The University of Arizona Center for Innovation has announced that NOAH Malta, a subsidiary of NOAH Arizona LLC, a company based on technology invented at the University of Arizona and started at the University of Arizona Center for Innovation (UACI), has been awarded a groundbreaking contract by the European Union.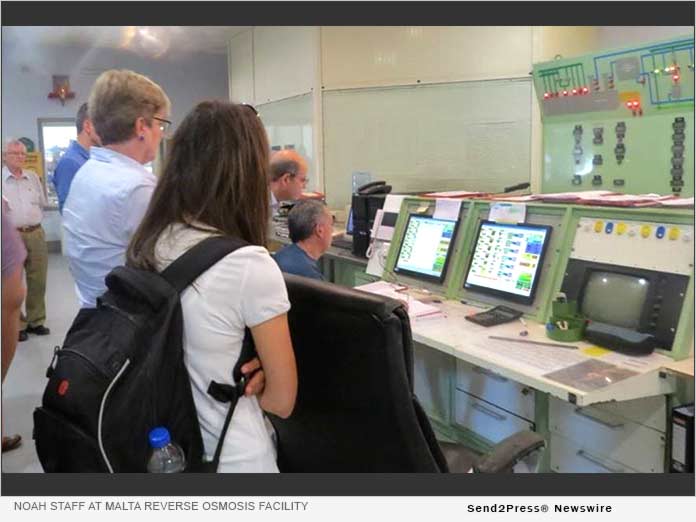 *PHOTO CAPTION: NOAH staff being shown the control room at one of Malta's Reverse Osmosis facilities.
The contract entitled "DEVELOPMENT OF A PREDICTIVE WATER ABSTRACTION AND PRODUCTION MODELLING FRAMEWORK," engages NOAH Malta to study the feasibility of implementing NOAH's patented water management decision support system on the island nation of Malta. NOAH is working in partnership with Malta's Energy and Water Agency (EWA) and the Water Services Corporation (WSC), the water utility in Malta.
Malta, the most densely populated European nation, is an archipelago consisting of one main island and several smaller ones located in the Mediterranean Sea between Sicily and Africa. It ranks among the most water scarce nations in the world. Today, with a booming economy and thriving as a popular tourist destination, Malta is experiencing a "perfect storm" that is becoming all too typical across the globe: too little natural freshwater for its growing demand, made worse by more frequent droughts from climate change.
NOAH's patented water management system combines real-time data streams with AI and optimization models. The system helps identify optimal water management strategies that minimize costs while maximizing water sustainability and quality. Working with the startup incubation team at the University of Arizona Center for Innovation has helped NOAH identify new markets and prove how AI can be used in a variety of ways to provide meaningful predictions and optimization solutions for the water problems that nations like Malta are facing. NOAH's system is highly flexible and can be used in combination with pre-existing models and methods developed by a utility to augment their management objectives.
The project will explore the possibility of optimizing the current potable water production infrastructure to produce the required volume of potable water and achieve the best water quality possible whilst minimizing costs.
Malta's project goal is to collaborate with NOAH to study the feasibility of integrating their real-time decision support system with WSC's existing models and methods. The partnership and its outcomes may ultimately serve as a paradigm applicable to other European countries facing similar water problems, as well as other water-stressed countries around the world.
"This is a wonderful opportunity for NOAH to further advance our system by collaborating with water experts in Malta. They are on the front-line of some of the world's most serious and difficult water problems," says Emery Coppola, NOAH LLC co-founder and president.
"Noah is one of those companies that we are extremely thrilled about supporting with our incubation program. Dr. Coppola and the other co-founders are working on leading-edge technology with immense growth potential for the company and significant positive impact – in this case on the well-being of an entire nation," expresses Eric Smith, Executive Director of University of Arizona Center for Innovation
Currently Malta obtains approximately sixty percent (60%) of its water supply from three (3) reverse osmosis (RO) plants. The remaining water demand is met through extraction of diminishing groundwater via 100 production wells. The groundwater is extracted from complex limestone aquifers characterized by karst features. These limestone eroded aquifers with preferential flow pathways are extremely difficult to model with conventional physics-based groundwater simulation models. Historical over-pumping of the limestone aquifers has caused significant saltwater intrusion from the surrounding ocean, degrading groundwater quality.
A major challenge will be to identify the optimal trade-off between RO and groundwater sources among multiple conflicting objectives given that the water quality from RO is superior to groundwater, whereas the production costs required to produce freshwater by RO are higher than groundwater. These objectives include water quality and cost, proper targeting of specific groundwater wells to pump and the most effective pumping rates to minimize salt-water intrusion. Individual supply wells also have variable operating costs and water quality conditions; they also are subject to different salt-water intrusion effects on the aquifer that can dynamically vary due to regional pumping and other conditions.
Accurate predictions are essential for achieving superior real-time water resources management decisions. In collaboration with the Agency and WSC, NOAH's will explore the feasibility of applying their system to supplement the utility's existing models and methods to help manage Malta's enormously complex and challenging water problems.
A nation with a storied history and culture, optimal water management is an imperative that will allow this Mediterranean jewel to flourish far into the future.
About the UA Center for Innovation
​The University of Arizona Center for Innovation is a startup incubator network with locations across the Southern Arizona region. The center's mission is to grow scalable startup ventures that fuel the Arizona economy. Since inception in 2003, the program has directly served over 120 companies and impacted thousands of entrepreneurs through providing access to people, programming and places that help entrepreneurs take their companies from idea to market.
The University of Arizona Center for Innovation is part of Tech Parks Arizona which brings together university, industry and community, creating "interactive ground" to advance technology commercialization.
Learn more at: https://techparks.arizona.edu/UACenterForInnovation
About NOAH LLC
NOAH LLC is a technology and water consulting company. Its patented system, which directly combines data streams with artificial intelligence, formal optimization and other modeling methodologies constitute the most advanced decision support system in the world for water resources management.
*PHOTO link for media: https://www.Send2Press.com/300dpi/20-05028s2p-noah-team-300dpi.jpg
*Photo caption: NOAH staff being shown the control room at one of Malta's Reverse Osmosis facilities.
News Source: The University of Arizona Center for Innovation
Artificial intelligence startup dives into COVID-19 contact tracing, targets privacy worries - WRAL Tech Wire
Posted: 28 May 2020 08:55 AM PDT
RALEIGH – Believing that artificial intelligence can improve so-called "contact tracing" and also protect people's privacy in the battle against COVID-19, Raleigh-based startup Diveplane is rolling out a program called "Aware."
Crucial to the program is the use of Diveplane-developed "Geminai" which the venture capital-backed company "creates a verifiable synthetic 'twin' dataset with the same statistical properties of the original data, but without including the real-world confidential or personal information." (Diveplane recently won first place in Technology Enablement at the UBS 2019 Future of Finance Challenge for Geminai.)
The use of Geminai, Diveplane says, addresses a key concern about contact tracing: Personal privacy. Diveplane also has partnered with another company, Iron Bow Technologies, to further protected gathered data.
"Accurate but secure contact tracing is foundational for reducing the spread of disease," says Diveplane about the method of tracking exposure to diseases, a technique that dates back decades.
Butcontact tracing through modern technology via smartphone apps has raised concerns about data privacy and security.
Diveplane, founded by former Epic Games CEO, wins kudos for its AI platform GEMINAI
"Concerned citizens have been eyeing the tradeoff between controlling outbreaks using apps and intrusions on privacy," the Associated Press reported earlier this week. "Civil liberty groups and tech watchdogs have warned about contact tracing apps, saying governments and companies should not be able to access personal data.
Diveplane, however, went ahead with the launch of Aware based on the company's stated belief that contact tracing can:
Interrupt ongoing transmission and reduce spread of infection
Alert contacts & public services personnel to the possibility of infection at a specific location
Information and context needed for more accurate epidemiology, diagnosis, and treatment
Data to help prevent reinfections
Contract tracing provides a 'guidance system' for a broader population health management platform that greatly informs analysis and decisions
Alan Cross, chief commercial officer at Diveplane, talked about the program in an exclusive Q&A with WRAL TechWire.
What factors led to Diveplane's decision to move into the contact tracing business?
For any contact tracing solution to be successful and widely adopted, there needs to be public confidence that data privacy is at the heart of the solution. The Geminai solution by Diveplane uses synthetically-created cloned data to ensure that no personal data is made available through the service. However, the technology maintains statistical relevance to ensure that the data being used is relevant and valuable."
How can Diveplane and partners assure people data is safe and private?
"Uniquely, the Aware solution is built around the concept that data security and privacy is paramount, and the solution has been built around that principle.
Collected patient data will never leave the secure Iron Bow infrastructure. (Iron Bow Technologies builds private cloud solutions that are secure, and is a certified trusted integrator with the "Commercial Solutions for Classified (CSIC)" certification, supporting government agencies with its classified secure facility.)
From that point forward, only synthetically-created data will be used and this process has the ability to ensure that the new data can never be re-engineered back to the original data. In fact, this approach means that data can be more widely shared across multiple agencies from healthcare providers, first responders, government agencies, state officials and for broader public availability.
Using Geminai-created data should actually encourage the wider distribution of data when its most critically needed."
How will Diveplane and its partners generate revenue from this project?
Revenue will be generated through license to use the solution. Customers will be regional healthcare providers or State Health & Human Services Departments."
Exclusive: Why All-Star Investors Think $350 Million Video Startup Loom Is The Next Big Thing In Remote Work Tech - Forbes
Posted: 28 May 2020 07:00 AM PDT
It's nearing 10 p.m. and Ashton Kutcher's $14 million Beverly Hills mansion is finally quiet. The actor, producer and venture capitalist has just finished his fourth and latest job: kindergarten and pre-school teacher to his three and five-year-old kids.
"Now that we're homeschooling our kids, the part of the day that would normally be blocked for work is blocked for my kids. I end up doing a lot of my work at 10 o'clock or 11 o'clock at night when people aren't available to do a call," Kutcher told Forbes last month while quarantining in his home. "And that's when Loom becomes super, super valuable."
Loom's app lets you easily record your screen and your face before instantly sharing the link via email or message. While video products like Google Meet and Zoom have surged as quarantined workers use them to conduct live meetings, it doesn't address the common workplace gripe that meetings (in person or virtual) are wastes of peoples' time. Typical video recording is clunky, requiring a significant amount of storage and computing power. The company's cofounder and CEO Joe Thomas says that "Loom and video messaging specifically is like a superpower for employees."
Loom quickly enables workers to provide project feedback or walk someone through a proposal, without having to set an actual meeting. Kutcher uses it most frequently to deliver notes on scripts and feedback on venture pitches. "That stuff is just more easily done through a Loom video than just written script notes," he says. "You actually need the virtual object and the explanation at the same time, in addition to conveying the real emotion."
Kutcher is far from the only fan. Today, Loom closed a $28.75 million second Series B, led by Sequoia Capital and Coatue. The deal values the company at an estimated $350 million, doubling the valuation from a previous fundraise seven months ago. Loom has raised $73 million from investors including Kutcher, Instagram's Kevin Systrom, Atlassian's Jay Simons and Figma's Dylan Field. Messaging giant Slack invested has also invested in multiple rounds.
As share-economy juggernauts like Uber and Airbnb undergo layoffs en masse and face an uncertain future in the age of Covid-19, business booms for virtual work companies like Loom. Already a powerful trend before the coronavirus, the fortunes of remote work companies have rocketed to new heights under the global lockdown. Last week, Zoom hit an all-time high with a market cap just shy of $50 billion. Loom too has seen a surge as its users have doubled to 4 million since the World Health Organization declared Covid-19 a world health emergency on January 30.
And use cases are growing beyond the business world. While investors like Kutcher use the platform to provide feedback on startup pitches, some educators now rely on Loom to create lessons for students to review on their own time. In addition to temporarily dropping pricing for its premium service Loom Pro amidst Covid-19, the company announced on March 12 that verified teachers and students will receive free, permanent access to the premium version. Thousands of educators have taken up Loom on that offer and continue to flood social media with ways they are using it to bring their classrooms online.
Loom's 30-year-old cofounder Thomas, who nabbed a spot on the 2017 Forbes Under 30 list (with cofounders Vinay Hiremath and Shahed Khan), comes from a generation that grew up idolizing Mark Zuckerberg. When Facebook became the world's most popular social media platform in December 2009, Thomas was a sophomore economics major at Indiana University. As he watched complex investing products and crushing debt spark the Great Recession, he became increasingly disillusioned with the prospect of finishing his degree and pursuing a finance career. In 2012, just shy of graduation, he dropped out of school to move to Santa Monica, California to start a life in tech coding websites.
As fully initiated members in the Cult of Zuckerberg, Thomas took his February 2016 assertion that "video is a megatrend, almost as big as mobile" as gospel. Just as video became popular on consumer apps like Snapchat, Thomas searched for ways it could fit into work.
"The two big bets that we made was that one, there was a ton of latent behavior based off of consumers' increased comfort with video," says Thomas. "The second was that if we made it as frictionless as possible, that this could be something that was a day-to-day communication tool. And frictionless is not just ease of use, we made it free."
Loom's first product hit the market June 2016. It was a simple, free Chrome extension that instantly made recordings that were sharable via a link. The company didn't release a more comprehensive Mac and PC application with editing and storage capabilities until March 2019.
Over the past year, the company has focused on building out its first enterprise offering, Loom for Teams, which officially launched last week. The cloud-based program lets companies create a central library of Loom videos giving staff quick access training videos, presentations and more. It also provides much stricter security safeguards, which has become increasingly important as distributed teams work from less secure systems in home offices and personal devices. More than 100 companies, including Slack, Hubspot, and real estate firm JLL, are already on the beta version.
"I love Loom because it allows me to more personally connect with people without having to do 75 different one-on-one calls, which is just impossible at scale," says Hubspot Chief People Officer Katie Burke, who uses looms for weekly updates to her international 3,500-person workforce. "Video is such an easier and better mechanism to make that happen versus just plain text."
To address the increased demand and build new products, Thomas has hired 30 employees since the end of January and continues to rapidly scale his engineering team (including appointing Google Suite veteran Jude Flannery as VP of Engineering). With 80 individuals currently on the payroll, the company projects it will have 125 employees by the end of the year.
And while most companies have scrambled to adjust to work under Covid-19 shutdowns, Loom has had a distributed workforce from the start. Any employee can work in its base in San Francisco or from anywhere in the world. "What it boils down to flexibility," says Thomas, who has employees everywhere from Portugal to Australia to Brazil. "We structure our company with the goal of being able to work with the most talented people wherever they are and without them feeling like they're not part of the headquarters."
Loom's greatest challenge now is converting the two million users that have joined the platform during lockdown into lifelong users. Thomas bets that even as states open back up, working from home—and via Loom—will be core to the future of work. Tech's biggest players are already making the move: Twitter announced earlier this month that employees could work from home as long as they see fit, and Zuckerberg followed suit last week announcing that many Facebook employees could permanently work from home. (Further, studies increasingly show that a growing number of companies anticipate going fully remote or expanding work-from-home policies.)
"We've seen amazing metrics as this remote workforce continues to play out," says Thomas. "Video messaging is an inevitability in this increasingly globally distributed world. It's incredibly efficient, effective and expressive. We are going to be at the forefront of this workplace communication revolution."