For Hilldale's golf team, a bitter case of would've, could've, should've in 4A golf that wasn't - Muskogee Daily Phoenix
---
For Hilldale's golf team, a bitter case of would've, could've, should've in 4A golf that wasn't - Muskogee Daily Phoenix
Posted: 05 May 2020 04:18 PM PDT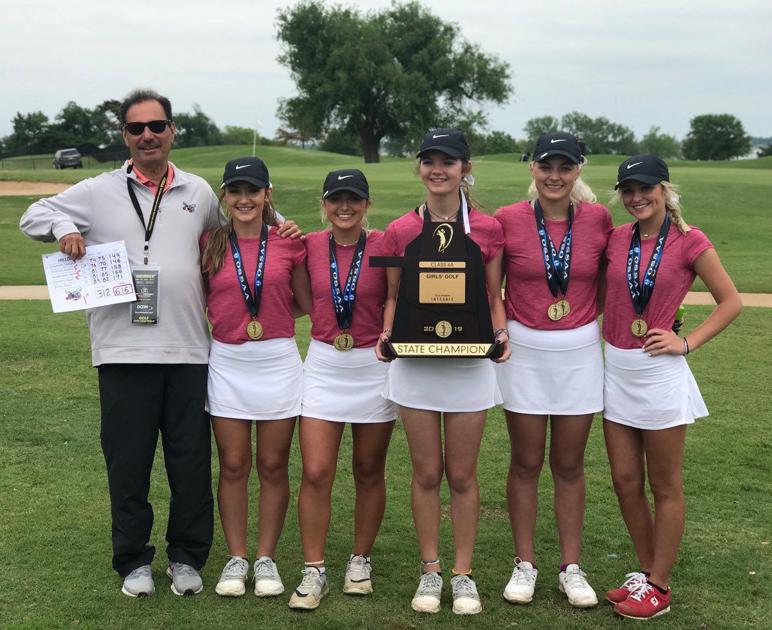 Hilldale's Lady Hornets won last year's Class 4A state golf championship at Lake Hefner in Oklahoma City by 107 strokes. With four of their top five players returning, it seemed like only an act of God could keep them from winning it again, starting Wednesday.
Like, lightning striking a player or two?
"That almost happened last year," said Jade Kuykendall, laughing as she recalled a practice round at state in pouring rain. "We had a strike behind us, close enough to get our attention."
Yet lightning didn't strike twice. It didn't get a chance. Instead, a worldwide force got in their way.
COVID-19 canceled or delayed virtually every sport on earth. For all spring sports in Oklahoma, a delay lasted two weeks before the state and the OSSAA shut down the remaining seasons of high school sports on March 26.
Hilldale never started golf outside of practice. Its first scheduled tournament was March 23 at Broken Arrow.  
"We'd gotten to use our new indoor facility a lot," said Macy Jones, referring to the remodeled former middle school cafeteria, half of what became a putting green, chipping area, simulator and sand trap. "We were pumped."
All activities were suspended March 12. But there was still hope.
Jordan Clayborn remembers Hilldale coach Oren Sikes talking about the possibility before spring break of nothing resuming. She wasn't buying at the time.
"He's kind of a dramatic person," she said with a laugh, "so I'm like 'oh yeah, that's not going to happen.'
"But then when colleges started closing down sports, we kind of figured it would happen."
And thus, four girls whose senior years were messed up in more than one way took this as the first of many stings.
Speaking of college, Clayborn, a valedictorian who had been committed to Oklahoma City University for golf since committing prior to her junior season, decided late last week to withdraw from that over concerns of scholarship finances as impacted by COVID-19.
Now, she's headed for Oklahoma State as a student. She hasn't yet decided whether she'll try to walk on to the golf team.
So a season in which Clayborn would have been a solid bet to win the medalist title has been reduced to another sure wager -- that she'll make the Oklahoma Coaches Association All-State team with a chance to play in the All-State Games in July, if indeed they have all-state and not simply issue the honors.
All-State in OCA is based on career work. She was third at state as a freshman, second as a sophomore, and third as a junior last year, two spots behind Kenzie Kirkhart, the graduated Hornet off last year's squad.
"I've had a really good opportunity to win it every year," she said. "It was important for me to win as a team but yeah, individual state champion was something I've wanted to do since I was in sixth or seventh grade. It was pretty upsetting not to get that last chance."
Kuykendall had a shot as well. She was fourth last year and ninth as a sophomore.
"The hardest part for me is not playing for coach Sikes one more time. He was the reason I started playing golf and he's always been my motivation. To not do that hurts," she said.
Kuykendall wasn't planning on a college career. She took cosmetology classes at Indian Capital Technology Center, concurrent with studies at Hilldale, and will be finished May 29. She'll take the state board exam in June. She also just started a job as a dental assistant. 
"We'll see how that goes. I think I'm going to like that," she said. "I'm off Wednesdays and have a half-day on Fridays. I'll probably do hair then."
This leaves Nyah Sanders, seventh last year, as the lone player going to try her hand at college golf and to do so, she'll go far away from home — Drew University in Madison, N.J. 
"Jordan and I always talked about us being the two," she said. 
Something that frustrates Sanders about not getting to finish her high school career was how golf is a sport where social distancing, in general, is not an issue. Given that, she felt like it deserved consideration to be played.
"You're not close to anyone. You're playing your own ball and pretty much no one is around," she said. "At first I felt that way but I got it, the health issues. It's hard to accept but I got it."
Sikes just shrugs at it all. He thought Wagoner, a very distant second last year but with everyone back, was set to perhaps challenge, as was Kingfisher, fourth in 4A, and Perkins, seventh in 3A a year ago.
"We got gypped out of that deal, but it is what it is," he said. "I think more than likely we would have won it, but you never know."
It'll be a rebuild at Hilldale next year with two seniors, two juniors and three sophomores.
"We'll have some work to do," Sikes said in terms of contending.
That's little solace for this group of seniors.
"We're trying to talk coach into taking us up (to Lake Hefner) for one last round together after this (pandemic) is all over," said Jones, 11th a year ago and who shifted from her job as a gift associate at Economy West to serving as a pharmacy tech during the height of the quarantine restrictions. Oh, and she'll be a student at OSU.
Maybe they'll all play before graduation day July 3. That's when Clayborn will deliver her valedictorian address in a rescheduled ceremony, one which changed her family's vacation plans in Destin, Fla.  
It's just another adjustment in a year that also took away another special event, the prom.
Which one hurts more — the prom or no state title? It was unanimous among the four, but Clayborn put it best.
"Golf," she said. "The thing I'll keep the next 20 years to show my kids is my state ring, not my prom dress."