MagicLab billionaire Andreev to launch new mobile app business - Financial Times
---
MagicLab billionaire Andreev to launch new mobile app business - Financial Times
Posted: 31 Jan 2020 07:10 AM PST
Andrey Andreev, the Russian-born billionaire behind dating apps including Bumble and Badoo, is planning a swift return to the mobile internet business after selling out to private equity in one of the UK's largest-ever technology deals.
Blackstone's all-cash acquisition of Mr Andreev's stake in MagicLab, the London-based parent company of Badoo, Bumble, Chappy and Lumen, closed this week, valuing the group at around $3bn. 
"It has given me the freedom to create something new," Mr Andreev said. "It's given me ability, time and money . . . I don't want to retire." 
While Mr Andreev, 45, did not disclose specific details of his next venture, he said that one idea is focused on charity and donations — something he wants make "more accessible . . . the same as what I did with dating". 
MagicLab is now led by Bumble founder Whitney Wolfe Herd, who had previously co-founded rival dating app Tinder. 
The deal's closure follows the publication earlier this week of a legal investigation into allegations of harassment and sexism at MagicLab, following a damning report into the company's working environment by Forbes. 
The six-month probe by law firm Doyle Clayton into 24 separate incidents found that there was "sufficient evidence to uphold three of the minor allegations and to partially uphold three further minor allegations". 
"Following a long and detailed review, we found there to be a lack of credible evidence in relation to most of the allegations, particularly the more serious ones," said Doyle Clayton, which was hired by MagicLab last summer. "It was concluded that the central allegation made by the Forbes article — that there is currently a misogynistic atmosphere at the London office — is incorrect." 
The law firm recommended a series of changes, including compulsory diversity and inclusion training for all employees, "enforcement of appropriate employee conduct at company parties", and an anonymous "whistleblowing hotline" for staff. 
Speaking to the Financial Times in Mayfair this week, Mr Andreev said the Forbes report was a "big shocking moment for all of us". 
"Now after we got the results of this [legal review], I feel much more comfortable leaving the business," he said. That the report was released and the deal closed in the same week was "coincidental", he said. 
Born in Moscow but based in London for many years, Mr Andreev founded Badoo in 2006 as a hybrid of social networking and dating. It pioneered the "freemium" business model that charges just a small portion of its audience for optional extras, such as browsing and communications features. Badoo now reaches more than 425m users globally, according to figures released last year. 
In 2014, Mr Andreev teamed up with Ms Wolfe Herd to launch Bumble — a dating app that lets women make the first move — after her split from Tinder. Mr Andreev created MagicLab to share staffing, resources and technology between the dating apps, which also include Chappy, a gay dating app, and Lumen, which is aimed at the over-50s. "The business is growing like crazy," Mr Andreev said. 
Magic Lab had explored an initial public offering before agreeing a deal with Blackstone. Talks with the private equity firm began "a number of months" before the Forbes report was published, Mr Andreev said. "I did not sell the business because of this article." 
Now, for the first time in almost 15 years, a non-compete agreement with Magic Lab means that Mr Andreev will no longer be in the dating business. But rather than follow many former start-up founders into venture investing, Mr Andreev is insistent that he wants to remain a "builder". 
"There are so many talented people looking for potential help and I can be a great partner to these guys," he said. "I don't want to call this 'VC' or 'angel investment'. I'm talking about me, as a helper to people with great ideas." 
Twenty former Magic Lab staff have joined him in a new venture, based in Mayfair, that will retain Mr Andreev's longstanding focus on mobile apps and social networking. He plans to hire more soon. 
"I am very active, I have lots of energy. I want to involve myself in not just one thing but many things," he said. "By selling MagicLab, I have a lot of fuel to run my new project."
How Female Entrepreneurs Can Leverage Social Media - Business.com
Posted: 31 Jan 2020 07:09 AM PST
[unable to retrieve full-text content]
How Female Entrepreneurs Can Leverage Social Media
Business.com
7 Business Models Reshaping How We Work, Live, and Create Value - Singularity Hub
Posted: 29 Jan 2020 11:00 PM PST
Some of the most potent innovation taking place today does not involve breakthrough technologies, but rather the creation of fundamentally new business models. For most of history, these models were remarkably stable, dominated by a few key ideas, upgraded by a few major variations on these themes.
In the 1920s, it was the "bait and hook" models, where customers are lured in with a low-cost initial product (the bait: a free razor) and then forced to buy endless refills (the hook: blade refills).
In the 1950s, it was the "franchise models" pioneered by McDonald's. Or take the 1960s, where we got "hypermarkets" like Walmart.
But with the internet's arrival in the 1990s, business model reinvention entered a period of radical growth. In less than two decades, we've seen network effects birth new platforms in record time, bitcoin and blockchain undercut existing "trusted third party" financial models, and crowdfunding and ICOs upend the traditional ways capital is raised.
We are now witnessing seven emerging models slated to redefine business over the next few decades. And today, while countless businesses are anchored by a mentality of maintaining—competing solely on operational execution—it is more vital than ever to leverage these business models for success in the 2020s.
Each is a revolutionary new way of creating value; each is a force for acceleration. Let's dive in.
7 Business Models to Rule the Decade
(1) The Crowd Economy: Crowdsourcing, crowdfunding, ICOs, leveraged assets, and staff-on-demand—essentially, all the developments that leverage the billions of people already online and the billions coming online.
All have revolutionized the way we do business. Just consider leveraged assets, like Uber's vehicles and Airbnb's rooms, which have allowed companies to scale at speed. These crowd economy models also lean on staff-on-demand, which provide a company with the agility needed to adapt to a rapidly changing environment. And it's everything from micro-task laborers behind Amazon's Mechanical Turk on the low end, to Kaggle's data scientist-on-demand services on the high end.
Example: Airbnb has become the largest "hotel chain" in the world, yet it doesn't own a single hotel room. Instead, it leverages (that is, rents out) the assets (spare bedrooms) of the crowd, with more than 6 million rooms, flats, and houses in over 81,000 cities across the globe.
(2) The Free/Data Economy: This is the platform version of the "bait and hook" model, essentially baiting the customer with free access to a cool service and then making money off the data gathered about that customer. It also includes all the developments spurred by the big data revolution, which is allowing us to exploit micro-demographics like never before.
Example: Facebook, Google, Twitter—there's a reason this model has transformed dorm room startups into global superpowers. Google's search queries per day have risen from 500,000 in 1999, to 200 million in 2004, to 3 billion in 2011, to 5.6 billion today. While more users are becoming aware of the valuable data they exchange in return for Google's "free" search service, this tried-and-true model will likely continue to succeed in the 2020s.
(3) The Smartness Economy: In the late 1800s, if you wanted a good idea for a new business, all you needed was to take an existing tool, say a drill or a washboard, and add electricity to it—thus creating a power drill or a washing machine.
In the 2020s, AI will be the electricity. In other words, take any existing tool, and add a layer of smartness. So cell phones became smartphones and stereo speakers became smart speakers and cars become autonomous vehicles.
Example: We all know the big names incorporating AI into their business models—from Amazon to Salesforce. But more AI startups arise each day: 965 AI-related companies in the US raised $13.5 billion in venture capital through the first 9 months of last year, according to the National Venture Capital Association. The most highly valued of them all is Nuro, a driverless grocery delivery service valued at $2.7 billion. Expect AI to continue transforming most businesses in the 2020s.
(4) Closed-Loop Economies: In nature, nothing is ever wasted. The detritus of one species always becomes the foundation for the survival of another species. Human attempts to mimic these entirely waste-free systems have been dubbed "biomimicry" (if you're talking about designing a new kind of product) or "cradle-to-cradle" (if you're talking about designing a new kind of city) or, more simply, "closed-loop economies." These models will grow increasingly prevalent with the rise of environmentally-conscious consumers and the cost benefits of closed-loop systems.
Example: The Plastic Bank, founded in 2013, allows anyone to pick up waste plastic and drop it off at a "plastic bank." The collector is then paid for the "trash" in anything from cash to WiFi time, while the plastic bank sorts the material and sells it to the appropriate recycler—thus closing an open loop in the life cycle of plastic.
(5) Decentralized Autonomous Organizations (DAOs): At the convergence of blockchain and AI sits a radically new kind of company—one with no employees, no bosses, and nonstop production. A set of pre-programmed rules determines how the company operates, and computers do the rest. A fleet of autonomous taxis, for instance, with a blockchain-backed smart contracts layer, could run itself 24-7, including driving to the repair shop for maintenance, without any human involvement.
Example: While DAOs are just beginning to emerge, the platform DAOstack is working to provide these businesses with tools for success, including reliable crypto-economic incentives and decentralized governance protocols. DAOstack aims to create businesses where the only external influence is the customer.
(6) Multiple World Models: We no longer live in only one place. We have real-world personae and online personae, and this delocalized existence is only going to expand. With the rise of augmented reality and virtual reality, we're introducing more layers to this equation. You'll have avatars for work and avatars for play, and all of these versions of ourselves are opportunities for new businesses.
Example: Second Life, the very first virtual world created in 2003, gave rise to a multimillion-dollar economy. People were paying other people to design digital clothes and digital houses for their digital avatars. Every time we add a new layer to the digital strata, we're also adding an entire economy built upon that layer, meaning we are now conducting our business in multiple worlds at once.
(7) Transformation Economy: The Experience Economy was about the sharing of experiences—so Starbucks went from being a coffee franchise to a "third place." That is, neither home nor work, but a "third place" in which to live your life. Buying a cup of coffee became an experience, a caffeinated theme park of sorts. The next iteration of this idea is the Transformation Economy, where you're not just paying for an experience, you're paying to have your life transformed by this experience.
Example: Early versions of this model can be seen in the rise of "transformational festivals" like Burning Man, or fitness companies like CrossFit, where the experience is generally bad (you work out in old warehouses), but the transformation is great (the person you become after three months of working out in those warehouses). Consumers are no longer searching for merely pleasurable experiences—they are looking for challenges that transform.
Final Thoughts
What all this tells us is that business as usual is becoming business unusual. And for existing companies, as Harvard's Clayton Christensen explained, this is no longer optional: "Most [organizations] think the key to growth is developing new technologies and products. But often this is not so. To unlock the next wave of growth, companies must embed these innovations in a disruptive new business model."
And for those of us on the outside of these disruptive models, our experience will be better, cheaper, faster.
Better meaning new business models do what all business models do—solve problems for people in the real world better than anyone else.
Cheaper is obvious. With demonetization running rampant, customers—and that means all of us—are expecting more for less.
But the real shift is the final shift: faster. New business models are no longer forces for stability and security. To compete in today's accelerated climate, these models are designed for speed and agility.
Most importantly, none of this is in any danger of slowing down.
Join Me
(1) A360 Executive Mastermind: If you're an exponentially and abundance-minded entrepreneur who would like coaching directly from me, consider joining my Abundance 360 Mastermind, a highly selective community of 360 CEOs and entrepreneurs who I coach for 3 days every January in Beverly Hills, Ca. Through A360, I provide my members with context and clarity about how converging exponential technologies will transform every industry. I'm committed to running A360 for the course of an ongoing 25-year journey as a "countdown to the Singularity."
If you'd like to learn more and consider joining our 2021 membership, apply here.
(2) Abundance-Digital Online Community: I've also created a Digital/Online community of bold, abundance-minded entrepreneurs called Abundance-Digital. Abundance-Digital is Singularity University's 'onramp' for exponential entrepreneurs—those who want to get involved and play at a higher level. Click here to learn more.
(Both A360 and Abundance-Digital are part of Singularity University—your participation opens you to a global community.)
This article originally appeared on diamandis.com. Read the original article here.
Image Credit: Image by Free-Photos from Pixabay
The Man Who Saw Tomorrow's Disruption—and Gave Me Hope for Journalism - The Atlantic
Posted: 31 Jan 2020 04:00 AM PST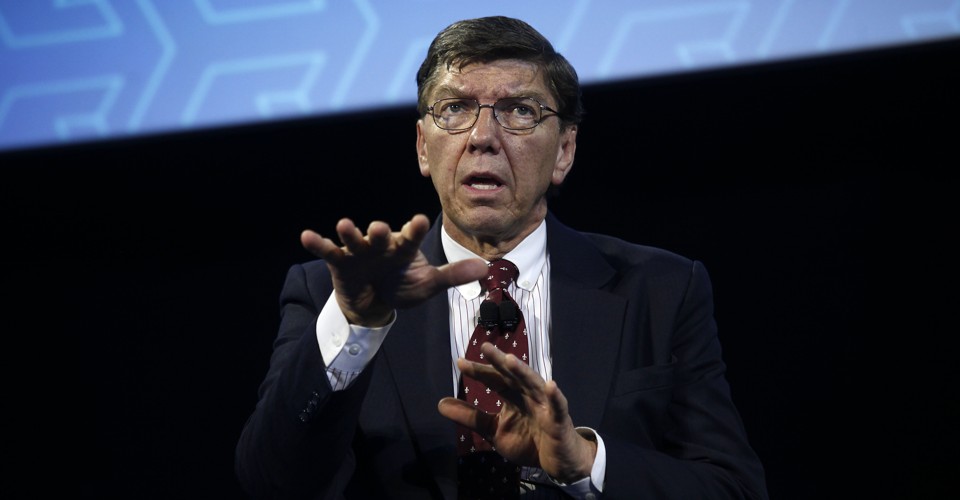 Tell your reps HB195 is a bad idea - Hopkinsville Kentucky New Era
Posted: 31 Jan 2020 07:32 AM PST

The General Assembly is currently in session, and that means every resident of the commonwealth needs to be paying attention to what is going on in Frankfort.
Of course, the point of any legislative session is to openly debate ideas and produce policy that is in the best interest of the commonwealth and all who live, work and play in Kentucky. Such discussion, even of bad policy, is good and needed. But inevitably each year, legislation that is bad for Kentuckians is proposed and somehow still gains traction.
House Bill 195 is a bad bill and I encourage every taxpayer from Ashland to Paducah to call on their representatives to object to its passing.
HB195, sponsored by Rep. Jerry Miller (R-Louisville) seeks to eliminate public notice advertising from community newspapers which serve as the legal organs and papers of record in the communities which they serve. Instead, HB195 allows government agencies across the state to post said notices on their own individual websites.
This bill is bad policy for a number of reasons.
First, there are far too many agencies involved for this solution to be viable. In Christian County alone there are multiple municipalities and townships with several agencies under their umbrella: School boards, county government, emergency services, etc.
Instead of having access all in one place, an inquiring citizen would need to spend countless hours each day chasing down each agency's website to view the individual meeting notices, requests for proposals, bid requests, etc. 
Additionally, a free press exists to hold power to account. The public should believe strongly that those who govern be accountable by way of an independent third party. The public should not rely on any local government to have control over what is placed on a website, how it is placed or where it is placed.
The proposed solution is inefficient at best and a train wreck for transparency.
Third, this proposal severely restricts access to public information. Nearly one in five Kentuckians are without reliable access to an internet connection.
Furthermore, many smaller cities and government agencies do not have websites, or do not regularly update them. Much of rural Kentucky still lacks reliable broadband access and would not have a vehicle to view public notices inside the parameters of this proposal.
It should never be the goal of the legislature to create a less informed electorate.
Finally, the impact of this legislation would be a formidable blow to many smaller community newspapers around the state. In smaller communities the revenue gained from legal advertising is the lifeline of the local newspaper and translates directly into local jobs.
As a result, smaller community papers would literally be put out of business, and mid-sized communities would have to make tough decisions about what products and services to scale back due to no longer having the revenue to support them.
The proponents of this legislation argue two points. They say that it is more efficient to place these notices online and that it will save government agencies money needed to put toward other priorities such as pension obligations.
Unfortunately for fans of this bill, the proposed legislation accomplishes neither.
Newspapers across Kentucky are already putting public notices online in real time and doing it in a better way than proposed by HB195. Anyone can visit kypublicnotice.com to view up-to-date public notices from across the state.
With each edition published, member newspapers of the Kentucky Press Association feed the public notice advertising in each edition to this free resource available to anyone, anywhere in one spot as opposed to countless locations. A link to this service is prominently linked on our newspaper's website.
As far as saving local government money so they can clean up Frankfort's mess in the ongoing pension crisis, that is a farce.
A study completed in October 2016 by the Legislative Research Commission's Program Review and Investigations Committee and coordinating LRC staff, found that on average a public agency spends only one percent of its operating budget on publishing these notices in local newspapers.
Research Report No. 431 proves the cost is not at all exorbitant though some would have you believe that. The legislature's own research shows that this is a bad idea.
In fact, crippling local businesses with this move could backfire across the state.
Many small newspapers across Kentucky can show that they pay quite a bit more in local taxes — property taxes, payroll taxes, other local taxes — than what they receive from publishing public notices. Putting them out of business would actually cost their local governments money.
The Kentucky League of Cities and Kentucky Association of Counties would do well to understand this math equation.
More than one legislator has mentioned to me that the state government should not be in the business of subsidizing private enterprise. That's an argument I'll begin to hear when Frankfort discontinues practices such as $15 million in seed money and exorbitant tax breaks for their buddy's businesses.
Not to mention, without a watchdog in the community keeping an eye on those in power the temptations of corruption abound.
It is rumored that this bill will begin to make its way through committee the first week of February. Now is the time to speak up.
I implore you to reach out to your representatives in Frankfort and let them know that this proposal is a non-starter for you. Make it a point to call your representative at their legislative office by dialing 1 (800) 372-7181 and ask them to vote against this ill-advised bill should it pass through committee.
---
Brandon Cox is the publisher of the Kentucky New Era, Oak Grove Eagle Post and Cadiz Record in Christian and Trigg Counties. He also manages the newspapers in Madisonville, Dawson Springs, Providence, Russellville and Franklin. He can be reached by email to bcox@kentuckynewera.com. Follow Brandon on Twitter at @BrandonJCox.