---
Apple iPad Air (2019) review: The best balance of features and price? - Pocket-lint
Posted: 30 Sep 2019 07:00 AM PDT
For years, Apple has dominated the premium tablet market. In fact, it very much seems like if you want to go cheap, you go Amazon Fire tablets, but if you want anything other than that, the iPad is the way to go. 
Apple has a tablet for virtually everyone. If you want big, powerful and awesome and money is no object, you go iPad Pro. If you want a big screen but at a budget, the standard iPad is the way to go. If you want small, there's the iPad Mini.
But what if you don't have the budget for the Pro, but still want a big screen and plenty of power? That's where the latest iPad Air comes in. 
Design
Dimensions: 250.6 x 174.1 x 6.1mm 
Weight: 456/464g (Wi-Fi vs cellular)
Silver, Space Grey and Gold colours
Lightning port
For the past few years, the iPad's physical design has remained largely the same. Except for the Pro series, which underwent a complete refresh in 2018, an iPad has always looked like an iPad. The back is an almost entirely flat sheet of aluminium, which then rounds towards the edge, softening the angle between the rear casing and the sides.
Size-wise, the current Air is virtually the same size as any previous full-sized regular iPad or iPad Air. That means it's not quite as easy to hold in one hand like the iPad Mini, but it is slim enough that you can carry it around in your bag without adding any serious bulk or weight to your everyday carry.
What makes this different to the previous iPad Air is the screen size on the front. Because there's an extra 0.8-inches added to the diagonal measure of the display panel, which has pushed the bezels outwards slightly, making them thinner and taking the edges of the screen closer to the frame.
However, it's not the first time Apple has utilised the 10.5-inch design. Before the iPad Pro refresh, this was the design and display size used by the smaller iPad Pro in the previous Pro series.
In fact, that's not the only thing that makes this similar to the older-generation iPad Pro. Look up the left edge of the Air and there you'll spot a row of three contact points. These are the smart connectors used to snap on and communicate with the Smart Keyboard cover. It's compatible with the first-generation Apple Pencil too, but more on that later.
Other elements worth noting about the Air include the TouchID fingerprint sensor next to the screen. Unlike the Pro, however, it doesn't get the refreshed design with FaceID. Still, it's fast and secure, and allows you to unlock the tablet and authorise payments on Apple Pay-supported sites or App Store downloads. Of course you can also use iCloud Keychain's auto-fill feature for entering passwords and account details.
Creative prowess
Apple Pencil support (1st gen)
Smart Keyboard connector/compatibility
With iPad Pro, Apple made a distinction between regular iPads and the Pro models. Part of this was compatibility with its advanced stylus - the Apple Pencil - and the smart connector for a snap on keyboard. The idea being that you could have an iPad that was still very much an iPad, but with the versatility to get all your work done, and be creative with powerful mobile applications, without needing a laptop.
Now such features are a luxury offered to regular iPad buyers too. It doesn't matter which model you buy now, you'll get Pencil support at the very least. For the bigger models, you get Smart Keyboard support too. It's an extra cost to get those accessories, but it transforms the iPad from being a very good tablet into being a creative powerhouse.
Using the Pencil brings a natural feel to creativity. Whether that's because you're needing to scribble down notes, doodle, or create your next piece of art. What we've always loved about the Apple Pencil is that it's one of the few stylii for mobile devices that feels really natural, and doesn't get in the way.
The tip never gets in the way of what you're writing, while the response and fluidity of what appears on screen as you're scribbling keeps it feeling virtually as instinctive as using a real pencil on paper. You can even adjust the angle you're holding it or press harder, and the style and depth of the 'digital ink' adjusts accordingly, becoming lighter, darker or softer.
The only downside is that it's only the first-generation Apple Pencil. That means it's the one you have to have sticking out of the iPad's Lighting port in order to charge it. You can't just have it magnetically snap on to the edge and charge wirelessly like the second-gen one does.
Similarly, using the Smart Keyboard cover makes working on emails and documents super convenient. Despite being smaller and a little more cramped than a full-size desktop or laptop keyboard, we didn't struggle at all to adjust. We were touch typing as naturally on this as on any other slim-profile keyboard.
Ironically, typing on these keys is a more pleasant experience than on Apple's MacBook Pro. In fact, we typed the entirety of this review exclusively on the Smart Keyboard, along with a couple of other full reviews, to put it through its paces.
It's a funny one. At initial looks, the Smart Keyboard seems far too expensive for what it is, but once you have one, you can't go back to being without it. If you're looking to have an iPad replace your more traditional keyboard, and want to get work done on it, it's really a necessity. As a bonus, it sits well on the lap, and because it takes up less space than a laptop would, it's much easier to type on it when on a busy train or on a plane.
Close to the action
10.5-inch IPS LCD display
Fully laminated 4:3 ratio
1668 x 2224 resolution 
Part of the joy of having an iPad has always been the 4:3 aspect ratio display, which makes for an incredibly versatile panel that's suitable for gaming, browsing, working, creating, and a whole lot more.
This particular panel is fully laminated, so there's no gap between the outer glass and the display panel, and helps bring you that bit closer to the action. It doesn't quite give that effect of having the content floating on the surface of the screen, but it's not far off.
Being fully laminated also improves the appearance of colours and contrast. Everything looks great, with rich and vibrant colours and deep blacks. Granted, an OLED panel would offer inkier blacks and a more dynamic appearance overall, but without placing them side by side, it's unlikely you'd have any complaints at all.
Granted, it doesn't have the visual impact offered by the iPad Pro's higher refresh-rate 11-inch panel with uniform bezels all the way around, but we don't think that's a major concern for most people. This display is bright, has great contrast for a non-OLED panel, and is as sharp as any other iPad in terms of pixel density. 
iPadOS brings new lease of life
iPadOS available now
New multi-tasking feature
Permanent Today View on home screen
Maps improvements and single-handed keyboard
One of iPad's challenges over the years has been optimising space, and somehow bridging the gap between the iPhone operating system its OS is based on and the laptops that it can semi replace which require a different workflow. With iOS 13, Apple has moved closer to having a bespoke system for the tablet, which isn't exactly like iOS, but also remains separate from laptop/desktop-designated Mac OS. It's unsurprisingly called iPadOS.
For existing iPad users you'll spot changes initially apparent on the home screen, where you no longer get just the app icons. You can also now switch on a Today View widgets on the same screen, just off to the left side, so you can always see anything you might want at a casual glance. Whether that be the weather, today's schedule, or any news highlights, battery levels, reminders, recommended apps or any other number of features. Pinned widgets stay in view, but you can easily scroll up and down to see the rest.
Other new features include the ability to place folders/files in the dock, so you can have quick access to your most needed documents and images. And of course there's dark mode. This is a system-wide darkening of the user interface that's also made its way to iPhone with iOS 13.
You also get a more functional multitasking feature which is built on the framework of iOS 12's split-screen and Slide Over features. Now, you can have multiple apps in the floating window on top of your main full screen app, or over your split screen view.
It's great to see the evolution away from a smartphone system into something different, without losing the simplicity and ease that makes the iPad so appealing in the first place.
You can read more about iPadOS in our dedicated feature.
Performance and battery
Apple A12 Bionic processor
10 hours of use from battery
64GB or 256GB storage
The iPad's greatest strength over the years is arguably its performance and battery life. Like its predecessors, the Air is smooth, fast and can last a whole work day, even if you're using it as your primary computer.
Apple claims up to 10 hours of use, browsing the web, watching videos and listening to music. In our usage, we saw patterns that roughly matched those claims. Some 90 minutes of writing while online, keeping in touch with colleagues via Slack, saw the battery drop by around 13-14 per cent.
Of course, as with any battery-powered device, mileage varies based on the brightness of the screen, and how intensive the task is that you're performing.
But as with any iPad in the past, you never really need to worry about the battery. You might not even need to charge it every day if you're only using it for a couple of hours per day.
Inside, what sets the Air apart from the regular 10.2-inch iPad is the A12 Bionic processor (the new standard iPad has the older A10). This is powerful, efficient and able to handle pretty much anything you throw at it. Want to edit a movie in iMovie, or churn through some photos in Lightroom, it'll do that no problem.
It's one of the reasons we think this the Air is an iPad Pro in all but a name, added to the fact that there are a number of accessories that allow you to connect to peripherals in a way that a laptop can. There are Lightning adapters with USB 3.0 inputs, VGA adapters and SD card readers. It might not have the Type-C port of its Pro-siblings, but it has the dongles available to make that kind of expansion work with it.
Yeah, there's a camera
8MP rear camera
1080p video recording
7MP front camera 
iPads aren't the kind of pocketable cameras you can take with you in your handbag or trouser pocket, and so it stands to reason that manufacturers don't go all-out in this department. As long as you can make a FaceTime call without the image looking hideous, that's generally job done.
With the 8-megapixel sensor on the back of the iPad Air, the photos you get are good enough. Granted, they're not as dynamic and sharp as the more impressive iPhone 11, and they do get a little noisy when the light drops, but on the whole the single rear camera is just fine. 
Its interface works the same as the iPhone; swiping gets you through the different shooting options, offering video, slow-mo, time lapse, square photo, regular photo and panorama to choose from. 
If we were being critical we'd complain that it often fails to tame excessive highlights in the pictures, but we weren't expecting perfection from a tablet camera. The results are good enough, and you won't struggle in those rare moments when you need to capture that mega awesome thing your kid is doing, and all you have to hand is an iPad. 
Verdict
The 2019 iPad Air is basically an iPad Pro in all but name. In fact, take it back a couple of years, and the smaller iPad Pro was pretty much this tablet. So if you can live without the FaceID, uniform bezels and Type-C port offered by the current Pro, then this 10.5-inch iPad Air is a compelling offering. Especially considering its sub-£500 price point.
You get a big, sharp and dynamic screen, all-day battery life, Apple Pencil and Smart Keyboard support, all in a device that's thinner than your smartphone and powered by a new operating system that's developed to make the most of the tablet screen.
In many ways the Air fills the gap between the basic bog-standard iPad, by ramping up the power, but still keeping down the price so you don't feel like you're spending excessive amounts on what is still, essentially, just an iPad. If you're going to get one though, we think this offers the perfect balance between power and value.
Also consider
Apple iPad Pro
squirrel_widget_148294
Apple has two sizes of iPad Pro, and both offer a bigger, better display than the Air, plus the more advanced FaceID facial recognition, a Type-C port and more immersive sound.  Of course, all those improved specs mean they cost more money too, so it's worth weighing up whether or not it's worth it for you. Still, if you have to get the best of the best, the iPad Pro is it. 
Samsung Galaxy Tab S6
squirrel_widget_161346
An Android tablet might not appeal if you're in the Apple ecosystem, but the best one going comes from Samsung. The S6 has an included stylus and, if you buy the accessory keyboard, it's also a laptop-replacement pitch.
10 reason you'll want to download iOS 13 now! - goodhousekeeping.com
Posted: 19 Sep 2019 12:00 AM PDT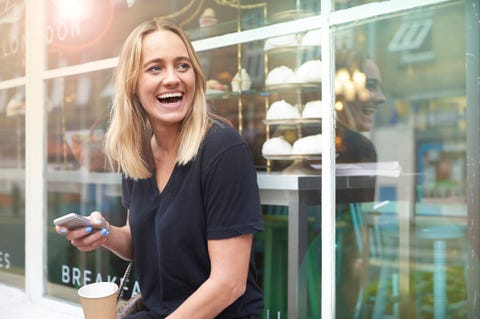 Plume CreativeGetty Images
If you've got an iPhone then you're probably being nagged to download iOS 13, the latest version of Apple's operating system that came out this week.

But if you're thinking of ignoring that red notification icon on your settings app, you may want to think again as iOS 13 is jam-packed full of handy features that will make your smartphone even better. We think you'll love the new additions, so here are the 10 of the best reasons to download iOS 13.
RELATED LINK: HOW TO DOWNLOAD IOS 13
It's worth noting that it can take several hours for the update to be pushed out to your phone, so don't panic if it doesn't show up right away. Open the Settings app and select Software update. If there's nothing available, check again in a couple of hours.
It'll be easier to see at night
Dark Mode uses darker background tones such as blacks and greys instead of harsher white, for squint-free phone use in low light. And it doesn't only work in Apple's own apps like Mail and Messaging, it also applies to other apps including Twitter (and we're sure more will build it in in the future). You can either switch it on manually as and when you want it or have it come on automatically at sunset.
New-look for Photos and new editing tools
The Photos app has been re-designed so the photos you took on a certain day, month or year are much easier to find. And there are more editing tools so you can flip an image and tweak shadows and sharpness.
Better camera effects
If you've got an iPhone that lets you take Portrait-style pictures, you'll now be able to adjust the intensity of the lighting and make use of a new lighting effect called High-Key Light Mono that turns the background white and puts the subject in greyscale tones to create stand-out shots.
A new way to type
Android phones already have access to third-party keyboards from the likes of Swiftkey that let you drag your finger across letters continuously and now that handy feature is available on iPhones thanks to QuickPath.
It's faster
Apple says iOS is twice as fast as the previous version of the operating system and that Face ID will be quicker. Even better, they've managed to shrink the sizes of apps too, so they'll take up less room on your phone screen.
And a few small but very useful changes….
Find my Friends and Find My iPhone have been merged into one app
You can add attachments, such as photos to emails directly from the Mail app – previously you had to open the photos app and use the share button
A long press on the wi-fi icon in the control centre opens up an expanded menu that lets you change wi-fi network, switch mobile data off and even put the phone in airplane mode
You can delete apps straight from the App update screen – just swipe left and hit delete
You can now opt to send unknown numbers straight to voicemail automatically
We earn a commission for products purchased through some links in this article.
Like this article? Sign up to our newsletter to get the GHI newsletter delivered straight to your inbox every week.