---
London edtech startup pi-top sees layoffs after major contract loss - TechCrunch
Posted: 12 Aug 2019 11:30 AM PDT
London-based edtech startup pi-top has cut a number of staff, TechCrunch has learned.
According to our sources, the company has reduced its headcount in recent weeks, with staff being told cuts are a result of restructuring as it seeks to implement a new strategy.
One source told us pi-top recently lost out on a large education contract.
Another source said sales at pi-top have been much lower than predicted — with all major bids being lost.
Pi-top confirmed to TechCrunch that it has let staff go, saying it has reduced headcount from 72 to 60 people across its offices in London, Austin and Shenzhen.
Our sources suggest the total number of layoffs could be up to a third. 
In a statement, pi-top told us:
pi-top has become one of the fastest growing ed-tech companies in the market in 4.5 years.  We have a unique vision to increase access to coding and technical education through project based learning to inspire a new generation of makers.

As part of this vision we built up our global team with a view to winning a particularly exciting national project in a developing nation, where we had a previous large scale successful implementation. We were disappointed this tender ultimately fell through due to economic factors in the region and have subsequently made the unfortunate but unavoidable decision to reduce our team size from 72 to 60 people across our offices in London, Austin and Shenzhen.

Moving forward we are focusing on our growth within the USA where we continue to enjoy widespread success. We are rolling out our new learning platform pi-top Further which will enable schools everywhere to access a world of content enhanced by practical hands-on project based learning outcomes. We have recently completed a successful Kickstarter campaign and we look forward to releasing our newest product pi-top [4].

We are also proud to have appointed Stanley Buchesky as our new Executive Chairman. Stanley brings a wealth of experience in the ed-tech sector and will be a great asset to our strategy going forward.
Pi-top sells hardware and software designed for educational use in schools. It's one of a large number of edtech startups that have sought to tap into the popularity of the "learn to code" movement by piggybacking atop the (also British) low-cost Raspberry Pi microprocessor — which provides the computing power for all pi-top's products.
Pi-top adds its own OS and additional education-focused software to the Pi, as well as proprietary cases — including a bright green laptop housing with a built-in rail for breadboarding electronics.
Its most recent product, the pi-top 4, which was announced back in January, looks intended to move the company away from its first focus on educational desktop computing to more modular and embeddable hardware hacking that could be used by schools to power a wider variety of robotics and electronics projects.
Despite raising $16M in VC funding just over a year ago, pi-top opted to run a crowdfunding campaign for the pi-top 4 — going on to raise almost $200,000 on Kickstarter from 521 backers.
Pi-top 4 backers have been told to expect the device to ship in November.
Blacksburg startup raises $60 million to fund more clinical trials for new drug - Roanoke Times
Posted: 13 Aug 2019 05:30 AM PDT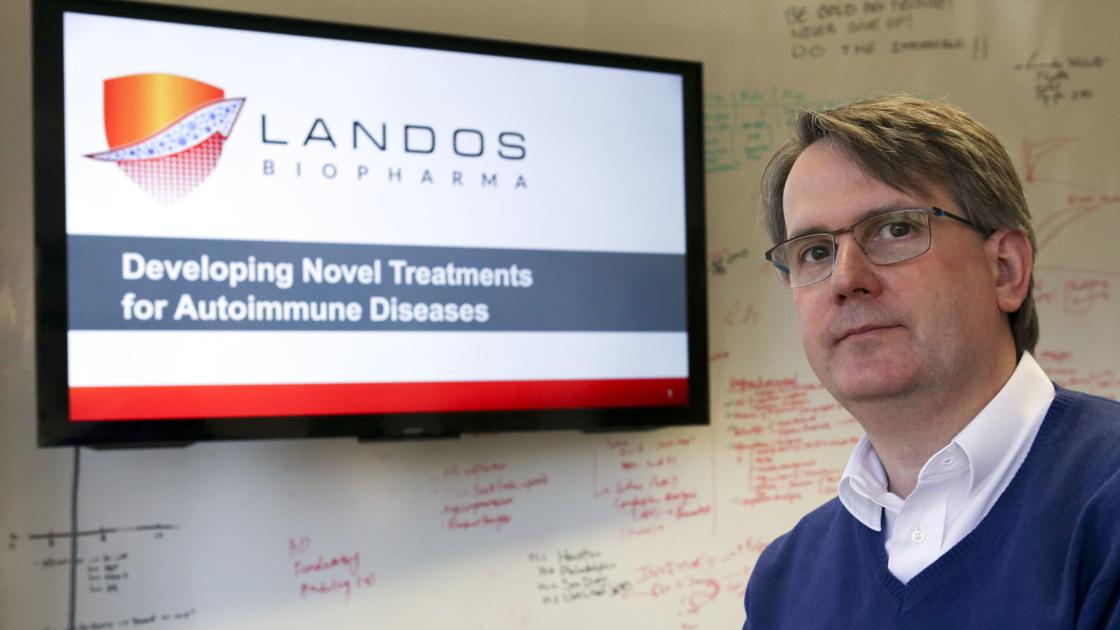 Landos Biopharma announced Tuesday it raised an additional $60 million in its quest to achieve federal approval for new autoimmune disease medications.
This round builds on top of $10 million the startup raised in 2017, right before it began Phase I clinical trials of its primary drug in development, called BT-11.
"Our ultimate goal is to serve those patients with autoimmune disease with unmet needs," Virginia Tech researcher and Landos CEO Josep Bassaganya-Riera said. "And whatever it takes, we'll do to accomplish that."
Sam English, a local entrepreneur who recently studied the state of the region's startup fundraising ecosystem, said this amount of capital is unusual.
Several local companies have raised funding rounds around $20 million in recent years. Roanoke County's PixelOptics made a big splash when it raised $45 million to launch eyeglass technology in 2011.
English said it's hard to compare fundraising from one startup era to the next, but anything above that high water mark would rank among the region's largest startup funding rounds in recent history.
Drug development is notoriously expensive, beginning in the lab and then progressing through years of clinical trials in order to receive approval from the U.S. Food and Drug Administration.
Bassaganya-Riera said the first $10 million Landos raised paid for Phase I clinical trials for BT-11, an oral treatment for ulcerative colitis and Crohn's disease.
For that study, healthy volunteers received the drug in order to gauge whether it's safe for humans.
Bassaganya-Riera said BT-11 checked all those boxes. And as a bonus, the results showed lowered fecal calprotectin levels, a biomarker widely viewed as an indication of effective treatment for the targeted ailments.
BT-11 works differently from other treatments for ulcerative colitis and Crohn's disease because it's administered orally, which means it wouldn't require injections and hospital visits. Also, it stays confined to the gastrointestinal tract, which decreases the potential for side effects.
With the positive Phase II results in hand, Bassaganya-Riera said he hit the fundraising trail about four months ago.
New York life sciences investment firm Perceptive Advisors, which led the 2017 round, put in more money. New investors, including RTW Investments, Osage University Partners and PBM Capital, also took a bet on Landos.
The $60 million will primarily be used to pay for Phase II clinical trials. The first study will include 195 patients with ulcerative colitis across 46 sites in the U.S. and Europe. Later, they'll do the same for people with Crohn's disease.
Bassaganya-Riera said the funds will also help push Landos' next drug in the hopper closer to its own clinical trials. That medication, called NX-13, is also an oral treatment for ulcerative colitis and Crohn's disease.
Landos employs about 20 people at its Blacksburg headquarters and an outpost in Northern Virginia, combined. With the new funding and challenges ahead, Bassaganya-Riera said they'll need more workers, from clinical project managers to scientific researchers.
Over the next couple years, he said the company could easily double in size.
Bassaganya-Riera has described an aggressive timeline for Landos since the day he launched the startup, and he has stuck to those plans so far.
If the Phase II trials go as he expects, the next step would be even bigger. That's when Bassaganya-Riera said he would consider the possibility of an acquisition or potential initial public offering to carry the drug through the third and final phase of trials.
But that decision time won't come until next year, at the earliest.
"My preferred approach would be going public, because that would allow us to support the Phase III studies, would allow us to further grow Landos into a robust, commercialization-ready biopharmaceutical company," Bassaganya-Riera said.
Proptech startup REALly raises S$500,000 in seed funding - The Business Times
Posted: 13 Aug 2019 05:01 AM PDT
PROPERTY management marketplace REALly has raised S$500,000 in seed funding from strategic advisory Huntington Partners, alongside angel investors, the company said in a press release on Tuesday. 
The Singapore-headquartered startup has developed an app for property managers to coordinate the numerous tasks involved in projects such as office renovations, outfitting of retail stores and condominium and facilities management.  
REALly currently has over 50 property and project managers on its platform, from firms including Savills, Colliers International and Faithful+Gould, said the startup's founder Joerg Zeugner. 
The app also features a marketplace with close to 2,500 suppliers and contractors. The marketplace aims to promote price transparency among the suppliers and contractors via an open bidding process for their services and a ratings function. 
The seed funding "will enable the team to further enhance the application and marketplace and allow us to develop overseas markets, specifically Malaysia and Indonesia, where REALly has already identified partners", said Mr Zeugner in the release. The startup, which was thus far bootstrapped, has 14 employees. 
Saacketh Chawla, regional head of project management at Colliers International, said in a statement: "There will be genuine benefit through technology-enabled platforms like REALly that can bring both efficiency and transparency to this industry."
Ancient city of shoguns buzzes with startups - Nikkei Asian Review
Posted: 12 Aug 2019 11:05 AM PDT
TOKYO -- Kamakura, a city about 50 km southwest of Tokyo, attracts some 20 million tourists a year, making it one of the most popular destinations in the metropolitan area.
A lesser-known fact about the onetime political capital of Japan is that it is home to a collection of startups that took root in the early 2010s, forming what later came to be known as "Kamacon Valley," after the famed tech cluster in California.
Recently, a broader range of companies, including some outside the technology sector, have opened headquarters in the city, giving newer entrepreneurs access to more experienced mentors.
One recent arrival is PoliPoli, which was incorporated last year. The company's product is a political debate app that gives people a platform to talk about policy issues and brings politicians into the discussion.
In January, the company moved into a shared office in the city. "Kamakura is just the right location for our vision to renew politics as we know it," said Kazuma Ito, PoliPoli's founder and CEO. Ito, a student at Tokyo's Keio University, says glitzy places such as Tokyo's Roppongi district do not appeal to him.
"Rather than Tokyo, the center of everything, I wanted to have our headquarters in Kamakura because you have a lot of nature there, and there are fascinating people," he said.
Kamakura, where the shogun Minamoto no Yoritomo established Japan's first hereditary military government in the late 12th century, is about an hour from central Tokyo by train. Its beautiful beaches and historic sites attract many visitors.
But its very popularity presents a problem: Traffic to and from Tokyo is often snarled, and height restrictions on buildings aimed at preserving the scenery, including around Kamakura Station, make the city less than ideal as a business center.
One contributor to Kamakura's growth as a startup hub was a project begun in 2013 by seven companies, including online advertising company Kayac; Lancers, a crowdsourcing platform operator; and Murashiki, which operates e-commerce sites. They dubbed the project "Kamacon Valley."
The group later founded a nonprofit called Kamacon to manage the project. The nonprofit is made up of more than 30 corporate and 120 individual members who gather once a month to discuss community development and regional issues.
Microstay, a company that allows people considering a move to try out a place temporarily, was created through discussions at Kamacon. The nonprofit also operates a crowdfunding site called Iikuni to help entrepreneurs turn their dreams into reality.
Kamakura Mayor Takashi Matsuo has called Kamacon a "key asset" for the city.
Kayac, a major player in Kamakura's startup scene, moved its main operations to Kamakura's larger eastern neighbor, Yokohama, in 2012, after the company outgrew its original location. Lancers relocated to Tokyo's Shibuya district the following year. Kamacon had lost a couple of its leading lights, but managed to hang on. Then, last November, Kayac moved back to Kamakura, bringing about 300 employees with it.
Kayac has opened Machi no Shain Shokudo ("town cafeteria"), a restaurant that serves employees of local companies at discounted prices. It has also teamed up with Toshimaya, maker of Kamakura's well-known dove-shaped souvenir cookies, to run a nursery.
Kayac CEO Daisuke Yanasawa said he sees his company as one that "collaborates with a variety of people in the local community and lives with them."
Kamacon's early members were mostly in information technology, but these days their backgrounds are more varied. Inaho, which makes vegetable-harvesting robots, was founded two years ago in the Zaimokuza district, a magnet for surfers.
Inaho CEO Yutaka Hishiki was born and raised in Kamakura. At one Kamacon meeting, he met some local farmers, one of whom was having trouble with weeds. Intrigued, Hishiki visited the farmer the next day. Their conversation inspired him to set up his robot business. Another Kamacon attendee became Inaho's first outside shareholder.
Japan's economic and political center of gravity may have shifted northeast, but Kamakura proves that it is possible to teach an old town new tricks.
AI ConTech Startup Closes $14 million Series A Round - Forbes
Posted: 13 Aug 2019 06:00 AM PDT
As we've seen in a previous article, the Construction Tech (ConTech) market is huge and filled with low-hanging fruit for the technologically savvy contractor or client to pick. Though there are seven areas in the construction value chain that could (and are starting to) benefit from the advent of ConTech, the biggest gains in the space are currently being had in the management of construction processes, even when traditional methods of construction are used. One of the most exciting and useful innovations within this space is 4D representation and the subsequent analysis of a site's progress using a combination of 360-degree imagery and sophisticated AI.
As a testament to the increasing significance of the ConTech subsector, OpenSpace, a two-year-old San Francisco-based startup specializing in this technology, just closed a $14 million Series A funding round.
The round was led by Lux Capital, joined by returning investor Goldcrest Capital along with new participants JLL Spark, Navitas Capital, Suffolk Construction, Tishman Speyer, WeWork and Zigg Capital. Participation in the round by important real estate and construction players underlines the growing importance that industry stakeholders give to de-risking projects through accurate and near real-time planning and process management.
OpenSpace uses its patented artificial intelligence to automatically create navigable, 360° photo representations of any physical space. Builders attach a small camera to their hardhats and walk a site as normal, with OpenSpace passively capturing imagery in the background. Imagery data is then uploaded to the cloud, where OpenSpace's algorithms map the photos to project plans and stitch them together, creating a visual representation of the site similar in style to Google Street View. This data then accumulates over time allowing stakeholders to review site conditions at any chosen milestone. Notes taken during the walk in the OpenSpace app are automatically pinned to the time and place in which they were taken, so that context information, requests, and clarifications are made easier. Other stakeholders such as architects and owners can use it to conduct virtual site tours. OpenSpace also has a BIM viewer functionality, allowing for side by side comparisons of the actual job site with its 3D BIM model.
The use of tech such as that provided by OpenSpace brings many benefits. On the one hand, contractors can manage their work and that of their subcontractors ranging from scheduling through change orders and RFIs, to payment requests more effectively. Reporting obligations are streamlined, and inefficiencies arising from disputes are dampened thanks to accurate visual data. On the other, the supervisory role of the client is simplified and many grey areas are done away with. According to OpenSpace, customers report that its tech allows for 30 times faster data capture compared to traditional, manual methods.
Jenny Wong, managing director at Tishman Speyer told me that: "Tishman Speyer has piloted OpenSpace at MIRA in San Francisco and now at our ongoing construction of the Spiral, a three million square foot development in New York City, and we see value in scaling this program more broadly. Access to accurate, immediate data is essential in the development and building process, and we are excited to be partnering with OpenSpace."
David Gerster, vice president at JLL Spark, had the following to say about OpenSpace: "Tracking progress on a construction site has historically been a slow, manual and inefficient process. Multiple parties travel to a site to take static, low-quality pictures with whatever camera is on hand. Often these pictures end up buried in email and forgotten once the job is complete. OpenSpace makes it easy to create a realistic 'street view' of a job site: you simply wear a hardhat with a camera on top and walk the site. The result is that now everyone on the project sees the same high-quality imagery, which is a huge time saver. When the project is finished, there's a permanent record in the cloud, which means that answering questions about the work performed is as simple as looking at the instant replay. Through JLL's construction management services, we were able to pilot OpenSpace in two office buildings. It's a level of due diligence most venture investors just don't have access to. We are excited to roll out OpenSpace's technology across other JLL buildings and clients."
OpenSpace has grown exponentially since its inception in 2017. Having secured seed funding for $4.25 million in August of that year, it launched out of stealth just over a year ago and claims to now be deployed on projects exceeding $50 billion in total value globally, with its customers having captured more than 150 million square feet of data since launch. Clients, besides those that are also investors such as Tishman Speyer, JLL and WeWork, include AECOM, Brookfield, Novo Construction, Turner Construction, DPR, Sundt, PARIC  and many more. The team has grown from 5 to 35 members since launch, and the company is on track to multiply its revenue fivefold this year, with a 25% monthly user growth rate.
"At OpenSpace, we're using AI to augment workers' capabilities by making documentation fast, easy, and complete," said Jeevan Kalanithi, cofounder and CEO of OpenSpace. "We started this company by collaborating with builders, on their job sites. We knew that any documentation solution needed to be totally passive in order to fit into the extremely busy day-to-day of a construction site, and this is what inspired us to create OpenSpace's unique tap-and-go approach."
The company plans to use the funds it just raised to continue scaling up its operations and make its current products more widely available, with a significant push on expanding its sales and marketing efforts. It will also work on developing a new range of computer vision powered products that will leverage the unique and growing dataset it is creating.