"Podcast: How Tech Venture Capital Boosts Economies, Thus Real Estate - GlobeSt.com" plus 1 more
---
Podcast: How Tech Venture Capital Boosts Economies, Thus Real Estate - GlobeSt.com
Posted: 08 Jul 2019 08:37 PM PDT
NEW YORK CITY—Alessandro Piol, co-author of "Tech and The City: The Making of New York's Startup Community," in the chapter "Angels in New York: Collapse and the Birth of a Community," interviews Scott Heiferman the founder of MeetUp.com. Heiferman says before 9/11, he had no interest in his local community. But following the horrific terrorist attack, his interest in talking to and getting to know his neighbors grew. He saw the strength of what people could do when organized. Heiferman then created MeetUp, so individuals in a community could organize.
The book states, "Now the world's largest network of local interest groups with over 11 million members in 45,000 cities in 2012 … is just one of the new ideas and businesses arising from the rubble of the 'first' Silicon Alley and the Twin Towers."
At the heart of any thriving city are people who need jobs and places to work and live. This requires investments in businesses and cities.
Piol has been in venture capital for the past 25 years, investing in businesses across the US. Coming with his family from Italy as a high school student, he went on to earn his bachelor's and master's degrees in computer science from Columbia University, and his MBA from Harvard Business School. Piol worked in marketing and product management at Pixel Machines. He later became a general partner at the venture capital arm of AT&T, then Invesco Private Capital before co-founding venture capital firms, first Vendata Capital then AlphaPrime.
At a Savills event in May, Kathryn Wylde, president and CEO of Partnership for New York City, noted last year there was a 21% drop in foreign immigration. She called this "a threat to the city."
Piol agrees. He notes the federal government has made immigration more difficult, reducing the number of visas available, even for experts. "When it comes to having brilliant people that graduate from US universities, I think we should do our best to keep the talent in the country because that talent will help us grow further and develop new inventions," he says. "Many times if you look at the successful companies that were created, they were created by immigrants. And we don't want to lose that. It's a big mistake not to address this."
Piol also supports government creating initiatives to foster businesses. The book describes former Mayor Michael Bloomberg's strategic efforts to diversify New York City's economy following the financial crisis of 2008.
"New York was hit quite badly because New York is a center for global financial services. So Bloomberg at that time decided to think what other industries, other areas that can be fostered and helped so that will provide some other growth," he comments. Piol adds that New York's being so dependent on financial services was just too risky. He describes how tech startups came to New York in the 90s. But after the dotcom bubble burst in 2000, there was a rebirth of the tech industry.
He states in the past 10 to 12 years, technology has become an important component of New York. The venture capitalist points out how technology continues to grow in its application to other existing industries. He lists financial services, life sciences, media, advertising and cyber security as examples.
But Piol also acknowledges booming businesses while feeding real estate growth can also drive up rent. And affordable housing and office space are critical to fueling the virtuous cycle.
"Tech and the City" addresses this with tech entrepreneur Rohan Deuskar, who started Stylitics. He laments how expensive office space has become. The book quotes Deuskar saying, "The biggest challenge for a startup is to find space of any sort whether it is apartments for the founders and employees or offices."
On the flip side, the book quotes angel investor David Tisch acknowledging New York is expensive and space is scare. However Tisch says, "You should be able to figure out how to live here. You should be able to figure out where to work here." He adds the space challenges are an overrated problem and people can hustle and find cheap spaces. Tisch is quoted saying, "[I]t's a pain … but it's your job, just do it! Nobody wants to baby people in New York."
In the GlobeSt.com podcast interview above, AlphaPrime's managing partner says where he comes out on these opposing views. He also addresses much more including what stereotypical venture capital is like in New York versus in California. Piol points to where the geographic core of Silicon Alley traditionally lies in Manhattan and where he's seeing it grow.
With co-author Italian journalist Maria Teresa Cometto, Piol interviewed over 60 people to pull together the comprehensive book that's also a quick read. He ends the GlobeSt.com interview describing what makes people stay in a city—and make it their home.
Quilt's new app turns networking into great conversations - Fast Company
Posted: 09 Jul 2019 07:00 AM PDT
The elevator opens into a spacious apartment overlooking a park in Brooklyn.  There are donuts spread across the kitchen island, and clusters of women stand around the room, meeting each other for the first time as a very fluffy cat flounces around at their feet (his name is Humphrey).
I've arrived at this apartment for a conversation about money—but this is no ordinary panel discussion or networking event. It's a meetup organized by a startup called Quilt, which facilitates small-group conversations out of women's homes.
The group of 10 or so women settle into a circle, with some people on a big L-shaped couch, some in chairs, and some on the floor. Our host, Zeina Muna, begins by reading a set of guidelines for the conversation to follow.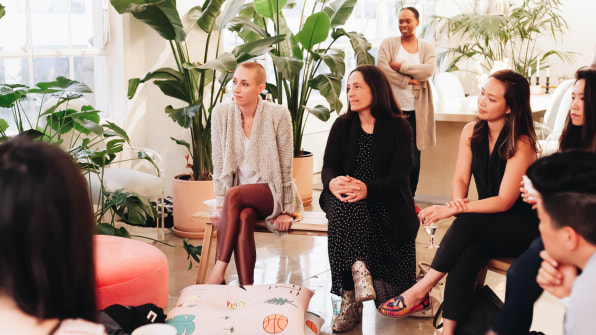 "We are here to share and listen," she says. "You might want to give advice but it's more welcoming to respond with another share. . . . Let's make room for everyone to speak."
We go around the room, each person introducing herself and introducing a single word to describe her relationship with money, the chosen topic for today's conversation. Muna starts us off with "codependency," and other women choose words like "anxiety," "recovery," and "evolving." (I throw in "anal.") From there, we discuss the elements of our lives that have shaped that feeling, move on to ways we've learned to manage money, and finally get into how money has impacted our romantic relationships.
These are incredibly intimate questions, ones that many people wouldn't even feel comfortable sharing with their friends or family. Muna, who's the director of business development at iFundWomen, a crowdfunding platform for female entrepreneurs, said that she had invited a friend and former coworker to the conversation but that person had declined because she didn't feel comfortable talking about money with someone she'd worked with before. But somehow, among this group of total strangers, many of us open up about the strains that money has placed on us, how we've navigated them, and what we're struggling with now. One woman shares that her former partner had been addicted to spending money, and it had been one reason they broke up.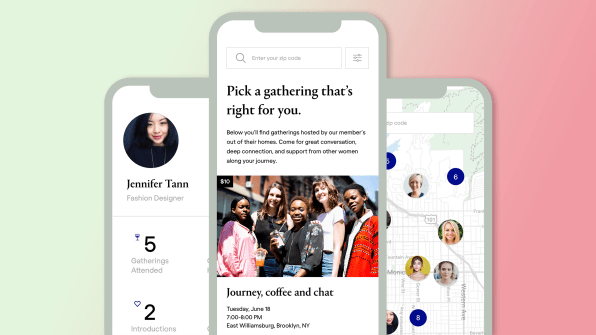 By the end, I know a lot more about who these women are than I do about what they do for a living. So when, at the end of the conversation, Muna requests that we all share an "ask" with the group—one person asks for recommendations for a good event space, another is looking for startups that need help navigating the fundraising process—I feel totally comfortable helping.
That's Quilt's aim: to help women connect with each other in a genuine way, with the eventual goal of women helping each other achieve their personal and professional aims.
"It's less this kind of masculine approach of: 'Hi, my name is, this is what I do, and this is how I can help you,'" says Ashley Sumner, Quilt's CEO who cofounded the company in 2017 with entrepreneur Gianna Wurzl. "But the outcome is that you feel more deeply connected to the person."
It's also about making networking friendlier to people who aren't sure how to partake in the classic exchange of business cards and chummy conversation. In traditional networking, a "lot of people are giving you business cards, you put it in your bag and don't even remember who that person was. I was getting a little sick of that," Muna says.
But if you're in someone's living room, with your shoes off and a cup of tea in your hand, you might feel more comfortable. "For us, it was always around this idea of restoring balance, making sure that anyone who wants access to the right room can be in that room, having the conversation that they deserve to have," says Sumner, who previously ran the membership program at the social club Neuehouse and worked as the head of community development at the yoga festival company Wanderlust.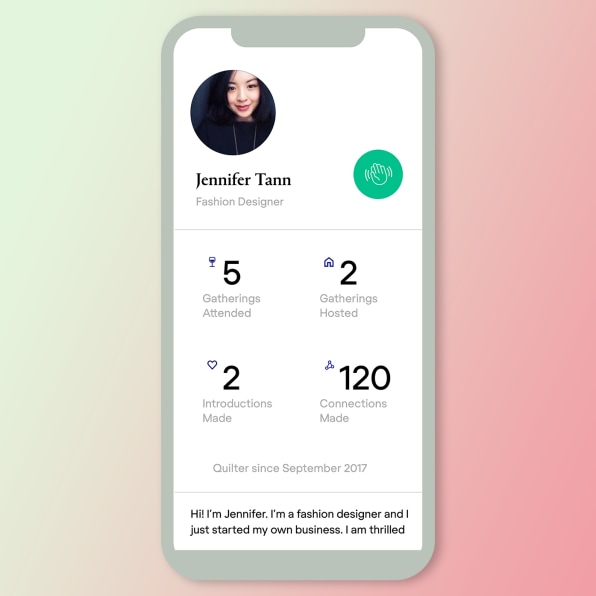 The company began as a platform for female entrepreneurs to transform their homes into co-working spaces, but the women who started showing up were much more interested in talking to each other than they were in getting any work done. As a result, Quilt has shifted into a facilitator for the kinds of small, intimate conversations that I experienced. These "chats," as they're known on the platform, are not all about money: topics range from compassion to fundraising to love and relationships.
Anyone can sign up to be a host, and then they get to decide when they host, what the topic is, and who can come (hosts have the right to decline anyone they don't want in their home, but Sumner says that rarely happens). Hosts also get paid, taking home around 80% of the ticket sales depending on what kind of event they're hosting. And those vary widely: In the next few weeks, Quilt has gatherings on perfectionism, intuition, and social media addiction, as well as workshops on topics like zero waste living and ways to improve your credit. Quilt also hosts "ask and tells," where one of the Quilt founders will interview a prominent woman—like Ella Huerta, the CEO of the self-care app Mend, or Jillian Manus, the managing partner of early stage venture fund Structure Capital—whom many women would never be able to interact with in a small group setting. These events all have one major thing in common: each gathering takes place in a person's home.
The events are open to everyone and have a price tag that ranges from $12 (for one-hour-long, conversation-focused chats) to $30 (for multi-hour, education-focused workshops), which is low compared to the many membership-based social clubs that charge hundreds of dollars per month for access to their community and events. It's a higher cost than many of us are accustomed to paying for a conversation—free!—but Quilt has found that people are willing to shell out for the opportunity to meet other women in such an intimate space. Quilt also offers a membership of $39 a month that provides unlimited access to its events, but membership isn't required to be part of the community, which has hosted more than 2,000 gatherings in the past year and a half.
Some women come for the professional connections, which was Sumner's and Wurzl's original intent. But some become friends as well. (Some Quilt members have even traveled together.) Because the events are so small and users of the platform are still relatively few—Sumner says that at least 500 women have joined a gathering—it's a bit like an adult sorority, with the chance to always meet new people.
Today, Quilt is launching its own app to make it easier for women who meet at Quilt gatherings to connect with and message each other. After the chat that I attended, we all wrote down our emails and Instagram handles and then took a picture of the list—not the world's most efficient way of keeping in touch. Quilt's new app lets you keep track of which events you've gone to and whom you've met so you can easily reach out if you want to see each other again, or if you want to follow-up on something that the woman asked for during the chat.
This is the start of Quilt's larger ambitions: unlike other social clubs or co-working communities that are based in physical places that the company owns, like the Wing or WeWork, Quilt isn't limited by how much real estate it can acquire. Instead, the company is trying to empower women who like hosting to use the spaces that they already have access to—their living rooms and kitchens—to meet other women and make connections. The app is a step toward Quilt's aim to scale across the country, making it much easier to connect with the people you meet through its events. But that doesn't mean its individual events will get any bigger: they'll continue to have the same kind of group-therapy-meets-networking vibe. "I want millions of homes open globally right now, with 10 people sitting inside each, having a conversation like they've never had before," Sumner says.