---
High-flying Indian budget hotel startup Oyo hires ex-Uber GM to lead new Seattle office - GeekWire
Posted: 23 Jul 2019 10:25 AM PDT
Oyo, a six-year-old hotel startup that has already grown to dominate the budget hospitality scene in India and China, is setting its sights on the U.S. and has just landed in the Pacific Northwest. The company is establishing an office in Seattle's Pioneer Square neighborhood that will be home to Oyo's regional sales, operations, finance and product teams, GeekWire has learned.
Seattle is just one city in a massive global expansion for Oyo, which is the third-largest hotel chain in the world by the number of rooms. In the U.S., the startup operates more than 50 hotels in 35 cities, including Dallas, Houston, Atlanta and Miami. Oyo said earlier this year that it plans to invest $300 million in the states, with Dallas serving as the firm's U.S. headquarters.
Heading up Oyo's Seattle office and the company's Northwest operations is Alejandro Chouza, who was previously general manager of Uber's Northwest operations, working out of the company's engineering center in Seattle. Chouza also helped launch Uber's operations in Mexico; before that, he`was a senior product manager at Microsoft and co-founder of Tio Labs, a pharmaceutical manufacturer based in Mexico that was acquired.
Chouza told GeekWire that Seattle has "immense business value" for Oyo, but declined to elaborate on hiring plans. Of the 106 nationwide job openings on LinkedIn, Oyo lists 17 jobs for the Seattle area and is hiring for everything from designers to software engineers.
"I truly believe that no matter how much money you have in your pocket, everybody deserves to be able to stay in a clean bed and a safe environment, and I am humbly proud to see how OYO is addressing this need-gap," Chouza said in a statement. "…There is massive potential for Oyo in the northwest USA and I am confident that Oyo will become one of the top hotel companies in the Northwest by next year."
OYO is one of more than 100 out-of-town tech companies that have set up outposts in the Seattle region, which is also home to travel giant Expedia.
"Our expansion and growth story is supported by the efforts of over 17,000 OYOpreneurs (employees) across the globe and we are positive that the quality of talent Alejandro brings to the table will chart our successful course in the U.S.," Oyo founder and CEO Ritesh Agarwal said.
The story of Oyo's hyperbolic success is the stuff of startup legend.
Agarwal founded the company when he was only 19 years old with the idea that he could transform thousands of small, independently-owned hotels into a global chain. Agarwal's booking platform and franchise model went gangbusters, and six years later the startup now oversees 850,000 rooms worldwide across 800 cities. Half of those rooms are in China, making Oyo the largest hotel brand in the country.
Majority investor SoftBank; Sequoia Capital; Airbnb; and other high-profile backers have invested $1.6 billion into Oyo. The startup was valued at $10 billion last week after Agarwal repurchased $2 billion in company shares from investors Sequoia and Lightspeed.
From the customer's point of view, the appeal of Oyo is startling affordability — a king-size bed in Jackson, Miss. currently goes fo $32 per night — along with clean rooms and seamless technology that includes easy booking and demand-based pricing. Oyo is betting that dynamic pricing, which lowers room rates to fill more beds, can make cheap hotels profitable.
In addition to the hotel franchise, Oyo also operates an Airbnb-like home rental business and recently moved into coworking, establishing 20 locations across 10 cities in India.
Cities With Good Public Transit Lure New Startups - CityLab
Posted: 18 Jul 2019 01:25 PM PDT
During the late 20th century, startup companies were quintessentially suburban, in standard-issue office parks dubbed "nerdistans." Think of Silicon Valley, the North Carolina Research Triangle, and the suburbs of Seattle where Microsoft is located.
But high-tech startups have become increasingly urban in the past decade or so, gravitating to dense neighborhoods in downtown San Francisco and Lower Manhattan, which have supplanted Silicon Valley as the nation's leading centers for such startups.
Now a new study finds a close connection between transit access and startups of all types—not just high-tech startups. The study, by Kevin Credit from the Center for Spatial Data Science at the University of Chicago, uses advanced spatial econometric techniques to examine the connection between transit and business startups in five cities. Two of them, San Jose (Silicon Valley) and Austin, are well-documented startup hubs with underdeveloped transit infrastructure; two others, Philadelphia and Cleveland, have reasonably well-developed transit systems but low rates of startup activity; and Boston has both a high level of startup activity and an established transit system.
He tracks startups using detailed data from the National Establishment Time Series (NETS, a private provider of data on U.S. businesses) on location, industry sector, and year of birth, classifying businesses by four industries: retail, services, and food; high-tech; producer services; and a broad knowledge-based category spanning information, finance, real estate, and management. The study calculates the proximity of startups at the block level at 0.25 and 0.5 mile increments from three types of transit: commuter rail, light rail, and heavy rail, in the census blocks for all counties in each Metropolitan Statistical Area (MSA) containing rail transit stations.
The study documents a close relationship between startups and transit, even though the average block in the study has residents with a fairly high level of car ownership (1.74 vehicles per household). The average block also shows relatively high levels of educational attainment among adults with 36 percent holding a college degree. This positive relationship exists "even while controlling for several forms of spatial dependence, total existing and new business activity in the block, and other socio-demographic factors," the study notes.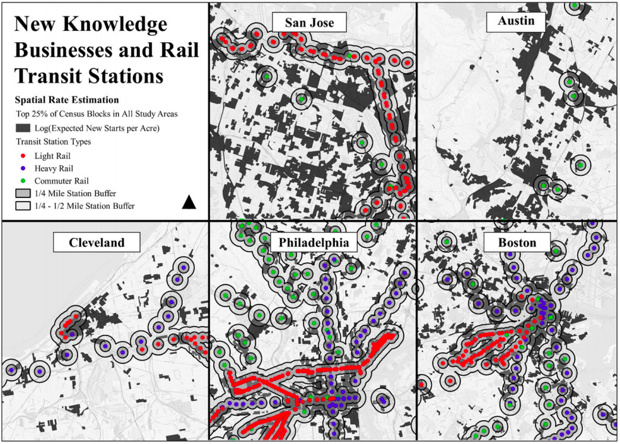 But there are clear differences between the five cities, as the maps above show. Light rail systems are shown in red, heavy rail in purple, and commuter rail in green. (For example, Boston's green line, which began life as an above-surface line is light rail; the rest of its T system, like many underground city systems, is heavy rail; and the MBTA's broader regional train is commuter rail.) The dark blotches indicate expected startups per acre. You can see the clustering of startups around transit in Philadelphia and Boston for a simple reason: their more established transportation systems. After all, they are the two cities featured in urban historian Sam Bass Warner's books on the rise of transit-served streetcar suburbs.
"Historic, walkable land-use patterns that make everyday access to transit easier also may play a role," the study notes. There is little overlap between transit and startups in Austin and Cleveland, nor in San Jose, where light rail runs at the outskirts of the major startup clusters.
There are myriad differences across the three main types of transit. Of the three, commuter rail is the most consistently associated with new startups, at about double the rate of both light rail and heavy rail. This may be due to differences in the sheer existence and widespread coverage of these three types of transit systems.
Generally speaking, commuter rail stations are the most extensive, with nearly ten percent of all blocks being within a half-mile of a station, compared to only five to six percent of blocks being near any rail stations. As the study notes, "by their nature as 'commuter' transit, these rail stations represent generally larger investments (in terms of size and design) and/or tend to be located in more desirable locations for business development, for example, suburban locations."
The most interesting finding concerns the way different kinds of industries cluster around transit. It's the least technologically intensive industries—retail, services, and food—that cluster the most around transit. That makes sense, since these businesses tend to locate in and around high-traffic locations to catch the eye of passersby and potential customers. Next in line are the broad knowledge businesses, high-technology, and then producer services. It's not just high-tech startups that gravitate to transit, it's all kinds of new businesses.
Ultimately, transit is more than just a mobility strategy, it is a stimulant for new business creation, job generation, and economic development as well.
CityLab editorial fellow Claire Tran contributed research and editorial assistance to this article.
Newchip Accelerator Launches New Seed Cohort in July 2019 - GlobeNewswire
Posted: 23 Jul 2019 10:48 AM PDT
Austin, TX, July 23, 2019 (GLOBE NEWSWIRE) -- Newchip, an Austin-based web and mobile investment platform that connects startups to investors, is excited to announce the launch of its July Seed Accelerator cohort, which includes 19 new startups from around the world. The startups range in industry focus from oil-and-gas pipeline monitoring technology, to property rent management solutions, to yoga studio management software, and more.  

"Our Seed Accelerator program is growing at a faster rate than initially imagined," said Ryan Rafols, CEO of Newchip. "Startups from around the world are coming to us to learn how to fundraise, how to scale their company, and ultimately how to propel their business to the next level. It's humbling to see the huge impact Newchip is making in the lives of hundreds of entrepreneurs, and I can't wait to see what's next." 

Newchip launched its inaugural online accelerator program back in April 2019 with the mission of preparing its participants to launch, scale, and fund their startups. Startup founders in the inaugural cohort graduated at the end of June 2019 in Newchip's Investor Startup Showcase, a multi-day, online event for participating startups in the Accelerator program to pitch their companies to prospective investors around the world. 

"It's becoming much clearer to the Newchip executive team that we are doing something right, that we are adding a substantial amount of value to the startups we help," said Joshua Lawton, Accelerator Director of Newchip. "Our commitment to the global startup community is simple: we are here to help serious entrepreneurs challenge the status quo by empowering them to take their companies to the next level."

Companies participating in the July 2019 Newchip Seed Accelerator include:
Bnotes (Florida, USA): Bnotes keeps business thoughts organized and informed so that companies can easily move them into action, and gauge the impact of their efforts.
Trio Rewards (California, USA): Trio Rewards empowers local retailers to acquire new customers by enabling their existing customers to earn money for word of mouth marketing.
NextOrbit (Texas, USA): NextOrbit offers predictive algorithms that works on retailer data combined with competitor pricing.
BattlePro (New York, USA): BattlePro is the only tournament management platform that directly allows Esports organizers to create league based tournaments.
Retrolux (Idaho, USA): RetroLux is software for automated lighting sales that simplify buying, selling, and maintaining high-efficiency energy streams.
Agent File (California, USA): Agent File is a boutique transaction coordination and real estate brokerage that provides transaction coordination services to some of the most innovative brokerages, agents, teams, and developers of new construction, homes, and condos.
mlQrotech (Florida, USA): mIQrotech merges IoT and AI technology to predict oil and gas pipeline leaks before they happen.
fitDEGREE (New Jersey, USA): fitDEGREE is a powerful, yet affordable studio management software designed with yoga studios in mind.
TotalSynch (California, USA): Using unique and patented Syllabic Module Programmed Language Engine (SiMPLE), TotalSynch breaks down simple text into natural-speech syllables, and converts them to the motions and sound of an actor's voice becoming a natural language interpreter.
Outfix (New York, USA): Outfix is a marketplace of personalized fashion advice from stylistically like-minded peers and influencers for an exclusive and confident shopping experience.
4period (Tennessee, USA): 4period designs undergarments that are comfortable, affordable, practical, and efficient. 
LetsAllDoGood (Massachusetts, USA): LetsAllDoGood is the smartphone app for all the good in the world which connects nonprofits and social organizations to supporters on their smartphones with rich, actionable, measurable, and shareable communications.
Paymatrix (Telangana, India): Paymatrix is India's largest property rent management platform, streamlining rental payments and collections for individuals and businesses. 
Proper Living Co. (California, USA): The Proper Living Co. creates well-designed products for repair and recovery. Its flagship product, the Proper Pillow, has gained strong acceptance and traction in the holistic healthcare sector.
Bodies Done Right (Ohio, USA): Bodies Done Right is the developer of innovative virtual training software to improve corporate wellness.
Phoenix Rising Technology Group (Texas, USA): Phoenix Rising Technology Group is a software development company focused on developing TradingSimple, a fully automated algorithmic day trading platform that buys and sells stock with no human intervention, allowing investors to remove emotion from the market. 
Kinn Home (Texas, USA): Kinn is a modern lifestyle brand that offers personalized curation and in-home sampling by producing e produce everyday home essentials starting with tableware, to make elevated design accessible for daily living.
Carii (Pennsylvania, USA): Carii is a unique end to end "meta" platform for creating dynamic branded community ecosystems around organizations.
Torrent Tactical Loading Systems (Virginia, USA): Torrent Tactical Loading Systems is a collaborative consortium of military and senior law enforcement veterans developing lifesaving equipment to provide tactical superiority of personnel engaged in high-stress combat situations.
Newchip's Accelerator is revolutionizing the global startup accelerator and fundraising industry by democratizing capital and bringing access to companies outside of major startup hubs. Its programs, including its Seed, Pre-Seed, and Bootcamp, accept new applicants on a rolling basis, graduating more companies than a typical accelerator due to its equity-free and tuition-based nature. 
About Newchip Accelerator:
The Newchip Accelerator is an immersive, equity-free, online accelerator program for Early Stage to Series A startups serious about scaling their businesses to the next level. Participants engage in a comprehensive curriculum of training, 1-1 mentor sessions, Masterminds, and live classes to prepare them to raise investment capital from Angels, VC's, and the crowd. Three components comprise the Newchip Accelerator: Bootcamp, Pre-Seed, and Seed. Startups apply and are accepted into an appropriate Accelerator program based on the stage, traction, and trajectory of their business.
To apply for the Newchip Accelerator, please visit https://launch.newchip.com/. 
Follow Newchip on Linkedin, Facebook, Instagram, and Twitter.
Contact: Mr. Armando Vera Carvajal Newchip Media Relations Austin, TX USA pr@newchip.com