---
The Brooklyn Startup Helping High-School Athletes Go Viral - The New Yorker
Posted: 19 Jun 2019 04:17 PM PDT
On the occasion of the Duke freshman Zion Williamson declaring for the N.B.A. draft, a couple of months ago, a Brooklyn-based startup called Overtime produced a video retrospective worthy of a veteran's valedictory. "It didn't happen overnight," the narrator says. "Take notes, little bros, because I'm about to give you a history lesson." We see clips of Williamson at sixteen: winning a dunk contest against the future Oklahoma City Thunder guard Hamidou Diallo in New York City; spinning three-sixty in a Spartanburg, South Carolina, gymnasium. Then more—"it was highlight after highlight after highlight"—at seventeen: windmilling, reversing, soaring head over rim. The video tracks the making of a legend through viral moments, while establishing that Overtime's cameras were there all along. In August, 2017, Sports Illustrated conferred on Williamson the imprimatur of legacy media with a feature story, which opened with an extended description of a defensive maneuver—"exploding off two feet, extending his arms like a volleyball player trying to block a spike at the net and swatting the ball off the glass"—that had been captured digitally, and then uploaded to Twitter, by Overtime.
For years, courtside paparazzi have been stalking the Amateur Athletic Union circuit, where nearly all the best teen-age players can be found, in order to capitalize on a trade in mixtapes that began on urban playgrounds in the days of videocassettes. But the rise of social media, and a corresponding shift in our viewing habits, has turned this practice into a tech-driven business opportunity. Overtime, which aims to become the predominant sports network for Generation Z—the post-millennials, the kids who've grown up with iPhones in their pockets—specializes in producing short videos, like the one described above, that give a semi-professional gloss to the world of high-school, and even middle-school, sports. Its coverage, distributed on YouTube, Instagram, and other platforms, ignores the things that have traditionally preoccupied adult sports fans—standings, scores, stats—in favor of emphasizing stardom, or incipient stardom, via curated highlights and behind-the-scenes color. "They say I'm better than LeBron" is the caption for a video starring a fourteen-year-old boy in San Diego, named Mikey Williams. It's been viewed more than two and a half million times. Another video is titled "I'm the BEST 5th Grader in the World." That would be Magic Mel, who lives in the Bronx.
One hears a lot these days about how live sports are the only remaining appointment viewing in a balkanized, on-demand culture, and are thus an increasingly bankable commodity. Yet, through the alchemy of social media, I've found that I'm able to maintain the sensation of following sports pretty comprehensively while going weeks at a time without watching any games. Once you break the habit of tuning in, even the big-ticket appointments start to seem less urgent. In the past couple of years, meanwhile, I've seen my older son, who is just finishing first grade, emerge into sports fandom. His bedtime is such that the idea of watching live professional games is mostly moot, but he looks forward to watching video recaps on my phone in the morning. It has occurred to me that this could be having a distorting effect on his expectations of sports as entertainment. The recaps are all action, with none of the boredom, none of the commercial breaks, and little in the way of suspense. Games aren't struggles against bitter rivals so much as alternating demonstrations of extraordinary prowess.
Overtime's ambitions are based on a premise slightly contrary to the conventional wisdom. Their idea is that the old model of live televised sports requires a patience and interest in sustained engagement that the younger demographic might not ever develop. During the past few months, as I have tried to parse the appeal and experience of sports for Generation Z, it has occurred to me that most people my age don't fully appreciate the extent to which the Internet, and especially social media, has already changed sports—and how much more change is likely yet to come. Watching the videos and scrolling through the social-media feeds of Overtime and its competitors, I was reminded of something my son said, earlier this spring, after his first Little League game. His team had won, but that wasn't what was on his mind. "Why was it so long?" he asked.
High-school sports were not a passion, or even an interest, really, of Overtime's founders, Dan Porter and Zack Weiner, before they began brainstorming ideas for a new company, a few years ago, while working together at the talent agency William Morris Endeavor. Porter, who is fifty-three, is a so-called serial entrepreneur, who previously had sold a mobile-gaming company for nearly two hundred million dollars, and before that served as the first president of Teach for America. At W.M.E., he headed the digital-talent division, which included YouTube stars and Instagram influencers. Weiner, who is twenty-seven, started a statistically minded news site, the Sports Quotient, while he was an undergraduate, at the University of Pennsylvania. He worked briefly on Wall Street before joining W.M.E., which had just merged with I.M.G., the powerhouse sports agency. "The N.F.L. was a client," Weiner explained recently, and they noticed that the league's ratings among younger viewers were collapsing. "We saw that the bottom of the market was starting to fall out, and there was sort of this hole: Where are young sports fans going to go? Where are they going to consume sports media?"
We were sitting in a conference room at Overtime headquarters, in a warehouse in the neighborhood of Dumbo, in Brooklyn. The room featured a large poster showing Kevin Durant at an event in Manhattan's Dyckman Park. Durant was an early investor in Overtime, as was the former N.B.A. commissioner David Stern. While still working under the auspices of W.M.E., which served as an incubator for Overtime and retains an ownership stake in the company, Weiner and Porter developed a technology that seemed likely to have useful applications in a world of diminishing attention spans: an app that simplified the production and distribution of athletic highlights. It was "basically like DVR for your phone," Weiner told me. While recording a video of Steph Curry's every move, say, you'd push a button whenever anything noteworthy—whether a blooper or a stunner—happened, and the app would immediately back up fifteen seconds and isolate and archive that moment as a discrete piece of shareable content.
Except you can't record Curry's every move, because companies like ESPN and Turner Broadcasting have paid hundreds of millions, if not billions, of dollars for the exclusive copyright to N.B.A. games. The same goes for the élite conferences in the N.C.A.A., and for other professional sports. This left Porter and Weiner with high school, a basically unregulated market, to pursue.
The founders' first notion was to create a sort of customized "SportsCenter" knockoff for every high school in the country. They implemented a pilot program locally, including at Stuyvesant, in Manhattan, Weiner's alma mater (where he was the captain of a national-champion chess team). But the process of memorializing fleeting moments of ungainly success—on the badminton court, the basketball court, the soccer field—had a curiously deflating effect. "The kids were, like, 'I didn't do anything awesome. I don't know why you're showing this,' " Porter said. "All the kids who play basketball at Stuy, they want to see Zion Williamson." The essence of youth sports is aspirational.
"Historically, high-school sports have not been covered in a very cool, sexy, young way," Weiner said. "If you look at the average age of readership of most of the high-school-sports sites, it was forty-five, fifty-five. It's either parents or it's recruiters. But, meanwhile, we saw very early on that kids like Zion, LaMelo"—LaMelo Ball, that is, whose brother Lonzo was just traded to the New Orleans Pelicans by the Los Angeles Lakers—"they had millions of Instagram followers, all in the demo we cared about."
Starting with just basketball, they set out to track only the country's most promising amateurs, whom they identified not simply by their effectiveness on the court but by their potential to resonate on social media. (Name recognition is a plus: Bronny James, son of LeBron; Shareef and Shaqir O'Neal, sons of Shaq.) By June, 2016, they had begun dispatching people with a new version of the app. One of the first people to be sent out to record games was a twentysomething employee named Laurence Marsach, a former junior-college baseball pitcher who had grown up in the Bronx and came to W.M.E. as an intern after quitting a job as a shoe salesman for Cole Haan. Marsach had long lamented the lack of individualism in baseball culture and was attracted to the showmanship he saw at these teen-agers' games.
But Marsach didn't just film the players; he talked to them, with the unstudied confidence of an ex-jock who came from a similar background as many of the kids he met: "Hey, man, we got this sick highlight of you!" They started exchanging numbers and following one another on Instagram, where Marsach was fond of showing off his own musculature and dance moves. Marsach is now twenty-six. He has a shaved head (which he usually covers with a cap), a frizzy black beard, and a toothy smile that radiates good fortune. In person, his beard and his swagger ("I'm fly," he told me) make him hard to miss, and, before long, Marsach's appearance at a given gymnasium—in Nevada, in California, in Florida—was taken as a sign of significance. At the company, because of all his travel, he became known as Larry LaGuardia. To the basketball players, he was Overtime Larry.
With the growth of Instagram, coaches have sometimes bemoaned their players' tendency to perform for the cameras—for their own highlight reels—rather than with the best interests of the team in mind. Marsach's budding prominence brought the potential for distraction to another level, as even the audience started interfering. "I'm there recording Bronny, not trying to miss a thing," he recalled, of one middle-school tournament. "I started getting taps on the side. Little kids were, like, 'Hey, what's going on? Can I get a picture?' I'm in the middle of recording! I don't want to miss this stuff. I had to tell Zack, I had to tell Dan, 'People are noticing me now. I think I just want to be on camera.' "
Weiner said, "It started more with highlights, and we still do that—the technology helps us do that. But, to really build a sports network for the next generation, you know, you can't have kids watching thirty seconds of your content every day. You need true programming." They came up with "The Overtime Challenge," a basketball-themed game show and obstacle course, in which Marsach quizzed and sometimes competed alongside the contestants. Marsach also began hosting shows like "Judge Larry," in which he dons a wig and a robe and adjudicates ostensible disputes between teammates ("Who's got the better hair?"), and "Lie Detector," in which he plays on their insecurities and vanity by asking them to talk about just how good they think they are, while occasionally activating a red light bulb to call bullshit. Last summer, for the Las Vegas Classic, an annual amateur tournament, Overtime rented a house, which it called the OT Mansion, and invited players—LaMelo Ball and Scotty Pippen, Jr., among them—to come use the pool and play Fortnite, or "just kick it and get litty," as Marsach put it, offering a house tour for viewers. "Yeah, I got a king-size bed, and, yeah, it's super comfy, but my first dream, to be honest, was to always have a walk-in closet," he said. "I don't even use that, but I just wanted it."
"In some ways, what we're doing is creating a reality show around the next generation of superstars," Weiner said. Most of the videos are between five and ten minutes long, and the production values are frequently amateurish, as if to emphasize authenticity and make the interactions more relatable. (While a studio show on TV might cost thirty thousand dollars per minute to produce, Weiner said, Overtime is "constantly trying to push down the cost to, let's say, even under a thousand.") It's not Monday Night Football or the N.B.A. Finals, but it is the sort of thing that many young people will watch on YouTube, where Overtime now has more than a million subscribers. These ongoing series also help Overtime build relationships with players who may be famous in the wider world before long. For the N.B.A. All-Star Game, in February, they rented a billboard in Charlotte, the host city, which said, "ALL*STARS OF THE FUTURE," and showed the faces of LaMelo Ball, Mikey Williams, and other recurring Overtime characters, along with the company name. Marsach has become a kind of future-star whisperer. "Larry's my guy," Trae Young, now with the Atlanta Hawks and a finalist for N.B.A. Rookie of the Year, told me. "Everybody knows how fun Larry is."
At the end of March, I went to Atlanta to attend a gathering of the top high-school-basketball seniors in the country. The occasion was the McDonald's All-American Games, a series of events, some televised on ESPN2, that doubles as a philanthropic venture, raising money for the Ronald McDonald House Charities, which provides support to the families of sick children. A representative of the restaurant chain welcomed the athletes—two dozen boys and two dozen girls—at a local Ronald McDonald House, and delivered a pep talk about the ostensibly novel experience of playing for real TV cameras. "It will be the first time the public will see how athletic these guys are," the rep said, encouraging them to cheer one another on, for better dramatic effect.
It struck me as a quaint notion, this idea of local heroes coming together for a national introduction, like a hoopers' cotillion. The boys' game has been televised since 1985, and could plausibly be said to have represented a coming-out for the likes of Shaquille O'Neal, say, in 1989, and even LeBron James, in 2003. But, last year, Zion Williamson arrived in Atlanta with a million Instagram followers and a blue check mark. I don't need to consult Nielsen to tell you that the number of people under the age of fifty who watched the telecast and saw Williamson launch for the first time was approximately three.
After the pep talk, the players dispersed for a house tour and a meet and greet with the patients. The kitchen was given over to cookie art. Most players stopped to squeeze dollops of frosting in the colors of the colleges that they planned to attend. One smeared a base of white on his cookie and then, studiously, added a red "O" and called out, "Hey, Larry, I made this for you."
Marsach was roaming the grounds, in search of digital content. The teen offering him a cookie was Scottie Lewis, one of two All-Americans from Ranney School, near the New Jersey shore. Lewis is six feet five and has the wingspan of a condor, along with a vertical leap that enabled him to start dunking in sixth grade. He can now clear the heads of three teammates standing in formation beneath a hoop. Overtime, in captioning a highlight reel that it compiled from his junior year, called him "An NBA LOCK" and "the next Kobe?"
Lewis told me that he is drawn to Overtime because "they're just like us, trying to make it and rise." He added, "We don't really look at them as, like, a media outlet. It's just the O.T. family." He cited Williamson and Ball as other long-standing members of the family. As for Marsach, "it's just his energy," Lewis said. "He's a young guy, and is with the wave and the vibe, and he's able to connect with us."
Securing the coöperation of children, and especially of their parents, has required Overtime to make explicit something that a traditional media outlet would not: that its videos will never make athletes look bad. "I think we do a pretty good job of making sure the athletes come off how they want to," Weiner said. In this respect, being part of the O.T. family can seem almost like an apparel sponsorship; it may have more in common with promoting a brand allegiance to Nike or Under Armour than it does to being covered by Sports Illustrated or ESPN. At one point during my visit to the Overtime headquarters, Marsach checked his phone and exclaimed, "Oh, Bronny's coach!" He'd noticed an incoming message from the head of the North Coast Blue Chips, an elite A.A.U. team, thanking Marsach for some Overtime swag. "They felt left out, because they saw us filming with Mikey Williams, you know what I mean?" Marsach added. Bronny James, like Williams, is fourteen, and is considered one of the top prospects in his class. I asked if they'd considered shooting any behind-the-scenes documentary footage with James, to supplement the inevitable highlights. "I think LeBron is probably one of the more protective parents out there," Weiner said. "So you have to respect boundaries."
The company's commitment to keeping it light can lead to extremes. In Atlanta, in the basement of a hotel where the All-Americans were staying, Marsach and a crew of Overtime employees set up an impromptu film studio, with plans to interview as many of the players as they could wrangle. A security guard who was unfamiliar with the company grew curious and approached Marsach, who had taken to passing the time by doing pushups on his knuckles, to maintain a high energy level. "Y'all be asking hard-hitting, probing questions?" the guard asked.
"None of that," Marsach replied. "It's all fun."
The guard suggested that the recent college-bribery scandal, in which wealthy families had been caught falsifying applications, in some cases portraying their children as recruits for sports they didn't even play, might make for good conversational fodder.
"We can't touch those topics," Marsach said.
"That's not politics!" the guard protested. In a sense, the question he had in mind would be a layup. Here were authentic athletic recruits, many from less privileged backgrounds. "You need to ask them what they think about that," he persisted.
When the interviews began, Marsach's questions were more on the order of "What are you binge-watching?" and "What's your favorite meal at McDonald's?" (A bit of cross-promotional branding, given the host of the event—though Nico Mannion, a red-headed point guard with nearly four hundred thousand Instagram followers, refused to play along. "I don't eat McDonald's," he said.) One Overtime staffer described the over-all approach to me as borrowing from HBO's "Curb Your Enthusiasm," where the performers generally improvised on a light script. The goal here was less to elicit surprising answers than to establish a chummy rapport that would make the videos feel more intimate and less artificial than a regular news program, even if these set pieces required multiple takes.
I was especially impressed with the poise of Scottie Lewis, and said so to Marsach, who gushed, "that's my boy, my guy," adding that Lewis had hosted his own charity event, to raise money for the homeless, back home in New Jersey, and written a couple of books of poetry on the side. Those never came up on camera. When appearing on "The Overtime Challenge," in 2017, Lewis wore a Black Lives Matter tank top, but Marsach didn't ask about it. It felt—to this forty-two-year-old, at least—like a missed opportunity. But, then, I'm not in the target demo.
I accompanied Marsach for several days in Atlanta, including to a concert in a public park, downtown, by the local rapper Lil Baby. Marsach seldom managed to walk thirty yards without being shouted out—"Larry!" "O.T.!"—or accosted for an autograph or a photo. (One boy asked him to sign both his basketball and the palm that he was using to dribble it.) At a gym in Marietta, where the All-Americans participated in Jam Fest, a dunking and three-point-shooting competition, boys clustered behind us whenever we stopped moving, working up the nerve for an introduction. Some let their parents approach first. One mother slipped Marsach a business card for her eleven-year-old son, whom she called a "motivational speaker." (It identified the boy as the "youngest chapter book author.") A seventh grader named Christian wiped tears from his eyes as Marsach repeated his name and said that he'd be watching for him in the seasons to come. ("Dad, why is Christian crying?" his younger brother asked.) Earlier, Anaya Peoples, an All-American on the girls' side, told Marsach about her family's fifteen-hour drive down to Atlanta from Illinois. "My little brother watched you the whole time," she said. "He watched Overtime on YouTube. He will go crazy knowing that I met you. He will pass out."
At one point, a father buttonholed Marsach for what seemed like an uncomfortably long time—friendly curiosity shading into something vaguely expectant—and I realized that I had been lulled by Marsach's guileless good cheer into a false sense of complacency about our milieu. Youth sports start to shed their innocence not long after T-ball, and teen hoops, in particular, is famously awash in corruption and full of hangers-on trying to claim a piece of some unsuspecting kid's as-yet-unmonetized talent. The challenge with being a star-whisperer is that people who aren't necessarily destined for stardom start whispering back at you.
Overtime is hardly unique in its aversion to potentially charged subjects. ESPN, facing layoffs in the wake of several years of declining subscriptions, has recently acknowledged a wariness of wading into politics, fearing that cord-cutting alone is not a sufficient explanation for its struggles. (Conservatives have seized on the declining numbers to speculate that woke proselytizing on the part of on-air personalities has been driving people away.) Costly investigative programs, like "Outside the Lines," have struggled to compete for ratings and airtime with cheaper, debate-based formats. ESPN also co-produces shows with athletes themselves, an endeavor that amounts to much the same compromise Overtime is making by promising never to go negative. ESPN+ recently aired a series called "The Boardroom," which was produced by Kevin Durant and featured ballplayers talking candidly, if sometimes tediously, about the business side of sports. "Guys like Kevin and LeBron are so interesting, because one year they'll be, like, 'Oh, I hate ESPN. I don't like the media. They just betray us,' " Weiner said. "And then both Kevin and LeBron have shows on ESPN+ now!"
The most memorable early example of sports being used as fodder for reality TV was ESPN's "The Decision," in 2010, when James sat on a stage in a director's chair and told a suited Jim Gray, in sombre tones, that he'd be taking his talents to South Beach. It isn't all that hard to imagine a future in which an early member of "the O.T. family"—Zion, say, or Scottie Lewis—offers Marsach a cookie with real value, such as a free-agency scoop. Marsach, in the video I'm envisioning, will at least bring a little whimsy to the occasion, and could maybe make a game show out of it—a reminder that this stuff is, after all, supposed to be fun. "I'm like the Stephen A. of my generation," he once told me, with characteristic bravado, referring to Stephen A. Smith, ESPN's hot-take maestro, who is reportedly the network's best-paid talent but is also its most virtuosic performer, possessing star wattage to rival many of the athletes he keeps in touch with.
As a journalist schooled in the traditional mold, I worry a little about what might happen when a whole generation of athletic phenoms enters adulthood with years of experience in burnishing their own brands in an explicit partnership with the media. I worry about it not just for the sake of independent reporters who will find it increasingly difficult to get access to popular personalities but for the sake of the athletes themselves, who are liable to chafe more easily at minor criticisms, having grown used to the intoxicating illusion of control. Social media has already empowered players to speak directly to fans, without the moderating influence of journalists. At the same time, as the current N.B.A. commissioner, Adam Silver, has recently argued, it seems to have contributed to a new kind of misery among the players. Even Durant, for all his success, seems unable to resist going online to answer anonymous Internet critics.
"I view everything in evolutionary terms," David Stern, the ex-commissioner, told me, when I asked him about investing in Overtime. "I was here at the beginning, when ESPN started showing curling and softball. We were saying, 'How could it possibly be?' Who could guess that would be the beginning of an empire? And so it evolved. Now the evolution is very much about streaming, about vertical production that suits a cell phone, and about this tricky demographic, of a generation that is less patient, perhaps, with traditional media, and actually probably plays less sports. And that's a concern to everybody—the networks, the leagues, the shoe and apparel companies."
"We're giving them the opportunity to see highlights in almost real time," Stern added, referring not just to Overtime but to the emerging media landscape. "We're giving them the opportunity to choose their own announcers, choose their own stats feed, choose their own whatever—to get their own particular kind of telecast. That may or may not be enough, because they don't want to watch the Super Bowl for three and a half hours."
One solution, he reminded me, and the reason the accountants aren't yet concerned, is legal gambling. By enabling in-game betting, or so-called proposition bets, which hinge on the occurrence of specific events, rather than on the final score, the heads of sports leagues and the networks that broadcast them are, in effect, hoping to increase your attention span, in order to keep you watching longer. "Your four- and six-year-olds are going to be placing proposition bets before you know it," Stern joked. "Keep them away." If need be, I will.
After a third funding round, in which the former Knicks star Carmelo Anthony joined as an investor, Overtime now has seventy-five employees who work onsite in the warehouse. It has branched out into football, soccer, and e-sports and has contracts with some two thousand stringers around the world, who film games for less than fifty bucks apiece, amassing an enormous corpus of potential intellectual property for the company. ("We have thousands of videos of Zion that nobody has ever seen," Porter said.) A dozen people evaluate and write captions for the incoming clips in real time, so that if, say, Gianna Bryant, Kobe's seventh-grade daughter, steals the ball and drives to the hoop for a clean layup, the rest of us might see it before Bryant's team, the Mambas, makes it back to the locker room. (Bryant is one of about fifty female basketball players that the company presently shadows, along with eighty boys. Each gets a V.I.P. app with access to all of his or her own highlights, watermarked with the company name.)
Viral videos don't generate much revenue by themselves, which is why other highlights-driven companies, like Ballislife.com, have relied on selling merchandise and holding summer camps to monetize their brands. Overtime's business is heavily merchandise-driven, too, and, as it attempts to graduate, with its teens and its sizable audience, into professional sports, it still faces the fact that exclusive rights to pro games have been secured years in advance by more established networks.
On a recent podcast, sounding optimistic, Porter said, "Ultimately, our big-picture goal is to start our own league, so that we don't have to buy rights." He added, "Until we get to that point, we will start doing tournaments and events and other kinds of sports I.P. that we can create and own globally." Speaking to me, he said, "Do I want to keep sitting outside pro sports leagues, knocking on the door, or design my own?" He reminded me of his background as a mobile-gaming entrepreneur, and recalled watching tag-team wrestling as a kid, on Philadelphia's Channel 17. "Why can't, like, Steph Curry be on the line, and K.D. runs by and taps him in?" he mused.
Porter also noted that he is not alone in speculating about the potential of designing a sports organization "that was built to be consumed digitally from the ground up." Last winter, while reporting on the renewed interest—among businesspeople, if not necessarily among fans—in alternative football leagues, I spoke to a former hedge-fund manager who envisioned professional flag football serving an audience not unlike Overtime's, with shorter games and the players texting one another from the bench for public consumption. Of course, since then, one alternative league, the Alliance of American Football, has already launched and crashed. The N.B.A. certainly isn't going anywhere, and, if anything, it is likely to benefit from Overtime's innovations, as the league learns how to make use of them for their own ends. Stern paraphrased a frequent point of Adam Silver's: "We're still producing games the same way we used to produce games for decades, and something has to change."
In mid-May, in an attempt to "reimagine the game itself," as Weiner put it, Overtime hosted an all-star event at another warehouse in Brooklyn. By the time I arrived, the merchandise stand had sold out of the "Larry tee," which featured an image of Marsach's face with a graffiti-green beard. Marsach soon appeared in the flesh to introduce the boys who would be competing. There were a dozen of them, and they entered the court like boxers or wrestlers, with spot-lit poses and amid shooting sparks. The first was Julian Newman, whom I recognized from the Overtime show "Hello Newmans," which stars Julian, who is seventeen, and his sister Jaden, who is fifteen, but mainly revolves around their coach and father, Jamie, a self-consciously overbearing blend of Earl Woods, LaVar Ball, and Kris Jenner. The Newman kids have both appeared on daytime talk shows, flaunting precocious dribbling skills, and they have earned national news attention for making the varsity team at Downey Christian high school, in Orlando, while still in elementary school. Julian, who is just five feet seven, has nearly seven hundred thousand Instagram followers and zero big-time scholarship offers. He has become a kind of Rorschach test on the subject of commercializing youth sports. (His Instagram bio includes the line "They hated Jesus first.") Porter told me, "Even if they don't make the N.B.A. and have a million followers, that's amazing."
Soon after Newman came Zaire Wade. "The son of a legend," Marsach exclaimed, alluding to Wade's father, Dwyane. Last was Mikey Williams. "They say he's the best fourteen-year-old in the world!" Marsach shouted. A crowd of prepubescent boys in the audience chanted, "Mi-key! Mi-key! Mi-key!"
The games, in a round-robin format, were three-on-three. There was a four-point zone on the court, and the clock ran continuously. The referees danced and led cheers, and seldom called fouls—which, when they were called, resulted not in free throws but in a dimming of the lights, a recurring slow clap from the crowd, and a quick bout of one-on-one between the offended and the offender. Marsach served as a live-action m.c., pacing the court with a microphone in hand and occasionally taunting or encouraging the players—who, as in most all-star exhibitions, showcased their most gaudy skills and playground tricks at the expense of attentive defense. There were dazzling alley-oops and no-look passes and a higher ratio of airtime to sneaker screeching than in any N.B.A. game I've ever seen, though it never felt like a sustained competition.
It was a lot of fun—for a while, at least, until I realized that I had no stake in the eventual outcome. I started wandering the perimeter, and caught an unaccountable thrill at the sight of Jamie Newman looking as restless as I was, dressed in a T-shirt that said "Prodigy," the family brand. After about an hour, I ducked out the door, into the twilight of a spring evening, occasionally checking my phone, to watch the highlights.
VatorNews | Startup competitions from top universities - VatorNews
Posted: 15 Mar 2019 12:00 AM PDT
They include NYU, Harvard, Yale, MIT, Columbia, USC and UCLA
If you're a startup seeking opportunities to get funded, educated or connected, startup competitions are a great resource.
Vator has been holding its own competitions, using VatorX, to find and filter for the best startups. We've had some very successful and notable winners in the past that have gone on to raise big funding rounds including Thumbtack, DogVacay, Pokitdok, Grovo, Udemy and Apartment List, to name a few.
Anyone can list their program as VatorX is one of the most comprehensive listing guides to startup competitions, challenges, accelerators and programs. Click here to list your program!
As part of our weekly series, we'll look at top competitions with big cash prizes, as well as competitions that have teed up the most promising startups, to finding popular startup competitions you need to know about. 
Here are some of the startup competitions from some of the top universities:
Description: "The i3  program cultivates, coaches and showcases Harvard's rapidly growing group of student entrepreneurs. Hundreds of students participate and at last count came from 44 different concentrations and graduate disciplines, representing all 12 houses, 4 undergraduate class years and graduate degree-candidates from 4 schools.
Prize: Now in its 12th year, i3 has provided over $650,000 in grants, incubator space and professional services to students pursuing commercial, social and public startups on campus, online and internationally. Students compete for grants, awards, prizes and incubator space to help them realize their innovative visions."
Previous winners: prettyChill, PathVision, Team Trill, Heard App
Description: "Startup Yale brings together Yale's biggest entrepreneurship awards in three days packed with pitches, prizes, and world-changing ideas."
Prize:
This $25,000 cash prize is awarded by InnovateHealth Yale to the best student-led venture focused on social innovation in health or education.
The Sabin Prize, managed by the Yale Center for Business and the Environment, awards a $25,000 cash prize to students and/or faculty with the best ideas for products, services, projects, or programs that advance a more sustainable way of life.
This $25,000 cash prize is awarded by the Tsai Center for Innovative Thinking at Yale to the best student-led venture with a tech or tech-enabled service startup.
This $15,000 cash prize is awarded by the Yale Center for Biomedical Innovation and Technology and the Tsai Center for Innovative Thinking to the best student-led venture focused on developing an innovative hardware solution to a medical challenge.
Previous winners: Concha Aquaponic Solutions, Snackpass, Penta Innovations, Raise Green
Description: "Open to all current Cornell Undergraduate Students. Eight finalists will be determined by a group of experienced entrepreneurs, social entrepreneurs, non-profit, and business professionals. 25 semi-finalists will also receive consultations with a mentor/coach about their idea and ways to improve their submission."
Prize: 
1st Place Business Category- $3000
2nd Place Business Category- $1000
3rd Place Business Category- $500
Previous winners: Combplex, Soundskrit, Crater, Matador Finance
Description: The $300K Entrepreneurs Challenge, hosted annually by the W. R. Berkley Innovation Labs, is one of the largest and most innovative accelerator programs and startup competitions in the world. It is an 8-month program involving more than 750 students, alumni, faculty and researchers from 16 schools across NYU's global campuses"
Prize: A total of $300,000 in cash prizes and pro bono startup services.
Previous winners: Sunthetics, FairFrame, Food Period, Grocer8, Geopipe, RecoverLink
Description: "Do you have a great idea and want to launch? Are you a current USC student, faculty or staff or recent graduate? Then you should participate in the New Venture Seed Competition."
Prize: $85,000 in prize money
Previous winners: Apeiron, Adoptomize, Plotfix, Lighthaus, A.O.I, Bridget 

Description: "The $50k Brown Venture Prize is designed to empower the most advanced entrepreneurial ventures by Brown students. It supports teams who have identified a significant opportunity, and whose ventures have the potential to create "impact at scale". The prize is agnostic with respect to what sectors or industries ventures are working in, or even whether they are commercial, social, or have blended approaches. The essential thing is that teams have identified an opportunity or challenge and are thinking big about how to solve it. The Brown Venture Prize is intended to help them accelerate and scale those solutions. Winners will receive prize money, critical mentorship, and access to leaders in the Brown entrepreneurial community and beyond."
Prize:
1st Prize: $25,000
2nd Prize: $15,000
3rd Prize: $10,000
Previous winners: Formally, goTeff, EmboNet
Description: "Now in its 37th year, the Knapp Venture Competition has evolved into one of the premier academic business plan competitions in Southern California. It encourages UCLA Anderson students to showcase their talents and learn from insights of successful entrepreneurs and business executives. The Knapp Competition has given more than 1,800 UCLA Anderson students a unique venture creation experience that has been instrumental in launching numerous businesses."
Prize: 
First Place: $15,000
Second Place: $10,000
Third Place: $7,500
Fourth Place: $5,000
Fifth Place: $2,500
Fast Pitch: $1,000
Previous winners: U-Defi, Tutorfly, Mivue, Riders Share, Pluscare, Altitude Beverages
Description: "We're looking for the very best Penn student entrepreneurs who can show that their startups are ready to become the next big thing in any industry"
Prize: $135,000 in cash and prizes
Previous winners: Twine, Bungalow Insurance, Fever Smart, Soceana
Description: "One competition - three independent contests - from October through May. Now in its 30th year, the MIT $100K Entrepreneurship Competition has brought together students and researchers from across MIT and Greater Boston to launch their talent, ideas, and technology into leading companies."
Prize: $100,000
Previous winners: Infinite Cooling, Iterative Scopes, Lightmatter, change:WATER Labs
Description: "The #HofDigitalRemedyChallenge is an annual entrepreneurship competition for Hofstra students administered by the Hofstra University Center for Entrepreneurship with total prizes valued at $75,000, made possible through the donation of a Hofstra Board Trustee and CEO of Digital Remedy, Mike Seiman. The competition (formerly the Hofstra-CPXi Venture Tech Challenge), is in its seventh year at Hofstra University."
Prize: 
First prize: $12,000 in prize money, plus $30,000 of in-kind services from Digital Remedy
Second prize: $6,000 in prize money, plus $15,000 of in-kind services from Digital Remedy
Third prize: $3,500 in prize money, plus $5,000 of in-kind services from Digital Remedy
Previous winners: MedAux, Lawdio, CountryBox
Description: "The $100K Startup Challenge is Stanford's largest entrepreneurship competition, which attracts over 200 companies a year, judged by a talented team of industry experts." 
Prize: $100,000 in total funding
Previous winners: Ravel, Boosted, Biomimedica
Description: "The Columbia Venture Competition (CVC) has four challenges, made possible by Columbia College, Columbia Engineering, Columbia Entrepreneurship, and the School of International and Public Affairs." 
Prize: Each challenge will split $50,000 among the top three winners
Previous winners: Project Playdate, Fly Louie, Bite
How students are founding, funding and joining startups - TechCrunch
Posted: 06 Feb 2019 12:00 AM PST
There has never been a better time to start, join or fund a startup as a student. 
Young founders who want to start companies while still in school have an increasing number of resources to tap into that exist just for them. Students that want to learn how to build companies can apply to an increasing number of fast-track programs that allow them to gain valuable early stage operating experience. The energy around student entrepreneurship today is incredible. I've been immersed in this community as an investor and adviser for some time now, and to say the least, I'm continually blown away by what the next generation of innovators are dreaming up (from Analytical Space's global data relay service for satellites to Brooklinen's reinvention of the luxury bed).
First, let's look at student founders and why they're important. Student entrepreneurs have long been an important foundation of the startup ecosystem. Many students wrestle with how best to learn while in school —some students learn best through lectures, while more entrepreneurial students like author Julian Docks find it best to leave the classroom altogether and build a business instead.
Indeed, some of our most iconic founders are Microsoft's Bill Gates and Facebook's Mark Zuckerberg, both student entrepreneurs who launched their startups at Harvard and then dropped out to build their companies into major tech giants. A sample of the current generation of marquee companies founded on college campuses include Snap at Stanford ($29B valuation at IPO), Warby Parker at Wharton (~$2B valuation), Rent The Runway at HBS (~$1B valuation), and Brex at Stanford (~$1B valuation).
Some of today's most celebrated tech leaders built their first ventures while in school — even if some student startups fail, the critical first-time founder experience is an invaluable education in how to build great companies. Perhaps the best example of this that I could find is Drew Houston at Dropbox (~$9B valuation at IPO), who previously founded an edtech startup at MIT that, in his words, provided a: "great introduction to the wild world of starting companies."
Student founders are everywhere, but the highest concentration of venture-backed student founders can be found at just 5 universities. Based on venture fund portfolio data from the last six years, Harvard, Stanford, MIT, UPenn, and UC Berkeley have produced the highest number of student-founded companies that went on to raise $1 million or more in seed capital. Some prospective students will even enroll in a university specifically for its reputation of churning out great entrepreneurs. This is not to say that great companies are not being built out of other universities, nor does it mean students can't find resources outside a select number of schools. As you can see later in this essay, there are a number of new ways students all around the country can tap into the startup ecosystem. For further reading, PitchBook produces an excellent report each year that tracks where all entrepreneurs earned their undergraduate degrees.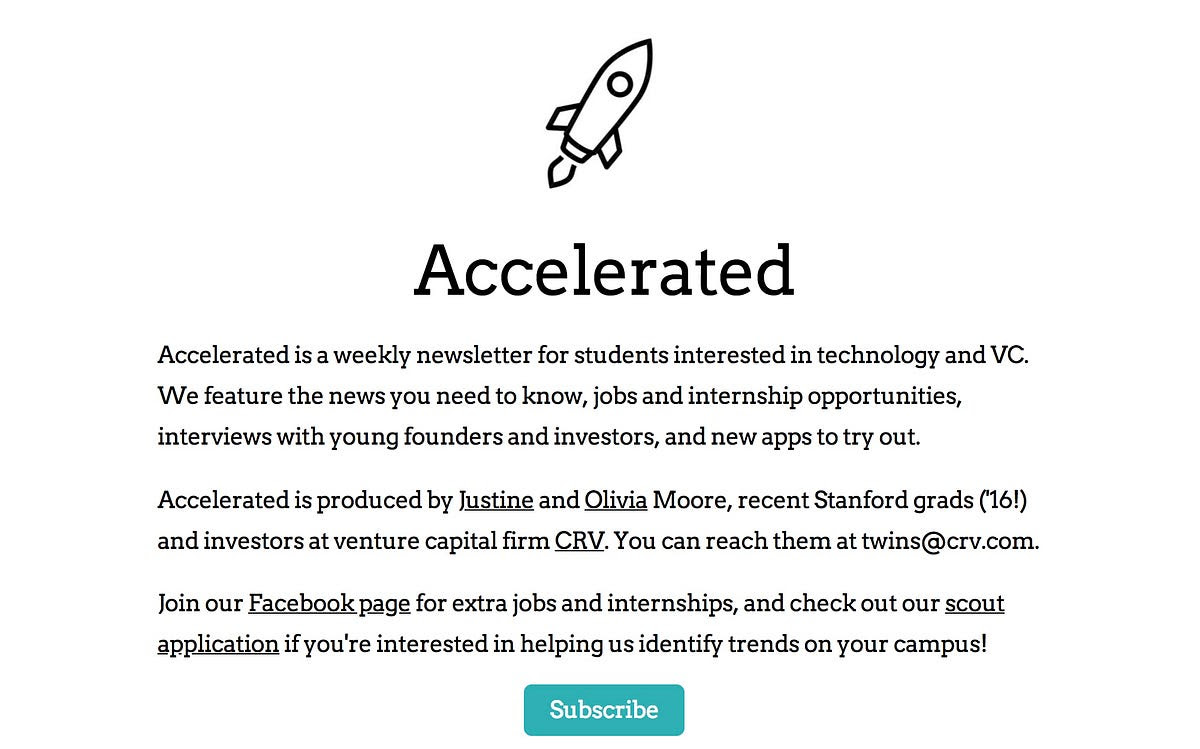 Student founders have a number of new media resources to turn to. New email newsletters focused on student entrepreneurship like Justine and Olivia Moore's Accelerated and Kyle Robertson's StartU offer new channels for young founders to reach large audiences. Justine and Olivia, the minds behind Accelerated, have a lot of street cred— they launched Stanford's on-campus incubator Cardinal Ventures before landing as investors at CRV.
StartU goes above and beyond to be a resource to founders they profile by helping to connect them with investors (they're active at 12 universities), and run a podcast hosted by their Editor-in-Chief Johnny Hammond that is top notch. My bet is that traditional media will point a larger spotlight at student entrepreneurship going forward.
New pools of capital are also available that are specifically for student founders. There are four categories that I call special attention to:
University-affiliated accelerator programs
University-affiliated angel networks
Professional venture funds investing at specific universities
Professional venture funds investing through student scouts

While it is difficult to estimate exactly how much capital has been deployed by each, there is no denying that there has been an explosion in the number of programs that address the pre-seed phase. A sample of the programs available at the Top 5 universities listed above are in the graphic below — listing every resource at every university would be difficult as there are so many.
One alumni-centric fund to highlight is the Alumni Ventures Group, which pools LP capital from alumni at specific universities, then launches individual venture funds that invest in founders connected to those universities (e.g. students, alumni, professors, etc.). Through this model, they've deployed more than $200M per year! Another highlight has been student scout programs — which vary in the degree of autonomy and capital invested — but essentially empower students to identify and fund high-potential student-founded companies for their parent venture funds. On campuses with a large concentration of student founders, it is not uncommon to find student scouts from as many as 12 different venture funds actively sourcing deals (as is made clear from David Tao's analysis at UC Berkeley).
In my opinion, the two institutions that have the most expansive line of sight into the student entrepreneurship landscape are First Round's Dorm Room Fund and General Catalyst's Rough Draft Ventures. Since 2012, these two funds have operated a nationwide network of student scouts that have invested $20K — $25K checks into companies founded by student entrepreneurs at 40+ universities. "Scout" is a loose term and doesn't do it justice — the student investors at these two funds are almost entirely autonomous, have built their own platform services to support portfolio companies, and have launched programs to incubate companies built by female founders and founders of color. Another student-run fund worth noting that has reach beyond a single region is Contrary Capital, which raised $2.2M last year. They do a particularly great job of reaching founders at a diverse set of schools — their network of student scouts are active at 45 universities and have spoken with 3,000 founders per year since getting started. Contrary is also testing out what they describe as a "YC for university-based founders". In their first cohort, 100% of their companies raised a pre-seed round after Contrary's demo day. Another even more recently launched organization is The MBA Fund, which caters to founders from the business schools at Harvard, Wharton, and Stanford. While super exciting, these two funds only launched very recently and manage portfolios that are not large enough for analysis just yet.
Over the last few months, I've collected and cross-referenced publicly available data from both Dorm Room Fund and Rough Draft Ventures to assess the state of student entrepreneurship in the United States. Companies were pulled from each fund's portfolio page, then checked against Crunchbase for amount raised, accelerator participation, and other metrics. If you'd like to sift through the data yourself, feel free to ping me — my email can be found at the end of this article. To be clear, this does not represent the full scope of investment activity at either fund — many companies in the portfolios of both funds remain confidential and unlisted for good reasons (e.g. startups working in stealth). In fact, the In addition, data for early stage companies is notoriously variable in quality, even with Crunchbase. You should read these insights as directional only, given the debatable confidence interval. Still, the data is still interesting and give good indicators for the health of student entrepreneurship today.
Dorm Room Fund and Rough Draft Ventures have invested in 230+ student-founded companies that have gone on to raise nearly $1 billion in follow on capital. These funds have invested in a diverse range of companies, from govtech (e.g. mark43, raised $77M+ and FiscalNote, raised $50M+) to space tech (e.g. Capella Space, raised ~$34M). Several portfolio companies have had successful exits, such as crypto startup Distributed Systems (acquired by Coinbase) and social networking startup tbh (acquired by Facebook). While it is too early to evaluate the success of these funds on a returns basis (both were launched just 6 years ago), we can get a sense of success by evaluating the rates by which portfolio companies raise additional capital. Taken together, 34% of DRF and RDV companies in our data set have raised $1 million or more in seed capital. For a rough comparison, CB Insights cites that 40% of YC companies and 48% of Techstars companies successfully raise follow on capital (defined as anything above $750K). Certainly within the ballpark!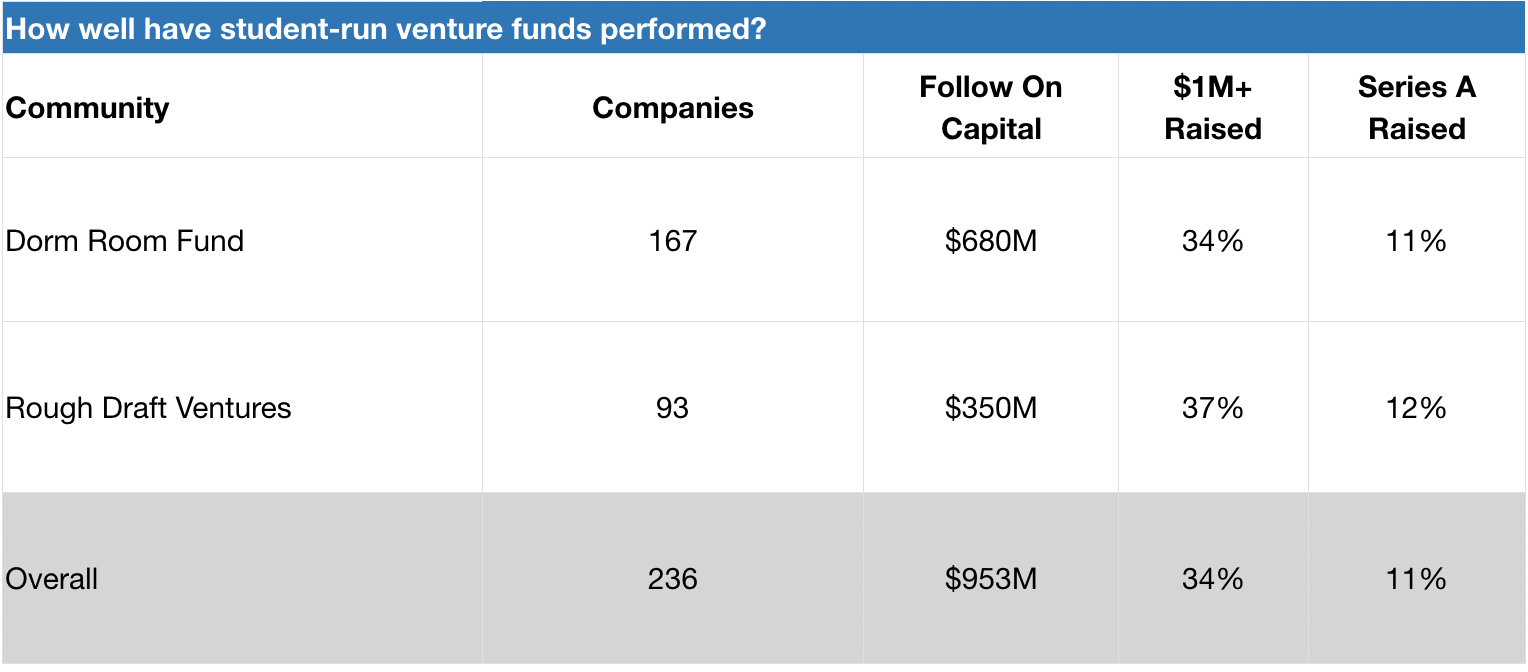 Source: Crunchbase
Dorm Room Fund and Rough Draft Ventures companies in our data set have an 11–12% rate of survivorship to Series A. As a benchmark, a previous partner at Y Combinator shared that 20% of their accelerator companies raise Series A capital (YC declined to share the official figure, but it's likely a stat that is increasing given their new Series A support programs. For further reading, check out YC's reflection on what they've learned about helping their companies raise Series A funding). In any case, DRF and RDV's numbers should be taken with a grain of salt, as the average age of their portfolio companies is very low and raising Series A rounds generally takes time. Ultimately, it is clear that DRF and RDV are active in the earlier (and riskier) phases of the startup journey.
Dorm Room Fund and Rough Draft Ventures send 18–25% of their portfolio companies to Y Combinator or Techstars. Given YC's 1.5% acceptance rate as reported in Fortune, this is quite significant! Internally, these two funds offer founders an opportunity to participate in mock interviews with YC and Techstars alumni, as well as tap into their communities for peer support (e.g. advice on pitch decks and application content). As a result, Dorm Room Fund and Rough Draft Ventures regularly send cohorts of founders to these prestigious accelerator programs. Based on our data set, 17–20% of DRF and RDV companies that attend one of these accelerators end up raising Series A venture financing.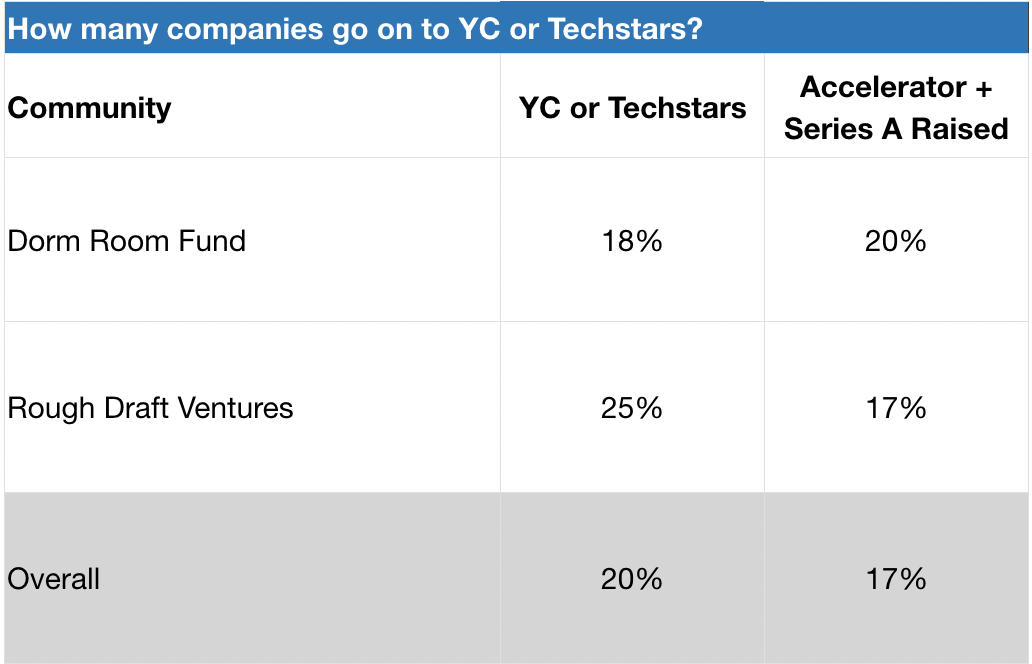 Source: Crunchbase
Dorm Room Fund and Rough Draft Ventures don't invest in the same companies. When we take a deeper look at one specific ecosystem where these two funds have been equally active over the last several years — Boston — we actually see that the degree of investment overlap for companies that have raised $1M+ seed rounds sits at 26%. This suggests that these funds are either a) seeing different dealflow or b) have widely different investment decision-making.

Source: Crunchbase
Dorm Room Fund and Rough Draft Ventures should not just be measured by a returns-basis today, as it's too early. I hypothesize that DRF and RDV are actually encouraging more entrepreneurial activity in the ecosystem (more students decide to start companies while in school) as well as improving long-term founder outcomes amongst students they touch (portfolio founders build bigger and more successful companies later in their careers). As more students start companies, there's likely a positive feedback loop where there's increasing peer pressure to start a company or lean on friends for founder support (e.g. feedback, advice, etc).Both of these subjects warrant additional study, but it's likely too early to conduct these analyses today.
Dorm Room Fund and Rough Draft Ventures have impressive alumni that you will want to track. 1 in 4 alumni partners are founders, and 29% of these founder alumni have raised $1M+ seed rounds for their companies. These include Anjney Midha's augmented reality startup Ubiquity6 (raised $37M+), Shubham Goel's investor-focused CRM startup Affinity (raised $13M+), Bruno Faviero's AI security software startup Synapse (raised $6M+), Amanda Bradford's dating app The League (raised $2M+), and Dillon Chen's blockchain startup Commonwealth Labs (raised $1.7M). It makes sense to me that alumni from these communities that decide to start companies have an advantage over their peers — they know what good companies look like and they can tap into powerful networks of young talent / experienced investors.
Beyond Dorm Room Fund and Rough Draft Ventures, some venture capital firms focus on incubation for student-founded startups. Credit should first be given to Lightspeed for producing the amazing Summer Fellows bootcamp experience for promising student founders — after all, Pinterest was built there! Jeremy Liew gives a good overview of the program through his sit-down interview with Afterbox's Zack Banack. Based on a study they conducted last year, 40% of Lightspeed Summer Fellows alumni are currently active founders. Pear Ventures also has an impressive summer incubator program where 85% of its companies successfully complete a fundraise. Index Ventures is the latest to build an incubator program for student founders, and even accepts founders who want to work on an idea part-time while completing a summer internship.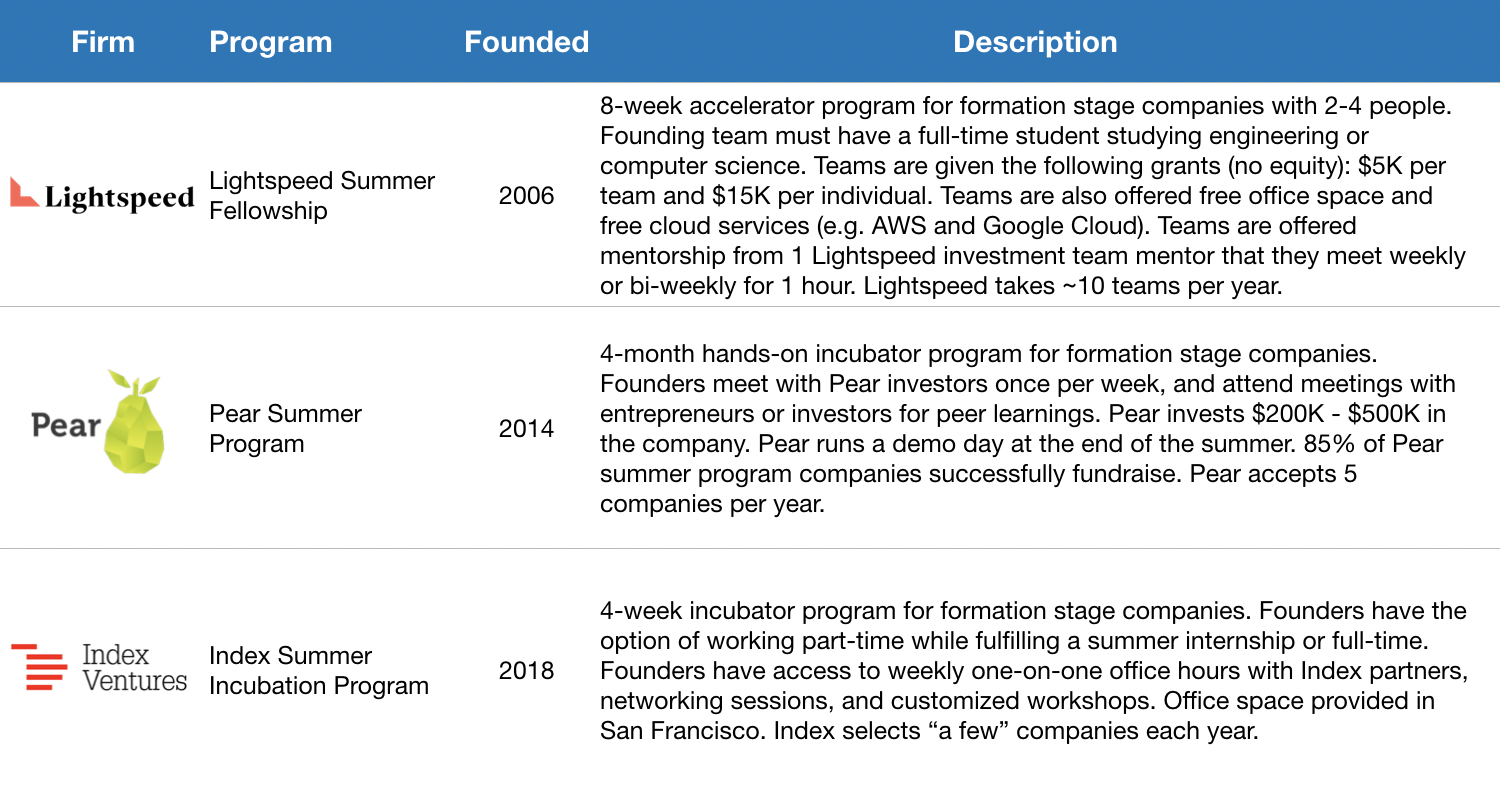 Let's now look at students who want to join a startup before founding one. Venture funds have historically looked to tap students for talent, and are expanding the engagement lifecycle. The longest running programs include Kleiner Perkins' class="m_1196721721246259147gmail-markup--strong m_1196721721246259147gmail-markup--p-strong"> KP Fellows and True Ventures' TEC Fellows, which focus on placing the next generation's most promising product managers, engineers, and designers into the portfolio companies of their parent venture funds.
There's also the secretive Greylock X, a referral-based hand-picked group of the best student engineers in Silicon Valley (among their impressive alumni are founders like Yasyf Mohamedali and Joe Kahn, the folks behind First Round-backed Karuna Health). As these programs have matured, these firms have recognized the long-run value of engaging the alumni of their programs.
More and more alumni are "coming back" to the parent funds as entrepreneurs, like KP Fellow Dylan Field of Figma (and is also hosting a KP Fellow, closing a full circle loop!). Based on their latest data, 10% of KP Fellows alumni are founders — that's a lot given the fact that their community has grown to 500! This helps explain why Kleiner Perkins has created a structured path to receive $100K in seed funding to companies founded by KP Fellow alumni. It looks like venture funds are beginning to invest in student programs as part of their larger platform strategy, which can have a real impact over the long term (for further reading, see this analysis of platform strategy outcomes by USV's Bethany Crystal).
Venture funds are doubling down on student talent engagement — in just the last 18 months, 4 funds have launched student programs. It's encouraging to see new funds follow in the footsteps of First Round, General Catalyst, Kleiner Perkins, Greylock, and Lightspeed. In 2017, Accel launched their Accel Scholars program to engage top talent at UC Berkeley and Stanford. In 2018, we saw 8VC Fellows, NEA Next, and Floodgate Insiders all launch, targeting elite universities outside of Silicon Valley. Y Combinator implemented Early Decision, which allows student founders to apply one batch early to help with academic scheduling. Most recently, at the start of 2019, First Round launched the Graduate Fund (staffed by Dorm Room Fund alumni) to invest in founders who are recent graduates or young alumni.
Given more time, I'd love to study the rates by which student founders start another company following investments from student scout funds, as well as whether or not they're more successful in those ventures. In any case, this is an escalation in the number of venture funds that have started to get serious about engaging students — both for talent and dealflow.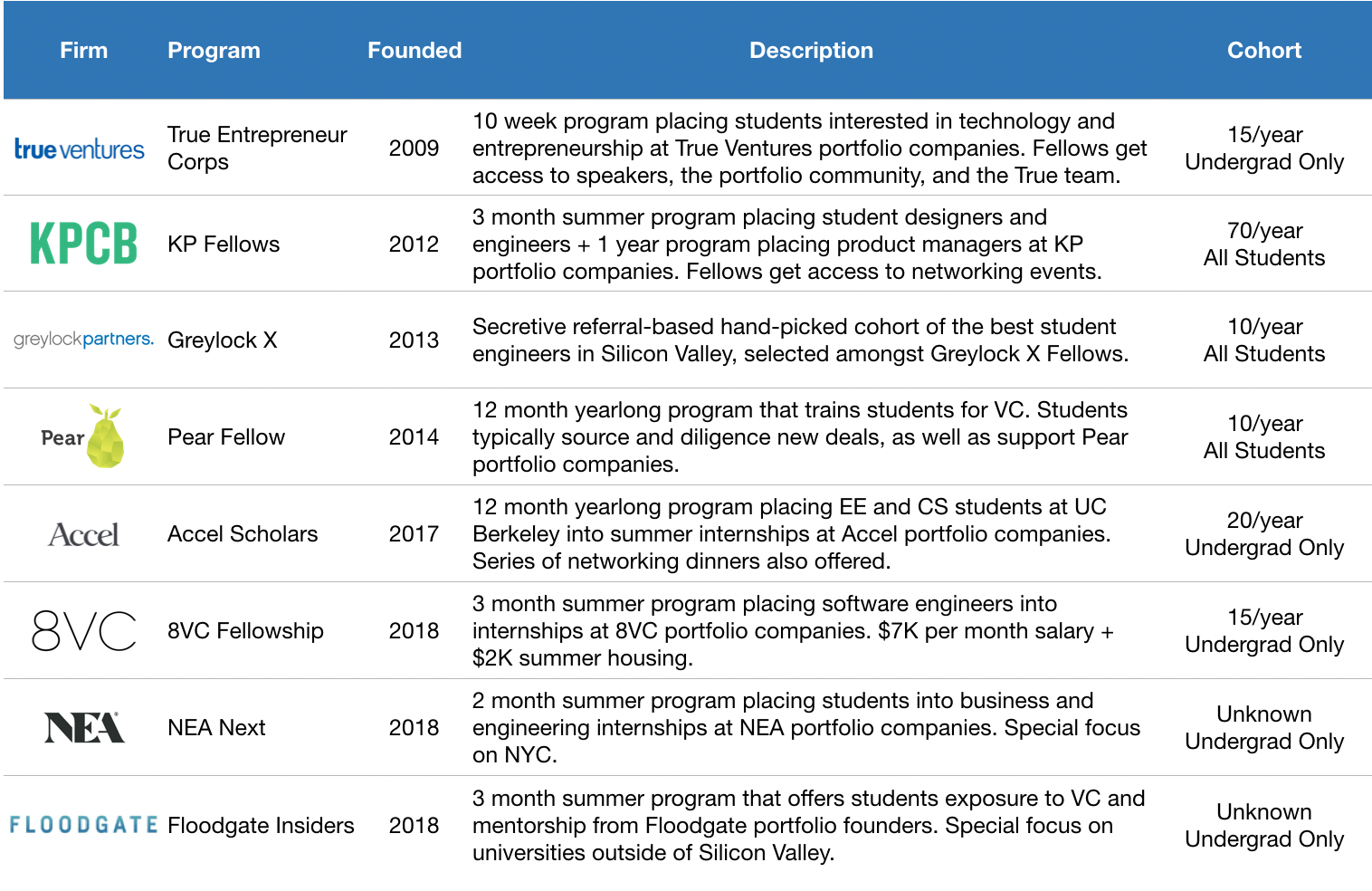 Student entrepreneurship 2.0 is here. There are more structured paths to success for students interested in starting or joining a startup. Founders have more opportunities to garner press, seek advice, raise capital, and more. Venture funds are increasingly leveraging students to help improve the three F's — finding, funding, and fixing. In my personal view, I believe it is becoming more and more important for venture funds to gain mindshare amongst the next generation of founders and operators early, while still in school.
I can't wait to see what's next for student entrepreneurship in 2019. If you're interested in digging in deeper (I'm human — I'm sure I haven't covered everything related to student entrepreneurship here) or learning more about how you can start or join a startup while still in school, shoot me a note at sxu@dormroomfund.com. A massive thanks to Phin Barnes, Rei Wang, Chauncey Hamilton, Peter Boyce, Natalie Bartlett, Denali Tietjen, Eric Tarczynski, Will Robbins, Jasmine Kriston, Alicia Lau, Johnny Hammond, Bruno Faviero, Athena Kan, Shohini Gupta, Alex Immerman, Albert Dong, Phillip Hua-Bon-Hoa, and Trevor Sookraj for your incredible encouragement, support, and insight during the writing of this essay.