---
Students put their business ideas to the test - Coast Report
Posted: 16 Apr 2019 03:15 PM PDT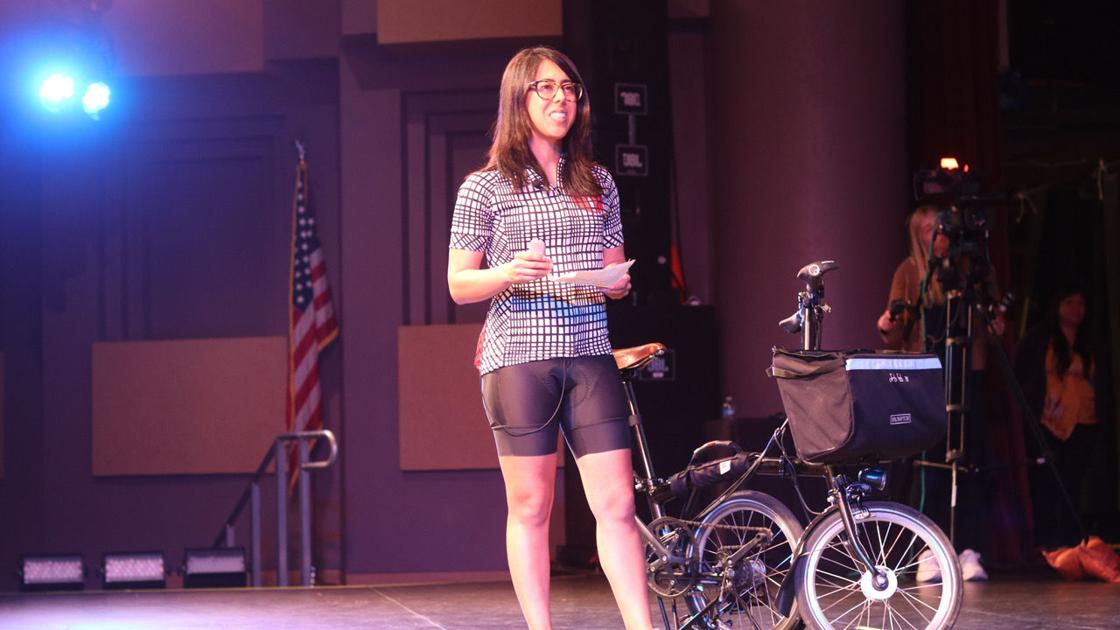 Inspired by the reality television show "Shark Tank," Orange Coast College's own version of the show called, Pirates Plank, was held for the third time on April 4, giving students the opportunity to win cash prizes, mentorships and internships at the OCC Maker's Space.
Started by business professor Mark Grooms, the event is designed to help prepare students for the future when they will need to present business plans to investors and give an oral presentation about their service or products in hopes of getting funded.
"It's a thrill to me that we still have students coming up here in front of a crowd and talking about their baby," Grooms said. "It's not easy to present and be judged on something you've worked so hard on."
Six students presented their business plans to a panel of three judges and an almost packed Robert B. Moore Theatre. The Film department was present with video cameras set up across the theatre, adding to the mounting pressure the students faced.
Lila Derakhshanian, a photography major and winner of the Most Innovative award for her business Alt Kit, which will make cyclist attire that doubles as business attire, said she had been sitting on her product idea for a while and decided it was time to actively pursue it.
"I still have a long way to go in creating my business but to present in front of a panel of judges with such amazing experience in terms of building a business is invaluable to us," Derakhshanian said.
Abby Diaz, a 29-year-old business administration student, won the Most Likely to Succeed award for her business plan Rapid Tees, which hopes to be the Uber or Lyft of screen-printing shirts. Judges were impressed at the core concept but wanted to see more solid financial information about how she planned to turn a profit.
Diaz will have access to a technology-based mentor as part of the prize which she says will help get her idea off the ground.
"These events are great because I would have never had the opportunity to be asked these types of questions, especially not in front of the spotlight. It made my head spin a little but it's really good practice," Diaz said.
Other students presented ideas on sustainable streetwear brands, beach tennis supply shops and iPad tablet bed mounts. All participants had strong drive and believed in their products and services wholeheartedly and the judges could tell. The panel used their time after the presentations to critique and make suggestions for students in the future.
Diaz and Derakhshanian told future students to be prepared if they want to walk the plank next year.
"Start as early as possible into looking at business plans for successful companies and practice your pitch," Derakhshanian said.
25 Best Small business ideas in Pakistan – Low Investment business ideas! - PhoneWorld Magazine
Posted: 16 Apr 2019 10:58 PM PDT
As Pakistan is at a lower edge these days in regards to employment thus most of our youth tend to move towards entrepreneurship. So here are 25 Low Investment, Small Business Ideas To Go For In Pakistan which may prove to be the most profitable businesses in the long run!
25 Low Investment Business Ideas in Pakistan 2019
1. Content Writing:
All you need for it is a laptop along with internet access or simply a pen and paper. Couple with your skill in writing! It is a Zero Investment business. It may be adopted as a Part Time or full-time job.
The progress is gradual in this kind of business but proves to be profitable in the long run! Pakistani women have been taking up this kind of businesses seriously lately as they can support their family from the comfort of their home in this way.
2. Editing And Proof Reading:
It is a simpler job than content writing as it involves no self-innovation but rechecking of what has already been written. So if you are a good reader and have strong command over language then you should go for this Zero Investment business.
3. Ghost Writing:
It is the same as content writing but the name of the writer does not appear. The writing is published or used by the name of the employer. It can be viewed as a small business idea for students who need a part-time job to support themselves.
4. Blogging:
Blogging has been trending lately. And it has proved to be a very profitable, low investment business in Pakistan. Whether it be a beauty blog or a fashion blog, health blog or technology blog it always attracts corresponding companies and firms to benefit from.
5. Freelancing:
Freelancing is working on a contract basis for a variety of companies, as opposed to working as an employee for a single company. Freelancers are often considered to be self-employed and have the freedom to pick and choose their projects and companies they would like to be associated with.
It has proved to be the Most Profitable Small Investment Business In Pakistan Lately. Specially help in Women Empowerment and employment.
6. Social Media/ Online Marketing:
Else than the basic accessories i.e: Laptop or Mobile Phone and Internet connection this type of zero investment business does not even require a lot of skill. You should just know the basic use of Social Media and has to promote or advertise any small or large business over it.
7. Photography:
Of the increasing trend of photography, now it is not only confined to weddings. People tend to go for a formal photographer on childbirth or a family get-together. A one-time around 1-lac rupees investment in a DSLR Camera will surely result in profitable outcomes. Photography is an innovative business idea to opt for in Pakistan. Whether it be Wedding or event photography or modelling it will be fruitful if you have the skill to do it.
Free and paid photography courses are available throughout Pakistan and also online to get trained for becoming a professional.
8. Home Based Cooking:
With the increasing awareness of healthy eating among the Pakistanis, home-made food is always preferred. Thus such a small business with a low investment of preparing home-made food and making it available to those who are away from home can prove to be a very highly profitable business idea to go on within Pakistan.
Lahore, for instance, is where people from all over the nation tend to come for various purposes. So, a small business in Lahore of a Home Based Cooking setup will be a highly profitable business idea.
9. Makeup Artist:
Investment in makeup today is one that will pay off for sure. As makeup is considered to be the most essential element of the lives of Pakistani women.
Though it may come under the category of 1 lac rupees investment business in Pakistan. As not only the high end, good quality makeup products are costly but learning the skill professionally is very essential and requires time, dedication and investment.
But not in vain, Makeup Artists today are making a great fortune even from their homes and have gained popularity and access to commercial platforms after self-teaching and blogging!
10. Art And Craft:
With all the hype of Bridal Shower, Baby Shower and a couple more of such additions in our customs. Props, backdrops and customized items have gained popularity.
Now is the right time to invest in such a small-scale, low-investment business in Pakistan. All you need is innovative business ideas and the skill of your hand!
11. Mehandi Artist:
Wedding, Eid or any other traditional special occasion, Mehandi is something we never want to miss as a Pakistani! Why not avail this small investment opportunity in Pakistan then? Mostly Mehandi Artists are self-taught and do not require some special professional training.
It can be classified as a No Investment Business in Pakistan. Which proves to be a very profitable one.
12. Customized Shirts And Mugs:
In an era of self-obsession and provoked sentiments, customized items have become a trend. Cash these emotions by availing this innovative business idea for Pakistan and earn great profits out of it.
13. Online Book Publishing:
Traditional book publishing was confined to a place or a region but now if you are capable enough then this No Investment business in Pakistan will earn you great fortune. As you can write books online and publish them online for the Global Village to access them and you can cash profits out of it!
14. Wedding Planners:
Pakistani weddings can prove to be a lot of burdens. Due to the over-extended events and extravagance. Why not become an adding factor to it yet reducing the burden at the same time?
Start your business without any investment in Pakistan by availing this innovative and most profitable business idea of 2019. All you have to do is plan out other weddings for them!
15. Travel Agency:
If not anywhere, then Pakistanis are surely going to their religious centers i.e: Saudia And Iran etc. Seems a little unrighteous but why not cash from this profitable business opportunity in Pakistan?
It may come under the category of 5 lac rupees investment in Pakistan but proved to be the best business of 2019 to invest in, in Pakistan.
16. Tourism Agency:
With Pakistan opening its new doors towards tourism. This small investment, profitable business may prove to be the best of 2019 as Pak-China Corridor will increase the ratio of tourism tremendously and the tourists will surely require guides to accompany them due to the language barrier. Thus it is the right time to invest in this kind of small investment business in Pakistan.
17. Mobile And Accessories:
Sadly one may skip a meal to afford a Mobile Phone today is not fiction nowadays. Thus almost every citizen of Pakistan irrespective of the class they belong to own a mobile phone. And the age limit for which is also dropping day by day. Investing in a Mobile Phone Business today can prove to be the Best business in Pakistan for 2019. Although it may come under the category of approximately 5 lac rupees investment business in Pakistan, it will surely pay off.
18. Personal Training:
If you have a skill in something or a professional at doing something. Cash it! Be a personal Gym Trainer, Dietition, Chief, Karate Master, anything you find yourself expert at and can train someone personally for it. It sure is a No Investment business in Pakistan.
19. Driving Centre:
With a decreasing trend of dependency in Pakistan. Driving a vehicle themselves is something that every person now needs rather than relying on some other factor to travel. Thus investing in a driving centre will prove to be profitable. All you need is to own a car with insurance and skill to drive!
20. Home Tutoring:
Pakistan still follows a trend of traditional education modes. Due to which demand for after-school tutors and home tutors is high. It is a profitable and no investment business for Pakistan. As it requires mandatory education and teaching skills.
21. Academy:
It is around 1 lac rupees investment business to go for in Pakistan but can be said to be the most profitable business of 2019 and since several years. As academy culture of Pakistan is at its peak. Whether it be Matric, FA/Fsc, O Levels, A Levels, MCAT, SAT, CSS or any other academic field students in Pakistan mainly rely on academies. So it is a golden opportunity to cash!
22. Agricultural Business:
It is a very profitable and vast field to invest in thus provides a wide range of investment opportunities in Pakistan. Either you can start a business of crop distribution, or can go for fish farming, livestock farming, poultry farms. Each can prove to be equally profitable.
A business plan for beginners can be that they may begin with a small investment setup and then expand it gradually from the profit generated over time.
23. Renting:
If u have a spare house or a floor or even a room why not consider renting it out? Having a property in commercial areas may prove to be highly profitable. As a profitable business in Lahore and Karachi can be to rent off buildings for commercial use and sit back, relax and make money!
A successful business plan for beginners is to re-invest the rent received into purchasing a new property and renting it out again. For an expanded and much more profitable business.
24. Property Dealing:
It can be said to be the Best Low Investment Business in Pakistan for 2019. Property dealing is an art of creating links and communicating. All you need to do is create a link between the buyer and the seller with cashing in fair commissions for yourself. Thus proves to be an almost no investment business idea in Pakistan.
25. Home-Based Gym:
The community you live in requires certain facilities not always available in Pakistan in a suitable form. For example, gather a group of ladies in your neighbourhood and invest in making a gym in a spare room of your house. The females of Pakistan tend not to trust unknown places thus they will be pleased to go to such a place which they know and trust and you can earn out of it. It may cost you an investment of around 1 lac rupees to purchase all the modern machinery but will prove to be a profitable source of earning in Pakistan.
Conclusion:
If you plan to start your own business but you lack large sums of investment, you still can. All of the small business ideas mentioned above need time, dedication and hard work in the beginning to succeed.
We hope you liked the article, also please do share it as we spent hours to research and craft this guide for you.
These 7 steps will launch your business for good - Thrive Global
Posted: 16 Apr 2019 08:16 AM PDT
Do you recognise these moments, that your mind is drifting away, and you think about all the things that you could do to make this world a better place?
If only you had the perfect idea…..
If only you had more time…..
If only you knew how to move it forward…..
Stop beating around the bush. If you want to change the world, start a business! 
Does this sound terrifying? Is this way out of your comfort zone? Are you not the stereotype entrepreneur?
Good! Because this world does not need more stereotype entrepreneurs! This world needs fresh insights from people outside the business, with innovative, groundbreaking ideas. People with the heart in the right place who really want to make an impact and are willing to go the extra mile.
This article will show you which 7 steps you have to take to launch your business for good.
Step 1: self reflection
"What lies behind us and what lies before us are tiny matters compared to what lies within us." –  Ralph Waldo Emerson
Before you start chasing wild ideas, start with 10 minutes of self reflection:
Think of three moments in your life that you were most happy. When was it and why?
What are you really good at?
Ask your friends, spouse, family, colleagues what you are good at.
What do you enjoy doing the most?
If you look at your life now, what would you like to eliminate right away?
What would happen if you would fill this space with something that would give you a purpose and would make you really happy.
Write down a list of things this could be. Make it a long list with at least 10 things but preferably 25 things you are reasonably good at and that would make you happy. From teaching, to coaching, to cooking, to surfing, to helping neighbours.
Do not limit yourself to ideas that need to bring in money or that someone needs. Start with yourself as the center piece. The rest will follow.
Step 2: what the world needs
"If you want to change the world, start a business" – Willemijn Verloop
Which problems in the world do you care about?
Write down a list of causes, worries, problems or interests that you connect with. It can be anything: the local community center, rare bird species, illiteracy and the well being of children. Make it a long list with at least 10 things but preferably 25 things you care about.
Now bring both lists together. Where do they match?
Helping neighbours links to the community center.
Can you link teaching to rare bird species?
Or link multiple things together: Cooking for neighbours at the community center, teaching children to read, write, cook, and surf. Or teaching people to stop running and connect again with themselves and their environment. To look around, watch the birds, go surfing and cook together. At this stage anything is possible.
Step 3: define what you can be paid for
"Be clear about the purpose of money. Money is like health.  It is necessary for survival but it is not what you live for."  – Ernie J Zelinski
Take the connected ideas from step one and two and think how you can be paid for these services. And who will be paying for it.
Are people willing to pay for a day or a program that helps them to stop running and connect again with themselves and their environment?
Who is paying the teachers that teach kids how to read, write, surf and cook? Can you do this is a regular school? Do you want to set up your own school? Or can you offer this in the form of training modules?
For the cooking for neighbours idea, who will pay for it? Can you get subsidy from the government? Can you ask the people who can afford it, to pay for the people with less income?
There are many possibilities. Some with the potential of a successful business, some with the potential to create massive impact. It is up to you what you value most:
Are you looking for a purpose and for fulfilment in your life?
Do you want to find this in your work?
Do you want make a good living out of it?
You don't have to answer these questions with a yes. You can be perfectly happy being a volunteer at the local community center and cook for the neighbours. But you can also decide to take it to the next level and partner up with an NGO that is doing this throughout the country and can help you scale your efforts. If your goal is to make a good living out of it, then you have to look for ideas with more commercial possibilities. It is your choice.
Step 4: chose you business model for good
"My model for business is The Beatles. They were four guys who kept each other kind of negative tendencies in check. They balanced each other and the total was greater than the sum of the parts. That's how I see business: great things in business are never done by one person, they're done by a team of people." ― Steve Jobs
There are lots of business models for good, but most are not widely known. I cover two examples that fit the ideas mentioned above.
Social franchising
If you decide to cook for the community each week, find funding and grow your community service, then also look into the possibility of social franchising. If you have developed a great formula yourself and you want to grow your service to other communities you can scale your idea by means of social franchising. Social franchising looks a lot like regular franchising but the goal is not to increase revenue, but to scale your impact.
On the other hand, if you have just started cooking at the community center, you can also decide to become a franchisee and partner up with an origination that already has a proven track record of raising funds, has deals with supermarkets to pick up left over food and has a professional training program for volunteers. This would really help you to set up a professional and smooth organization with impact in no time.
One for one
One for one is widely used. TOMS was one of the first to start with this concept. If you buy a pair of TOMS shoes, TOMS gives one pair to a child in need of shoes. Over the years they have developed this further, involving local shoe manufactures and adding eye care. If you buy one pair of glasses, TOMS helps restore sight to a person in need. They are now developing their business model further to one purchase one purpose. For every purchase you do, you support a local charity of your choice.
Another example of one for one is Pampers, who partnered with UNICEF in 2006 to eliminate tetanus. Anyone can get tetanus, but the disease is particularly common and serious in newborn babies and pregnant women. For every Pampers diaper or wipe product with a "One-Pack = One Vaccine" sticker Pampers provided UNICEF with funding for one life-saving tetanus vaccine to protect a mother and her newborn in the developing world.
The one for one model can also be applied to the example in this article. If you would for example sell surf trainings to kids, you could think of sponsoring the education of one child in a developing country for one month.
Step 5: check out your target market
"If you want to create messages that resonate with your audience, you need to know what they care about." – Nate Elliott
The first four steps have given you multiple business ideas. For each of these ideas we will now look into the target market. Who will buy your product or service? Who is willing to pay for it? What are the characteristics of these people?
Depending on your money goal, this step will most likely eliminate some of your business ideas. Go out and ask around what people think of your idea and how much they are willing to pay for it. Even better. Start testing it. The surf idea can be easily tested. Are the surfing lessons you offer just as good or better than the competition? If this is the case, your one for one model might work. If your surf lessons are not as good as the competition, then it will not work out. Quality comes first, doing good comes after.
If you have found the perfect business idea that fits your personal work, life and money goals, then you dive deeper in this one idea.
Step 6: create your story
"Nobody likes to be sold to, but everyone loves a good story." – Dave Kerpen
The first thing you do, is write your story.
Why did you start this business? Who are you doing this for? Why are you so attached to this cause?
The good thing about a business for good is that you do not have to make up a story. You write down your personal story in such a way that people will be attracted to it. People have to recognise themselves in your story. Connect on an emotional level. Explain how it made you feel. Explain the surroundings. Drag your audience into your story. If they care about the same cause, they will instantly feel a connection.
Next you share your story.
Go back to everything you know about your target market. Where do they hang out? Where can you share your story with them?
Social media gives many opportunities nowadays, but this can also give you the impressions you have to be everywhere. Select a few channels where you can reach your target market. Quality first, quantity second. It is for example better to be really visible on one channel every day, then on lots of channels only a once a month.
Look beyond social media channels. Social media channels are not your own. If Facebook decides to change their algorithm, you might reach way less people. This happened already and will most likely only get worse. So also build our own channels. Build for example an e-mail list and send your audience a weekly newsletter. Again quality first. If a weekly newsletter is not doable, start with a monthly newsletter. The more often you do it, the easier it will become.
Step 7: fail fast
"You don't learn to walk by following rules. You learn by doing and falling over." – Richard Branson
The last step is to get going! Just start. Try out the things that you think might work, based on the insights you gained from your target market. Check the statistics. You may have a lot of likes, but if no one buys your product, you are not there yet. Find our where the problem lies and try again. Keep trying. Do not give up.You can change anything. If it does not work, go back to your initial idea and see what needs to be fixed. Use the feedback and use all the new insights to take the next step. Building a business is not easy, but imagine how you will feel when you nail it and you are making massive impact and a great living. 
Are you ready to start?
I have created a free checklist for you to start a successful business with impact. If you tick off all the boxes, you have laid the perfect foundation for your business for good.
McDaniel Innovation Challenge winner focused on untapped market for women in STEM - Carroll County Times
Posted: 16 Apr 2019 02:00 AM PDT
Rachael Fox found the seed of a $10,000 business pitch buried in mud and pond water.
The McDaniel junior is an environmental studies major. In the fall semester, a female expert in her field visited the classroom, but while they were doing lab work, the expert revealed one of her frustrations to Rachael.
Because it's so difficult to find muck boots and waders in women's sizes, she is often slowed down by too-big boots that get stuck in the mud and waders that bunch out and let in water.
Fox was the grand prize winner of the fourth annual Innovation Challenge at McDaniel College, where student groups pitch their business ideas to a panel of four professional judges. As a result of her win, she took home $10,000 of capital, which she will use to begin prototypes for her company Fox Boots.
"Shoes are just a basic necessity. And if you don't have that in the field, you definitely will feel uncomfortable or you might feel at a disadvantage," Fox said.
The Fox Boots mission statement is to "Build a women's boot company that creates a reliable and comfortable product that assists any woman in her outdoor needs."
Fox competed against four other finalists narrowed down from a pool of 18. The contestants had just seven minutes to present their ideas to the judges, though many spent weeks or even years refining their ideas.
Abilitize took home the second-place prize and $3,000. Their company was pitched as an ad agency paired with design consulting that will "empower businesses to engage people with disabilities."
Nolan Wolf, Jeremy Crowley, Thomas Reido and Aidan Finnerty made up the Abilitize team.
Wolf said that businesses potentially miss out on a market of 56 million Americans with disabilities when their products, advertisements and physical businesses aren't accessible.
"The real value we look to provide is giving people … access to consumer goods that they desperately want to use."
The audience favorite was Money Mind, an app dreamed up by Marissa Funke and Renie Tsomos, two graduating seniors majoring in accounting economics and business administration.
The app is designed to teach financial literacy skills in a way that's relateable and less intimidating to their Gen Z peers as they go out into the job market and begin paying down student loans. They left with a $2,000 prize.
The judges had eight minutes to ask questions after each presentation and applied tough love to help the groups bring their pitches to the next level.
The judges included those who returned from previous years and new faces, but all brought spades of business experience. Jason Stambaugh, Guy Sheetz, Debra Cancro and Funlayo Alabi sat on the judges panel. Sheetz and Stambaugh are McDaniel alumni.
Jonathan Weetman, McDaniel College entrepreneur in residence, served as a mentor to the contestants as they worked on their ideas and applications.
"There's so many more McDaniel graduates who are going to find themselves running companies and being entrepreneurs than probably ever before," he said. "If nothing else, this competition gives the entire campus a sense that it can be done."
Overall the presenters showed a level of preparation that brought the judge's decision down to the thinnest of margins, he said.
Fox appeared in chest waders and boots to give her presentation. She pointed out how the waders were the smallest size she could find and still bunched over her boots and left a sizable gap at the top for water and debris to fall in.
"These products are nothing new. What is new is the sizing and proportion of the product," she said.
About 29% of women in STEM — science, technology, engineering and math — fields make use of field work boots, she said.
Looking at a popular outdoor company's website, there were only two choices of chest waders for women — one-sixth of the options available for men.
Of the boots available, the site didn't give the same basic colors of boots available in men's sizes —almost all of the options were bright pink, camo or a combination of the two.
"I'm the person who started this company because this is my future," Fox said.
She is interested in working with animal agriculture and fields in the intersection of human health and food.
In marketing the Fox Boots products, she hopes to partner with colleges and universities as well as companies that employ many women in STEM fields.
The judges encouraged her to continue refining her financial plan and consider plans for how to store inventory as she starts out.
catalina.righter@carrollcountytimes.com
443-974-5583
An IUPUI tradition: Supporting and encouraging innovation - IU Newsroom
Posted: 16 Apr 2019 02:27 PM PDT
When their projects won the top prizes at the 2019 JagStart Student Idea Pitch Competition in April, master's degree candidate Radhika Ravindran and bachelor's degree candidates Samuel Kropp and Eli Hoopengarner joined a long list of IUPUI faculty, staff and students who have created, developed and commercialized innovative products and services.
This history began long before the campus was officially named IUPUI: Indiana University School of Dentistry researchers in Indianapolis created a patented formula in the 1950s that was commercialized as part of Crest toothpaste. Since then, IUPUI has seen the creation, development and commercialization of intellectual property in the fields of computing, engineering, life sciences, medicine, energy and more.
Student entrepreneurs
Undergraduate and graduate students like Ravindran, Kropp and Hoopengarner have participated in the JagStart competition since it was launched in 2012. Its focus has changed over time, sometimes acting as a business pitch competition, but each year it has showcased ideas from students across all IUPUI schools as well as those studying at IUPUC. Winning ideas have been as varied as Ravindran's Kibo technology to make reading books more engaging, technology that gives the user sensations similar to reading raised dots as in Braille and an app that encourages people to moderate their smartphone usage.
Students own their IP, and some commercialize their work by launching startup companies. Brandon Boynton and Zachary Balda launched their company, Vemity, as a business-to-business enterprise that offers artificial intelligence as a service to help clients leverage data they collect. Earlier in 2019, the company was purchased by Indianapolis-based Rover 180.
Faculty and staff entrepreneurs
IUPUI faculty and staff have also successfully commercialized their IP through the years. Perhaps the best-known example is Ali Jafari of the School of Engineering and Technology, who founded Angel Learning Inc. and CourseNetworking. The former was purchased for $100 million in 2009 by Blackboard Inc.; the latter is partially owned by the university.
Other recent examples of faculty and staff becoming entrepreneurs include:
Kevin Berkopes launched Crossroads Education, an education and logistics technology company, while working at the School of Science. Berkopes now works full-time at the company, which recently received a $750,000 grant from the Bill and Melinda Gates Foundation to incorporate its Learning Commons at four schools in Indianapolis.
Chauncey Frend of the Advanced Visualization Lab launched CyUtil LLC to commercialize a system called cy.PIPES, or Programmable Immersive Peripheral Environmental System. It allows developers to synchronize tools that provide immersive environmental conditions -- like fans that create wind or lamps that create heat -- with the visuals and sounds of their virtual reality or augmented reality system.
Terry Loghmani of the School of Health & Human Sciences and Sohel Anwar and Stanley Chien of the School of Engineering and Technology co-founded Health Smart Technologies Inc. The medical device startup's force-sensing instrument system quantifies the forces applied during manual therapy.
University support
As IUPUI faculty and staff develop their inventions, they have access to several resources to protect IP, market and license it, and even commercialize it as the basis for their own startup.
The IU Innovation and Commercialization Office is tasked with the protection and commercialization of technology emanating from innovation by researchers at all IU campuses and academic centers. The process of protecting, marketing and licensing IP begins when researchers disclose innovations either through a newly launched online system or by downloading a form from the Office of the Vice President for Research website. In the 2017-18 fiscal year, the office received 171 invention disclosures, completed 46 licensing agreements, earned $3.4 million in licensing and royalty revenue, and received 141 patents granted by the U.S. Patent and Trademark Office and global organizations.
The IU Research and Technology Corp. catalyzes entrepreneurial activities at the university and provides support for IU innovation-based startup companies. Recently, it launched The Quarry to leverage university assets and to identify mentors, commercialization partners and customers at partner sites like Dimension Mill in Bloomington, the IoT Lab in Fishers, Union 525 in Indianapolis and WestGate@Crane Technology Park in Odon.
IURTC personnel also manage the $15 million IU Philanthropic Venture Fund, which invests in IU-related ventures. It was originally envisioned in the Bicentennial Strategic Plan as part of the university's continuing efforts to contribute to the economic vitality of the state. Since being launched in 2018, the fund has invested $3.1 million in 10 companies. Those companies have raised almost $23 million in syndicated rounds of funding.
From before IUPUI became a school through its first 50 years, student- and faculty-led innovation has been a tradition on campus. With university resources available to support and encourage the work, the tradition is bound to grow stronger during the next 50 years and beyond.
Georgia State Students Take Top Prize at 2019 Schulze Entrepreneurship Challenge - University of St. Thomas Newsroom
Posted: 16 Apr 2019 11:52 AM PDT
On Saturday, Georgia State University students Chante Knox and Dia Davis were named the winners of the Schulze Entrepreneurship Challenge, one of the nation's largest undergraduate business pitch competitions. They secured $75,000 in funding from the Richard M. Schulze Family Foundation to support their budding business, DelivHer.
With the hopes of disrupting the feminine care landscape, DelivHer features the "first new innovation in feminine hygiene products in 80 years." The company's proprietary absorbent cup will be offered through a monthly subscription service.
Knox, DelivHer's founder and inventor, said her experience with the Schulze Entrepreneurship Challenge has been life changing: It was a privilege to be part of such a talented group of competitors, she said.
"I'm so humbled and grateful to have been a part of the competition," Knox added. "The funds we won will allow us to propel our business without giving away equity in the company."
Davis — Knox's partner and investor — is the company's chief operating officer. She was emotional when she found out DelivHer had won the grand prize.
"This moment was the culmination of years of preparation and the tremendous support from the people who stood with us. It brought me back to memories of being a little girl from the inner city dreaming of one day being an entrepreneur," she said.
The Schulze Entrepreneurship Challenge drew more than 100 entries representing 61 colleges and universities across the country. The top 25 finalists competed in the finals at the Schulze School of Entrepreneurship April 11-13 during e-Fest, where $250,000 was awarded. Students also made connections during the event with fellow entrepreneurs and received counsel from judges applicable to building their company.
In addition to DelivHer, other winners included:
Second place, $40,000 – SMARTwheel Inc., University of New Hampshire
Third place, $20,000 – Vascugenix, University of Arkansas – Little Rock
Fourth place, $15,000 – SOULMUCH, San Diego State University
Fifth place, $10,000 – U-Wash, U.S. Airforce Academy
Social Impact Award, $10,000 – Living Waters Systems, Rutgers University
Global Impact Award, $10,000 – Dr. Brinsley, Northeastern University
$70,000 was also awarded in various increments for first-, second- and third-place finishes within each pitch competition room, as well as pitch slam and innovation challenges.
Click here for a full list of finalists and to watch videos about their businesses.
"It was a truly inspiring weekend, to see all the amazing work these students are doing to solve problems that matter and to create innovative new products and services that address those problems," said Laura Dunham, associate dean of the Schulze School of Entrepreneurship. "And it was a lot of fun to be around all that entrepreneurial energy."
Stefanie Lenway, dean of the Opus College of Business, thanked Dick Schulze for making this celebration of entrepreneurship for undergraduates possible.
"The festival of entrepreneurship also highlights the strong entrepreneurial spirit that the Schulze School brings to the entire University of St. Thomas," Lenway said. "After listening to the participants' pitches at e-Fest, I was left with a strong sense of optimism for the future. The students' business ideas will positively impact the lives of many."
The Schulze Entrepreneurship Challenge will host next year's competition in April 2020. Online submissions will open in November. For more information about the competition, including rules and rubrics for judging, visit eiexchange.com/e-fest.

Posted: 16 Apr 2019 09:16 PM PDT
Having no experience as an entrepreneur, Katrina Lake's success is one that is inspirational.  Lake is the founder and CEO of Stitch Fix, an online styling service where customers receive a curated box based on their personal style.  They currently ship in all 50 states. Since launching in 2011, Lake went public with the company. Entrepreneurship was not on her radar, but her journey has been an interesting one.  
Lake wasn't a fan of the glorified tech startup life where entrepreneurs would spend their days and nights coding in a basement.  She worked at a venture capital firm and for a retail consultant group before heading to Harvard Business School which she says was a necessary step. It was in school when she came up with the idea for Stitch Fix.  Lake had been searching for the right company to join after graduation that was working on innovative ideas in the retail space. She realized that she could create that, and she did. She shipped out her first Stitch Fix box while still in school.
She loves the fashion industry, and how it affects your daily life.   "It can impact all the touch points in your day." Stitch Fix allows customers to create a personal profile with their fashion preferences. A stylist then selects items for the customer.  Those selections are shipped to your door for you to try on at home for just $20 a month. Whatever items you don't want to buy, you just ship them back for free. The ones you decide to keep, you have the choice to purchase.
The company turned a profit just after three years.  In 2017, Stitch Fix went public making Lake the youngest woman to take a company public.  It's accurate to say that she has learned a lot from taking an idea from her college days to a unicorn company. "Surround yourself with people who are smart that you will learn from," she said.  She made sure to surround herself with people who challenged her including other successful women. "There's nothing worse than staying the same. When was the last time you really changed your mind about something that is important?" Lake asked. "I had a lot of exposure in my family to women who had done amazing things," Lake said about being influenced. One other point she shared is that you really have to love the company you are building.  The long hours, headaches, disappointments, down moments have to be worth it in the end. As far as getting funded, your investor needs to believe in you. "I don't think I had the typical traits of an entrepreneur," Lake confessed. It wasn't easy raising money, but one investor knew she was the right one to lead the company. The initial offering was just $750k and after she went out to raise more and everyone said no, her investor decided to invest anyway.
The company plans to expand beyond shipping in the U.S. and they are happy to see plus size, an underserved market, grow within their brand.
New Samsung handset: Innovation hinges on folding screen - GoDanRiver.com
Posted: 16 Apr 2019 03:00 PM PDT
LONDON (AP) — When Samsung said this year it would launch a smartphone with a folding screen, the big question was whether the innovation was something people actually wanted or needed.
Is the Galaxy Fold a gimmick to help sell more smartphones in a slowing market or a true breakthrough that will change how we use our devices?
Major manufacturers have in recent years been largely updating smartphones with marginal improvements like better cameras and face scanning technology, so skepticism has been high.
The South Korean electronics company this week offered the media a hands-on preview ahead of the release in the U.S. this month, and the first impression is that a folding screen in some circumstances might be a useful innovation — but at a cost of almost $2,000 it won't be a mass market product anytime soon.
WHY A FOLDABLE SCREEN?
As people increasingly use their phones to do data-hungry tasks like view photos on Instagram and watch movies or TV shows on YouTube or Netflix, Samsung says the case for a folding phone has become clear: People want bigger screens but they also want a phone they can carry around in their pocket.
Skeptics might say that folding phones are a sign that the smartphone industry has run out of good ideas and fallen into an innovation malaise. Samsung isn't alone. Little known Royole started selling its FlexPai in China last year while Chinese tech giant Huawei announced its own folding phone, the Mate X, days after Samsung's announcement.
OPEN AND SHUT
Closed, the Galaxy Fold is about 6.3 centimeters wide and 16 centimeters long (2.5 by 6.3 inches). It felt like holding a TV remote control, but heavier. The phone's two panels are held shut by magnets, so a bit of force is needed to get it open. With a little practice I was able to do it one-handed by jamming my thumb between the two sections to pop them apart.
Samsung spent nearly five years working on the hinge, which went through more than 1,000 prototypes. It uses cogs and gears to give it a smooth feel and has two open positions. First, it unfolds to 140 degrees — handy if you want to put it down on your desk but still need to angle part of the screen for a video call, for example. Bend it further and the screen silently and solidly opens to a flat position. To close the phone, you click it out of the open position and snap the sides shut.
SCREEN TIME
Fully open, there's plenty of real estate on the Galaxy Fold's main screen, which measures 7.3 inches (18.5 centimeters) diagonally. It's great if you want to take and review photos, watch videos or read e-books without squinting. Multi-tasking is also possible with up to three apps open at the same time. Wide open, the Fold felt more like a small tablet than a smartphone, which suggests that one possible market is people who want both kinds of devices but don't want to buy two.
As with anything that folds, there's a crease. It runs down the center of the screen and is visible at certain angles, though I didn't really notice it when using the apps. Samsung developed a new adhesive to glue the composite polymer screen together, and promises it can withstand being opened and closed 200,000 times, or 100 times a day for five years.
The Fold has a second screen, a long, narrow display, on one of its outer panels, so you can continue using apps while it's closed. I tried out a few — YouTube and car racing game "Asphalt" — that transitioned seamlessly between both screens. It could, for example, be useful to consult Google Maps in detail on the big screen before setting off, then put it in your pocket and quickly check the directions en route. But I'm still not convinced that "app continuity" is something I need.
The phone's specs have been available to app makers for a while and the company says most should only need a few tweaks to run properly on its Android operating system. Hundreds of apps have already been "optimized" for the Fold but Samsung won't say how many until it's released.
CAMERAS AND MORE
The Galaxy Fold has no less than six cameras. Three lenses on the rear, another on the cover next to the second screen, and two more inside, including a selfie camera. There's a fingerprint scanner on the right side, which can be used when it's both open and closed. Inside, the battery is split in two, one in each panel, and it has enough juice to wirelessly charge another device, such as the wireless earphones included. It's not clear if the bigger screen needs more power — Samsung hasn't given any battery life estimates, saying only that it may vary.
The Galaxy Fold is set for release in the U.S. on April 26, priced at $1,980. It goes on sale in some Europe markets on May 3.