---
Startups Weekly: US companies raised $30B in Q1 2019 - TechCrunch
Posted: 06 Apr 2019 05:00 AM PDT
Let's start this week's newsletter with some data. Nationally, startups pulled in $30.8 billion in the first quarter of 2019, up 22 percent year-on-year, according to Crunchbase's latest deal round-up.
A closer look at the numbers shows a big drop in angel funding and a slight decrease in mega-rounds, or financings larger than $100 million. The number of mega-rounds fell to 57 deals in Q1 and deal value was down too. With that said, mega-rounds still accounted for $16.4 billion, making Q1 2019 the second-best quarter on record for mega-rounds.
The bottom line is these monstrous deals represented a big chunk (29 percent) of all the dollars invested in U.S. startups in Q1. As investors move downstream and startups opt to stay private longer and longer, we'll continue to see a greater pick up in mega rounds.
Want more TechCrunch newsletters? Sign up here.
OK, on to other news…
After the pink confetti was swept up off the floor, analysts and investors had a different story to tell about one of the first unicorns to make its public debut. Lyft began the week struggling to hit its IPO price, closing several days under that $72, despite opening with a 20 percent pop at $86. What's going on? People are shorting the Lyft stock, looking to profit off the company's sinking value. Things are looking up though; on Friday as I typed this newsletter, Lyft was trading at about $74 per share.
In other IPO, or shall I say, direct listing news, Slack has reportedly chosen the NYSE for its upcoming exit. A quick reminder why Slack has opted to go public via direct listing: The company doesn't need any IPO cash thanks to the hundreds of millions of dollars on its balance sheet, but its longtime employees and investors need the liquidity. A direct listing allows it to go public without listing any new shares, with no lockup period and no intermediary bankers. The whole thing saves it some money and expedites the process. OK, that wasn't as brief as I intended, moving on…
Saying goodbye to venture capital
In a story that sent the entirety of Silicon Valley into a frenzy, Forbes reported that Andreessen Horowitz was denouncing its status as a venture capital firm and would register all its employees as financial advisors. For those inclined, Crunchbase News' Alex Wilhelm and I unpacked what this means in the latest episode of Equity; for those less inclined, here's the TLDR: For a16z to have the freedom to make riskier bets, like buying public company stock or heaps of cryptocurrency, the title of financial advisor gives them that ability.
Femtech, defined as any software, diagnostics, products and services that leverage technology to improve women's health, has attracted some $250 million in VC funding so far this year, according to PitchBook. That puts the sector on pace to secure nearly $1 billion in investment by year-end, greatly surpassing last year's record of $650 million. For more historical context, startups in the space brought in only $62 million in 2012, $225 million in 2014 and $231 million in 2016.
Alternative financier Clearbanc says it will invest $1 billion in 2,000 e-commerce startups in 2019. Here's the catch: Until the companies have paid back 106 percent of Clearbanc's investment, Clearbanc takes a percentage of their revenues every month. Clearbanc's goal is to help companies preserve equity, favoring a revenue share model rather than the traditional VC model, which eats equity in startups in exchange for capital. I spoke to Clearbanc co-founder Michele Romanow to learn more about Clearbanc's attempt to disrupt venture capital.
TechCrunch's Megan Rose Dickey authored the be-all-end-all story on the shared-electric-scooter business. Here's a quick passage: "The startup ecosystem had become accustomed to the ethos of begging for forgiveness, rather than asking for permission. But that's not the case with electric scooters. These companies have found their entire businesses to be contingent on the continued approval from individual cities all over the world. That inherently creates a number of potential conflicts." Extra Crunch subscribers can read the full story here. 
Plus, we dropped the Niantic EC-1, in which Greg Kumparak dives deep into the history of the maker Pokemon Go, contributor Sherwood Morrison looked at remote workers and nomads, who represent the next tech hub.
TechCrunch has confirmed that Airbnb has invested between $150 million to $200 million in Indian hotel startup Oyo. Airbnb confirmed the existence of the deal but not the exact amount. The home-sharing giant is continuing to widen its focus beyond "unconventional" hotels as it prepares to begin selling pubic market investors on its long-term vision. Remember, this deal comes right after its big acquisition of HotelTonight.
WeWork acquired Managed by Q this week, a VC-backed startup that helps office managers and other decision-makers handle supply stocking, cleaning, IT support and other non-work related tasks in the office by simply using the Managed by Q dashboard. The company was most recently valued at $250 million, having raised a total of $128.25 million from investors such as GV,  RRE and Kapor Capital.
If you enjoy this newsletter, be sure to check out TechCrunch's venture-focused podcast, Equity. In this week's episode, available here, Crunchbase News editor-in-chief Alex Wilhelm and I chat about the future of a16z, Jumia's IPO, the Midas list and more of this week's headlines.
Startup Checkup: Roanoke, Blacksburg short on cash to launch startups - Roanoke Times
Posted: 06 Apr 2019 09:00 PM PDT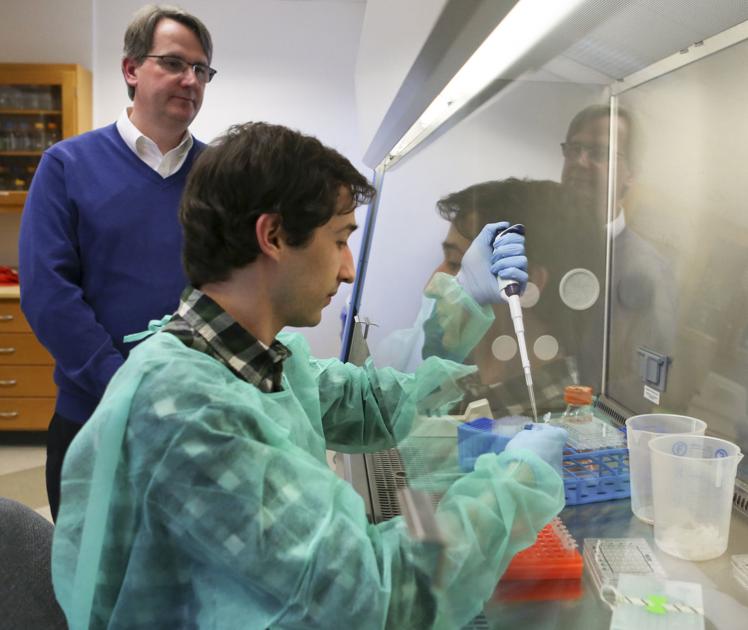 On average, the region has accounted for less than 2% of all Virginia's venture capital investments over the past four years.
Charlottesville brought in four times as much venture capital between 2015 and 2018 as Roanoke, Blacksburg and Lynchburg combined. Chattanooga, Tennessee, quintupled the region's take; Birmingham, Alabama, almost tripled it.
"They [Chattanooga] don't have the research university," local technology leader Doug Juanarena said. "They don't have the high-tech core. They don't have any of this stuff. But that community willed itself into success."
The data comes as the latest gut check by a group of local leaders set on boosting the local technology ecosystem. But first, they say, there needs to be an honest assessment of where things sit today.
The statistics, collected by the Valleys Innovation Council with funding from a GO Virginia grant, drives home a recurring theme across virtually every type of funding startups need at various stages in their life cycles:
There isn't enough money.
VIC Interim Director Greg Feldmann said the region shouldn't be directly compared to Charlottesville because of that locality's long history of medical research. But, he says, these benchmark communities give a good idea of where this region could go in the future with some organized, sustained work.
"The fact of the matter is it takes a gob of money to really grow a company to a significant level," Feldmann said.
Adam Donato, co-founder of Blacksburg greeting card startup Card Isle, said he has raised more money in Staunton and Harrisonburg than from Blacksburg, Roanoke or Virginia Tech alumni networks.
"So that's not going for us here," he said.
For Landos Biopharma, which raised $10 million in 2017 to carry the company through phase I clinical trials for a new drug, the money came from New York with the help of a Boston biotech accelerator.
"I think one of the challenges of this region is that it's not the typical region that VCs are used to investing," Landos CEO Josep Bassaganya-Riera said. "When I started talking with venture firms, I received the typical comment that some investors will make, which is why are you not in Boston or San Francisco?"
Bassaganya-Riera said he did talk with local investors during his company's fundraising efforts a couple of years ago. He said he found a strong investing community, but they had more experience in software startups and not the entirely different world of medicine.
The key for Landos, Bassaganya-Riera said, was convincing out-of-town investors to give his company a serious look.
"If they got past this initial perception of you being an outlier because you are conducting research in Southwest Virginia," Bassaganya-Riera said, "then they would jump into examining the technology and realize that the quality of the work, the science, the technologies are equivalent — or superior in some cases — to research that might be conducted in Kendall Square in Boston."
Startups typically go through several rounds of financing with a mix of difference sources of money en route to maturity.
The first cash infusion is often called the "friends, family and fools" round, coming in before the business idea has been vetted at all.
Later comes crowdfunding campaigns, government grants and seed funds once the entrepreneur has a more solid proof of concept, but one that still needs market validation.
Angel investors, or wealthy individuals looking for companies to back, often join next as startups begin to grow and get ready for a product launch.
Then, once revenue starts rolling in, the biggest checks typically come from venture capitalists, organized groups of angel investors, private equity firms and banks.
Virginia companies raised about $600 million in venture capital in 2018 statewide, according to the VIC study.
The Roanoke-Blacksburg-Lynchburg region accounted for just $700,000 of that, or well under 1% of the state's total.
The same trend applies to earlier stage capital, with the Roanoke-Blacksburg-Lynchburg region bringing in less than $6 million in seed and angel funding between 2015 and 2018, according to the VIC study.
Charlottesville raised $64 million during that same time period, Birmingham $43 million, Chattanooga $23 million and Greenville, South Carolina, $15 million.
(VIC chose each comparison locality for various reasons including their population sizes, proximity to research universities and historically industrial-based economies.).
The only funding category in which this region excels is government innovation grants, where Roanoke, Blacksburg and Lynchburg lead the pack with $104 million between 2015 and 2018.
That compares to $74 million in Charlottesville and less than $15 million in Greenville, Birmingham and Chattanooga.
The financial numbers and comparisons are meant to kick off a conversation about the region's gaps, and ways to find "local solutions to local problems," according to Sam English, a local entrepreneur and author of the VIC study.
Feldmann said that the technology community should be careful not to focus on growing the large venture capital funds without filling in the rest of the pipeline, as there won't be enough businesses surviving long enough to make it to that stage.
The Virginia Tech Foundation and Carilion Clinic previously came together and pooled $15 million to create the VTC Innovation Fund. They have used that fund to invest in more proven businesses.
But last December, the pair teamed up again to launch the new $7 million VTC Seed Fund to target early stage startups with the mission of encouraging more spinouts and boosting the local technology ecosystem.
Feldmann said that's exactly the kind of feeder system the local innovation ecosystem needs.
"They'll have some [startups] that will go down swinging," Feldmann said of the seed fund's portfolio. "But you'll have that 25 to 35% that will advance and become attractive candidates for the [VTC] Innovation Fund."
The VIC has also begun working to pull together angel investors into an organized group. That way they can work together to find startups, vet entrepreneurs and sign more checks.
"I think we started with a core that has been talking about these things for a long time," English said.
"That conversation has expanded. So it's now not just a core of a few individuals talking about it, but as a community we're talking about it — which I find exciting and encouraging."
Turns out Amazon buying Eero wasn't the startup success story we thought - The Verge
Posted: 05 Apr 2019 05:59 PM PDT
When Amazon bought mesh Wi-Fi router company Eero, our first reactions were of exhaustion, consternation and concern: why couldn't a tiny company with an excellent privacy-minded product be left to its own devices, instead of getting snapped up by the big data giant from Seattle?
Now, we know why. Mashable reports that Amazon paid just $97 million for Eero, far less money than the $148 million it reportedly raised as a startup. That's something you don't do unless your business is in trouble, and it means Amazon may have actually saved Eero from a different fate.
The Verge can confirm that $97 million number, by the way, as well as many of the others in Mashable's story — we've seen similar documents, and we believe they're the real deal. Eero declined to comment.
There are many potential side effects to Amazon purchasing Eero in a fire sale rather than at a profit, and Mashable's report details some of them, like how Eero's executives are making out like bandits with multi-million dollar golden parachutes, while rank-and-file employees are now sitting on worthless stock options — or worse, shares they purchased for $3 that are now worth $0.03 each. That's not unusual, but it is a cautionary tale about how stock options work.
But — and we're very deep in speculation territory now — I'm curious if it also means that we should expect less from Eero, under Amazon, than we might have if it were more of a success story for the startup. If Amazon was able to pay so little for Eero, it may well have smaller ambitions for the company, and it would be that much easier to justify killing it off as a failed experiment if anything goes wrong.
After all, Amazon reportedly paid over $1 billion for smart doorbell maker Ring in early 2018, and has barely begun to integrate its products with Amazon's Alexa voice assistant in no-brainer ways, over a year later.
It also might potentially mean that Eero's executives had that much less leverage in negotiations to maintain control of the Eero brand and how it operates. The good news is that Amazon SVP of devices and services Dave Limp assured us last month that the company has no plans to change anything at all, and will keep the company's privacy policy exactly as it is. "If anything, we're just going to strengthen our commitment to both privacy and security," Eero CEO Nick Weaver told us at the time.
And as Nest's Tony Fadell and Oculus' Palmer Luckey will tell you, a big sale price doesn't necessarily mean a founder gets to continue steering a company indefinitely once it's sold.
Amazon's Dave Limp hinted in March that we should expect to see Eero's first attempts to "make the smart home even easier" in the next 6 to 12 months.
Blockchain Mortgage Tech Startup Acre Software Raises $6.5 Mln From UK Financial Advisor - Cointelegraph
Posted: 06 Apr 2019 07:09 AM PDT
United Kingdom startup Acre Software raised about $6.5 million to apply blockchain technology to the mortgage and insurance application process for advisers, a press release published on April 4 states.
Per the release, nearly three-quarters of UK mortgages are facilitated by advisers, and the company aims to help them retain their position by matching the speed of an end-user service. Acre reportedly uses blockchain to store all the data about mortgage advice immutably.
The investment reportedly comes from UK financial adviser Sesame Bankhall Group (SBG), which, according to the release, has more than 11,000 advisers in the country. Owler estimates the annual revenue of the advisory firm to be around $4.5 million. Moreover, the release also claims that SBG closed an exclusive deal with the startup, the details of which were not disclosed.
As Cointelegraph reported in October last year, mortgages are seemingly a target for modernization and decentralization through the application of blockchain technology. Big Four auditing firm PWC claimed in a report that blockchain "technology could remove cost and friction from the process, create transaction records that are infallible and incorruptible, and facilitate near-instantaneous settlement."
More recently, in March, Swiss mortgage bank Hypothekarbank ("Hypi") Lenzburg partnered with Swiss crypto asset manager TokenSuisse to expand the bank's service offerings for crypto and blockchain firms.