Pitching Pitbull: The start-ups hitting Miami Beach for a chance to woo the superstar - CNBC
---
Pitching Pitbull: The start-ups hitting Miami Beach for a chance to woo the superstar - CNBC
Posted: 29 Apr 2019 09:58 AM PDT
While Silicon Valley remains the world's leading hub for tech start-ups and entrepreneurial energy, South Florida is cultivating a new generation of innovators.
Miami has become a hotbed of entrepreneurial activity. Last year alone saw $1.38 billion invested in South Florida start-ups. Start-ups based in the greater Miami area snagged three quarters of the state's total venture capital take and more than half of all deals made, according to a 2018 year-end report published by eMerge Americas.
This week it's eMerge Americas conference, a two-day technology summit that brings together start-ups, government leaders and global enterprises. The conference, which dates back to 2012, connects talent from North America, Latin America and Europe, with the goal of infusing capital into technology-driven start-ups outside the Silicon Valley area.
"Over the last six years, eMerge Americas has served as a catalyst in order to propel innovation and investment in the region," said eMerge president Melissa Medina. "When we first launched, we did not have much interest from investors, but I can tell you firsthand that this is no longer the case — we now have investors from all over the world connecting with us and the start-ups in our showcase."
More than 100 young companies will convene onstage to pitch their business ideas in front of thousands and grab the attention of investors who can take their start-up to the next level. One of those investors is no stranger to the streets of Miami: Armando "Pitbull" Christian Perez, the Grammy award-winning artist, entrepreneur and a partner to the conference. Perez will judge the Startup Showcase Finale alongside Alex Estevez, a partner at Accel Ventures, and Jack Selby, managing director at Clarium Capital Management. For the first time this year, eMerge Americas also is launching an investor-matchmaking platform for accredited investors to directly engage and set up individual meetings with the start-up founders.
Some of the world's biggest venture investors are at eMerge, including Paulo Passoni, who was recently appointed managing investment director of SoftBank International following the launch of the SoftBank Innovation Fund, an unprecedented $5 billion investment in new Latin American tech firms.
Here are a few of the start-ups competing at eMerge Americas this year.
Aeriu
Founder: Gergely Ellenrieder (CEO)
Year founded: 2017
Headquarters: Budapest, Hungary
The Amazon era has brought with it an unprecedented and sustained e-commerce boom. Though it's been a looming threat to some of the biggest retailers that are trying to grow their business online, the internet giant has left an equally if not bigger footprint offline, in the logistics sector.
According to a CBRE survey, the average age of a U.S. warehouse is 34 years, meaning that many lack modern upgrades as the demand for industrial real estate continues to skyrocket. Add in Amazon's recent announcement to make free one-day shipping the default for Prime members and inventory efficiency becomes a heightened priority for companies that dare to compete.
Aeriu is a Hungarian start-up mobilizing drones to rethink the way companies manage their inventory.
"Human error and inefficiency is something that Aeriu is working to remove entirely," says CEO Gergely Ellenrieder.
While autonomous flight and drone technology continue to face a variety of regulatory hurdles, Aeriu has sidestepped the use of specialized aircraft and instead embraces commercial drones to collect data in the cloud and automate its measurement in-house.
The start-up's approach has caught the attention of a company that's arguably known best for its massive stores and endless aisles of inventory: Ikea. The Swedish retailer began using Aeriu software in the Soroksár store in Budapest earlier this year, putting the technology on trial for customers seeking real-time information about a product's availability.
EveryMundo
Founders: Anton Diego (CEO), Seth Cassel (President)
Year founded: 2006
Headquarters: Miami
Over the past two decades, airlines have spent tons of time and resources attempting to catch up to the top online travel agencies in an exceedingly saturated industry. That's where EveryMundo comes in. The start-up is a tried and true software company that has developed software products to help airlines compete online.
EveryMundo works with over 40 airlines, in 30-plus languages and has a presence in more than 120 countries.
"EveryMundo's technology empowers airline customers to find the best fares on the right days of travel," said Seth Cassel, president of EveryMundo. "However, EveryMundo's greatest benefit to the airlines may be the change in mindset we are inducing among airlines' digital executives to view their digital presence as a series of products rather than projects."
According to Cassel, airlines have overbudgeted on projects that are partially obsolete upon launch or end up failing entirely.
"EveryMundo breaks that cycle by offering airlines digital products living on the EveryMundo platform that accomplish their digital-user experience goals," Cassel said. "And EveryMundo takes responsibility for the launch, maintenance and innovation of these user-experience technologies."
GoGig
Founder: Chris Hodges (CEO)
Year founded: 2016
Headquarters: Fort Lauderdale, Florida
Finding a new job can be a never-ending headache. In fact, reports have suggested that it takes one month to find a job for every $10,000 of a paycheck an individual would like to earn. So in theory, a search for a $60,000 paying job could take six months.
Anonymous job search platform GoGig is looking to speed up that search. "At GoGig we are providing currently employed and actively seeking professionals a new way to network based on their career desires without revealing their identity," said Chris Hodges, founder and CEO of GoGig in a LinkedIn post.
The start-up uses AI and algorithms to match users with hiring companies based upon education, employment history, expectations for one's next career move, personality and location. The candidates are displayed to hiring managers in order of match percentages.
Lula
Founders: Matthew Vega-Sanz (CEO), Michael Vega-Sanz (President)
Year founded: 2016
Headquarters: Boston
Credit Karma estimates that Americans spend just over $4,000 a year personally on Uber and Lyft rides. This figure is based on an average Lyft and Uber ride charge of about $22 and assuming three to four trips per week — an assumption based on data from the U.S. Department of Transportation's National Household Travel Survey and American Automobile Association's American Driving Survey.
For some college students, that's almost an entire semester of courses, which is the realization that Matthew Vega-Sanz and his twin brother Michael had during their time at Babson College. Lula was born out of a late-night pizza run and evolved into an idea that's reached more than 350 campuses across the country.
Lula is a free app that allows college students to rent out each other's cars. Unlike traditional ride-share services, which pick riders up within minutes, Lula users have to plan their rentals in advance for as little as $5 an hour or $30 a day.
"Babson is in a secluded area, and we didn't have many options," said Michael Vega-Sanz. "We said, 'Let's take an Uber,' but it was going to be $30 to pick up an $8 pizza. As two broke college students without access to a car, we realized then that college students have been neglected by transportation companies."
For students looking to pay down their student loans, the Vega-Sanz twins claim that users on the peer-to-peer platform can make up to $250 a month. After recently closing on $620,000 in funding, the start-up is in the midst of another fundraising campaign, with the goal of providing access to cars, bikes, scooters and any other form of transportation that makes pizza cravings just a bit more affordable.
Unima
Founders: Jose Luis Nuno (CEO), Laura Mendoza
Year founded: 2016
Headquarters: Guadalajara, Mexico
The spectacular failure of Silicon Valley unicorn Theranos — and Elizabeth Holmes' fall from grace — has given the blood- testing business a bad name, but investors and start-ups in the sector are undeterred.
Diagnosing diseases like tuberculosis is a process that can be expensive and time-consuming. Unima claims it has created a way to do so without any lab equipment and for as little as $1. Using a low-cost blood test for infectious diseases like tuberculosis or HIV is only the beginning.
Through a drop of the patient's blood on diagnostic paper, a chemical reaction is created that can then be photographed on the strip of paper through Unima's mobile app and return the assessment just 10 minutes later. Founder and CEO Jose Nuno claims an average accuracy of 96%, versus a 75% accuracy for current laboratory tests that cost $20 on average in the U.S.
Unima's goal is to create cost-effective diagnostic solutions that increase the chances of survival and overall quality of life for 2 billion people in the developing world.
—Additional reporting by Donovan Russo
California synagogue shooting casts harsh light on cyber-defense firm Cloudflare - STLtoday.com
Posted: 30 Apr 2019 10:48 AM PDT
BOSTON • The gunmen accused of attacking U.S. synagogues and New Zealand mosques over the past six months brewed their ideas on online hate sites, pulling U.S. cyber-defense firm Cloudflare Inc. into a debate on the balance between online speech and security.
The attacks have prompted some investors to ask fresh questions about the company's services allowing the sites to mask their real locations on the Internet to thwart hackers. That is one of the core services used by clients that have more than 12 million Internet properties, including government agencies and major e-commerce operations.
"The temperature has turned up," said Doug Kramer, general counsel for the privately-held San Francisco-based company.
Investors asked questions after Cloudflare's services were linked to reports about shooters' activity on hate sites, Kramer said in an interview this week.
"They understandably want to know how we think about these things," Kramer said, declining to name investors.
Fidelity Investments and Franklin Resources Inc.'s Franklin Templeton funds hold stakes in Cloudflare. Both declined to comment.
The alleged gunman who killed one person and wounded three at a San Diego synagogue on Saturday, as well as one who massacred 50 people at New Zealand mosques in March, had posted hate-filled screeds on the 8chan message board, a Cloudflare client. The man accused of killing 11 people at a Pittsburgh synagogue in October did likewise on Gab, also a Cloudflare client, according to Internet records.
Cloudflare helped both those sites mask their real Internet protocol addresses. The service obfuscates where its customers are hosted, making it more difficult to hold them accountable, said Micah Schaffer, a technology policy consultant and former Snap Inc executive.
'Cloaking' people
Cloudflare does not passively move information, said Alex Stamos, a Stanford University professor who previously served in top cybersecurity roles at Facebook Inc. and Yahoo.
"They are cloaking these companies and cloaking the people behind them," Stamos told the information security "Risky Business" podcast shortly after the New Zealand shootings.
Stamos squared off against Islamic State terrorists as Facebook's chief security officer and said, compared to ISIS, white supremacist terrorists can more easily find a home on sites like 8chan.
"Nobody was willing to be the official ISIS chatboard, but 8chan is willing to be that (for white supremacists), and that changes the entire texture of the effort to fight it," he said in a phone interview. Officials at 8chan did not respond to requests for comment.
But Kramer said Cloudflare treats all clients the same, citing far more banal content.
"It's stuff like cat photos and family reunion photos," Kramer said, adding that Cloudflare does not believe its role is to monitor the legality and appropriateness of content on client sites. "If we do that, it gets messy really quickly."
One notable exception came in 2017 when Cloudflare stopped routing the traffic for neo-Nazi website Daily Stormer after the site falsely labeled the company as a secret supporter of the hate ideology.
Cloudflare is private, but the company is interested in an initial public offering that could value it at more than $3.5 billion, Reuters reported in October, citing people familiar with the matter.
Fidelity funds, including Contrafund, value their investment in Cloudflare at more than $100 million, according to disclosures with the U.S. Securities and Exchange Commission.
Cloudflare said it has never provided law enforcement with a feed of customer content. However, should law enforcement contact the company about unlawful activity, it will provide information about the hosting provider, as needed, the company said in an email.
Brittan Heller, a fellow at Harvard University's Kennedy School of Government, said Cloudflare is in an awkward position dealing with clients that run hate sites.
"Sometimes they have to hold their nose at the clients," she said. 
What's the next internet-like investing opportunity? Some on Wall Street say it's spaceflight - CNN
Posted: 29 Apr 2019 04:50 PM PDT
[unable to retrieve full-text content]
What's the next internet-like investing opportunity? Some on Wall Street say it's spaceflight
CNN
New spaceflight technologies could reshape the global economy on a level not seen since the internet.
Space environmentalist and TED Fellow Moriba Jah interviewed on Recode Decode podcast - Recode
Posted: 29 Apr 2019 04:00 AM PDT
On the latest episode of Recode Decode with Kara Swisher, Kara passed the mic to her executive producer Erica Anderson, who recently attended the 2019 TED Conference in Vancouver, Canada. On the new podcast, you'll hear four interviews with TED Fellows, up-and-coming innovators in science and technology who give talks about their work on the conference's first day.
Below, we've shared a lightly edited full transcript of the second of those four interviews: In it, Erica talks to astronomer Moriba Jah, a self-described "space environmentalist" who studies the old satellites and other debris floating in orbit, also known as "space junk." At the conference, he also explained why space could be a "trillion-dollar business" — and not just because of people going up, but also because of the private data that could be gathered from cameras pointed back down at the Earth.
"Knowing what people do and how they move and how they interact as pervasive and as persistent as possible, that's a big business," Jah said. "So now if you tie the Internet of Things on the ground with what is in orbit, that's like a mega set of information. I'll put it this way, people are very surprised with the level of knowledge that a company like Google might have. If they start incorporating space-based information and linking that with stuff going on the ground, that's going to blow people's minds, big time."
You can hear all four interviews right now on Recode Decode, which you'll find on Apple Podcasts, Spotify, Google Podcasts, Pocket Casts, Overcast, or wherever you get your podcasts. Or, just listen using the embedded audio player below.
---
Erica Anderson: Moriba, welcome to Recode Decode.
Moriba Jah: Thank you very much. It's a pleasure and honor to be here.
So let's start. What is space junk?
Yeah, so basically since we've been putting up satellites — Sputnik all the way to the current day — most of what we put up there doesn't come back. It dies, it ages, it falls apart. Every once in a while, two things collide with each other or something will blow up or somebody will blow something up. And then these things become many more pieces that are also mostly never coming back. And so the population is just growing, and it grows on its own, and it grows because we're launching stuff and more and more countries are getting involved in space, and they want to put more stuff on orbit.
So currently there's a hypothesis, about half a million objects ranging in size from a speck of paint all the way to a school bus that could harm any services and capabilities we depend upon, like global positioning system, banking, weather warnings, agriculture, TV communications, and soon even the internet. Because that's the new thing. I mean, SpaceX and Amazon, now they all want to rush to send thousands of satellites up there to provide global internet.
How did you learn about this issue? How did you learn about the issue of space junk and the need for solutions?
My career started off at NASA's Jet Propulsion Lab. I was a spacecraft navigator navigating several missions to Mars and that sort of stuff. But then I stumbled upon the work that the Air Force Research Laboratory was doing. And from a defense perspective, one of the questions is "debris or not debris." That is the question.
Nice. So all right. Now that we understand, I think we have a baseline of space junk. Tell me, what's the big idea? What are you here at TED talking about?
Yeah. So one of the things that's very unfortunate is that there isn't a consistent space traffic map around earth's orbit. If you ask the US government, "Oh, well what do you think is up there?" and where it's at, you'll get an answer. If you asked the Russian government, you'll get an answer. And they're different. If you asked the Chinese, you'll get a different answer. Ask five people the question, you'll get 10 different answers, sort of thing.
And so one of the things that I'm trying to do is I ask people this question, "How do you know that you have the world's most accurate clock?" And the way that you know is because you have hundreds of them. And that's how time has actually standardized across the globe. You have hundreds of atomic clocks that predict what the time is and then they kind of crowdsource that and figure out what the actual time is.
In order to get through really what's up there and where it's going and what can it do, the idea is to crowdsource multiple sources of independent information and see where does it seem to be consistent and where is it inconsistent, and do it in such a way that no single entity can dominate or bias what that answer is. Because some people are very happy with having this sort of mystery cloak around space, right? They can just do whatever because it's the Wild West up there. It's like a gold rush because people see, "Oh, wow, there are trillions of dollars to be made with space-based services. There are no space traffic rules. It's like the Wild West. I'm just going to go up there and make my claim and make my money and get out." And I'm like, "Ahh, hold on a second. Let's think about long-term sustainability of that environment." I want to make sure nothing hides. That's my goal: to make space transparent and predictable.
So you want to find the common answer with the metaphor of a clock.
Exactly. What is the common answer? That's right.
You showed a chart, a visual in your presentation that had the information from the United States versus the information from Russia about the kind of the rate of space junk out there. And it was totally different. So you've identified this challenge is kind of different sources of truth, if you will.
Exactly. Opinions.
Opinions. So this is the idea. So your idea is to create really like space traffic information, a way to understand a common source of what's happening in space. What was the inspiration for this?
Basically, I worked for the Air Force Research Laboratory for a decade. I've seen escalatory language in the news, meaning the US is saying, "Well, China has these capabilities, and we need to prepare for a war in space." And China is saying one thing and Russia is saying the other. And before anybody presses some weird red button, I would like to say, "Hold off, let's really understand what's going on."
Because people ... In the absence of knowledge, people become very paranoid. And so I want to provide a basis of scientific evidence so that we can make informed decisions and not just act in ignorance. Because right now there's just a lot of ignorance. And I've got to tell you, people are very concerned about intent. "Oh, well, when this satellite comes close to mine, what's their intent? Do they just not know they're that close or are they trying to do something to me?" And the more people send satellites in space, that's going to be a growing concern.
So how do you execute this?
So right now, at the University of Texas at Austin, there's this thing called the Texas Advanced Computing Center, which is where Astra Graph lives, autonomously we're grabbing several sources of information, bringing that into this graph database. And then when you go to the website, it visualizes all these things.
So right now, we're in the final stages of developing an API that would let people interact with the graph database. I want to open this up to amateur telescope operators, like people from all over the globe. "Hey, deposit your evidence in this common bucket." And then we're going to have algorithms that are going to try to sort this stuff out to come up with this sort of common knowledge and make it globally accessible. That's the thing, is that anybody can have access to this stuff for safety and sustainability.
So I was just going to ask, who would use this? Who would use this database?
Let me give you an example. You have African countries that are developing their own kind of space agencies and that sort of stuff. Nigeria has a space agency. They only have a few satellites. Guess what? Nigeria doesn't have a global network of sensors to track stuff in their orbital neighborhood. And so it's like, "How do the Nigerians stay safe? How do they know when to get out of the way if something is going to come towards them?" And so this basic service would be to facilitate people who just don't have all this capability to know where everything is at all the time. But they're space operators. And so if they're on the highway, it would be nice to remove the blindfold and let them see the traffic that's around them.
And really to level the playing field to make this kind of information accessible.
Exactly.
Yeah. I want to jump back to something you said that's fascinating. You said that the future of space is a trillion-dollar business. What are the types of things you've seen happen in the space exploration area that have to do with building new businesses up there? Because we actually can't see it. We hear about these ideas of what people are doing. But from your perspective, what are those big kind of new business ideas that are happening?
Right. So I would say, by and large, there are two dominating camps. One of them is communications, and most of the money made in space is based on communications. Now with the thought of having internet anywhere on the planet, 24/7, that's a big business. I mean, like I said, Elon Musk with SpaceX, Bezos with [Blue Origin], they want to put stuff up there, and that's just the US. I mean, European companies have their own ideas. China has their own ideas for this stuff. So that's definitely a big market place.
The other dominant camp is the remote sensing looking down. So I mentioned things with cameras looking to the surface of the earth. I said agriculture, disaster relief. But in general, human-based activity monitoring, that's a big deal. Everything from government intelligence agencies that want to track motion of certain people around the planet, to people that might say, "Hey, I want to see what kind of cars are being driven in this parking lot on what days of the week so I can figure out how to strategize and market." Knowing what people do and how they move and how they interact as pervasive and as persistent as possible, that's a big business.
So now if you tie the Internet of Things on the ground with what is in orbit, that's like a mega set of information. I'll put it this way, people are very surprised with the level of knowledge that a company like Google might have. If they start incorporating space-based information and linking that with stuff going on the ground, that's going to blow people's minds, big time.
Let me give you another example. Let's say country A has all these space-based capabilities looking down, and they go to have a conversation with country B about, I don't know, mining. Country B doesn't have all these assets. When country A goes to talk to country B and says, "Well, so what's the price of the gold or this and that in your country?" Country B can't just say whatever they want because country A can say, "You know what? I actually know the answer because I see how much dirt you're actually moving on a daily basis and based on where your mines are located and how many trucks I see, that means that your yield is only this percent." So it completely gives an advantage to certain groups or entities if they have this knowledge over other people in just doing regular business.
Wow.
Big time.
So space surveillance.
Exactly.
Yeah.
And if you can sell that on tap, that is a lot of money to be made there.
So it's almost like what you're doing in terms of like your ... it's about space junk, but you want to understand, and you want to make it transparent, you want to kind of lift the veil a bit on what's happening, so that it's almost like an ethical pursuit, in some sense.
In some sense, yes.
Yeah. So back to the space junk, should there be junkyards up in space? And this is a silly question, but once you monitor it and understand it, what do you do with it? Do they just exist?
Right. So it turns out that there actually is a junkyard in space.
A junkyard. Yeah.
Yeah, yeah. There is one, and it's called the GEO Graveyard. So the geostationary space highway, if you will, is located about 36,000 kilometers above the earth's surface. And it's where you put a satellite such that the time it takes a satellite to go once around in its orbit is equivalent to an Earth day. So that helps you point your dish at a certain region in the sky and you'll always get a signal. The GEO Graveyard is about 300 kilometers above GEO. And we've been putting things there for a long time. I can tell you that it's bad news because things in the graveyard are actually coming back to the highway sooner than people predicted. So we actually have zombies. Yeah, zombie objects.
Define zombie objects.
So basically you put something up there, you think it's dead and it can't do any harm. And this dead thing all of a sudden breaks up and produces kids after death. And these kids now come in ...
This is terrifying.
I know!
What?
Right?
Yeah.
Yeah. So we see evidence of that whole thing, and it's just not so good. So here's the thing: If I can come up with a science that monitors this stuff, can quantify the birth and death processes of all these things, if I can develop a taxonomy to classify things and say these species of these things in this region behave this way versus that way, then we can start talking about: How do you mitigate this stuff? How do you slow down the rate of this stuff? How do you ... but you can't get there unless you have that kind of foundational body of knowledge.
Right. More specific information and ...
That's right.
Wow. There's so much to think about Moriba, my mind is blown. So last question, what do you hope to accomplish?
What I want to do is I want to, A, raise awareness. I really, really want for space to be safe, secure, and sustainable long term. And my pathway to get there is by trying to make space transparent and predictable. And I can't get to transparency and predictability without information from as many different sources as possible. And so I just want to crowdsource the living ___ out of all this information, make it automated, and make it publicly and globally accessible, so that nothing hides. I want nothing to hide in space.
Wow. All right. Cool. Thank you so much for coming on Recode Decode.
Thank you for having me. Thank you.
This article originally appeared on Recode.net.
YouTubers Are Obsessed With Reviewing Yelp's Worst-Rated Businesses - BuzzFeed News
Posted: 30 Apr 2019 08:17 AM PDT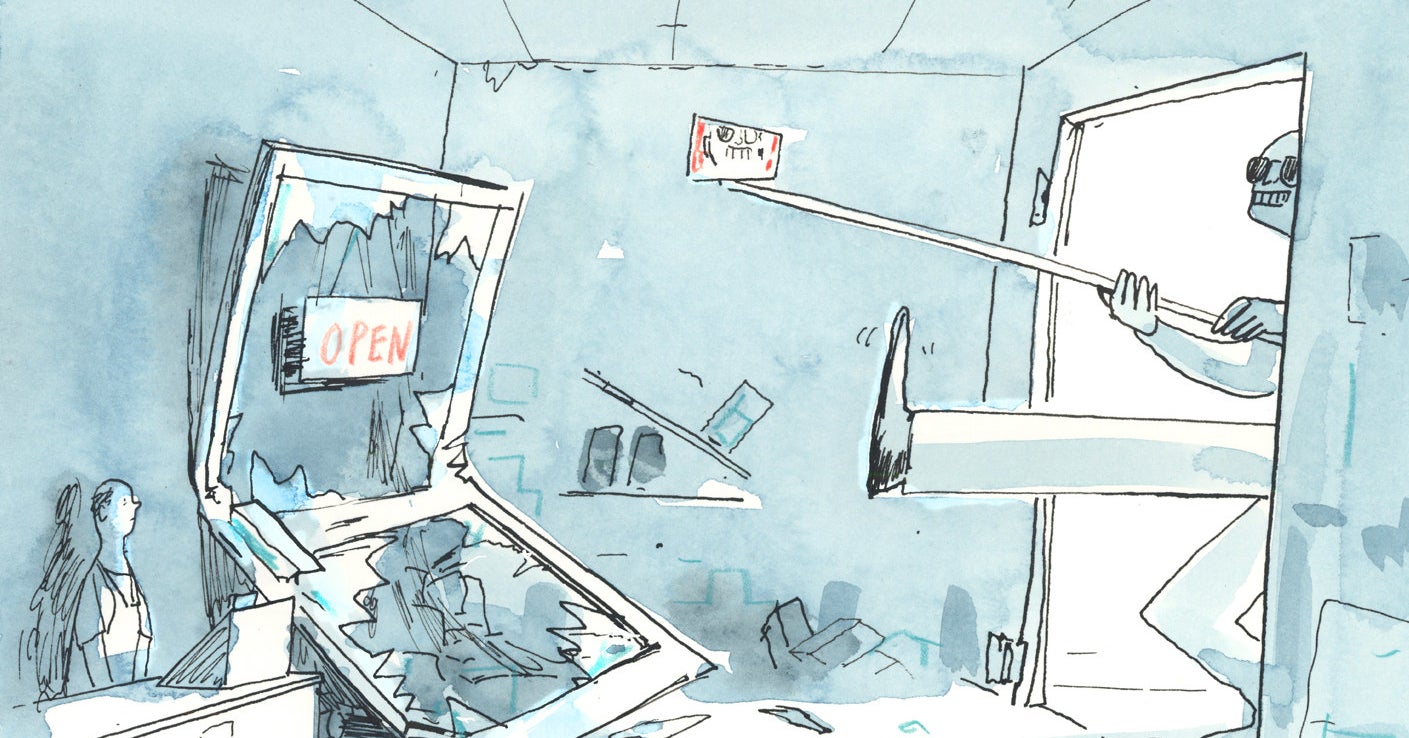 There are no illusions as to what YouTube users are looking for when they click on titles that hold the promise of catastrophe. It's why a video called "Pencil Stuck in My Eye Prank" has nearly 13 million views, why some of the platform's most popular vloggers have taken baths in liquids like hot sauce, and why a video of a woman stomping grapes and then falling and injuring herself was an early viral hit on the video-sharing platform.
In recent weeks, a legion of YouTubers big and small have been subjecting themselves to discomfort in a novel way: by visiting their local "worst" businesses as determined by online reviews, particularly the behemoth app of the sector, Yelp. Each "worst reviewed" video follows essentially the same format. The willing customer scrolls through Yelp reviews until they find the lowest rated of one particular kind of business. They then read some sample negative reviews to prime their viewers, and themselves, for what to expect, a ritual that nearly always involves the YouTuber exclaiming, "I'm so nervous!" or "I'm so freaked out right now!" Next comes the actual visit to the business, which the video creator attempts to film, either covertly or outright. The end of each video then comes with a breakdown of the highs and lows of the visit as well as the ultimate judgment: Is this business really as bad as Yelp reviews say it is?
The worst reviewed genre is just the latest iteration of the frivolous consumerism that's long been a staple of the platform's trends. Frequent YouTube viewers will recall summer 2016, when it seemed like any vlogger looking for guaranteed views was putting 100 layers of a beauty product, and sometimes variants like glue, on their bare and willing bodies. The appeal lay in observing the mysteriously pleasurable (and wasteful) wonder of seeing someone crumble as they struggle to slather one more layer of mascara on their quivering, encrusted eyelashes. Meanwhile, "haul videos" have flourished for more than a decade on the platform. The genre has since germinated easily brandable, dollar-specific offshoots like "$100 challenge" where creators "challenge" themselves to spend $100 at a specific store or $1,000 at a vape shop or at Urban Outfitters for the ugliest clothes or to simply click on every ad on YouTube. "Worst Reviewed" videos combine a Fear Factor–esque approach to late capitalism with the heightened melodrama of Yelp reviews. But unlike the latter, which are meant to deter customers from spending their money on bad customer experiences, in worst reviewed videos there's a schadenfreudist pleasure in seeing those experiences go wrong.
 "Worst Reviewed" videos combine a Fear Factor–esque approach to late capitalism with the heightened melodrama of Yelp reviews.

"I love doing this video even though I wasted $27 and had a really bad experience," says vlogger Tiffany Ma in her video "Going To The Worst Reviewed Nail Salon In My City! (it's WORSE than I thought)," which as of this writing has nearly 2 million views. In another popular worst reviewed video, YouTuber daisy kaur visits a 2-star-rated beauty salon in Manhattan. When recounting her trip at the end of the video, she cringes while remembering how her makeup artist (whose face she shows unblurred) used unclean applicators and old products on her face. "This was a really fun experiment to film," she concludes. "'Cause I wasn't really expecting it to go this bad, but it did and it's actually quite funny." In the final shots and in the description she reveals that the experience gave her an allergic reaction, a testament to the video's veracity and the latent dangers of being a consumer.
Searching through these videos, it's not hard to find the horror stories, as when YouTuber Brennen Taylor appears to find a mouse at the worst reviewed hotel in Los Angeles and then pornography under the mattress at one in San Francisco. (Their almost suspiciously eventful stays have garnered over 3.5 million and 500,000 views respectively.) But among these are also videos that call the entire enterprise of crowdsourced reviews into question. Despite the intended universality of the 5-star rating system, each individual's ideas of what makes a business worth supporting are inherently shaped by their cultural and economic background. Quite visibly on Yelp, judgments between the best and worst restaurant or spa can devolve into remarks about "sketchy" neighborhoods or complaints of workers speaking with accents. Any open forum takes on the perspective of its users. Yelp — with its expendable-income-having, optic-conscious, smartphone-reliant, and opinionated ideal user — has one shaped by urban upper classes. And in deprioritizing face-to-face dialogue, emphasizing narratives of discovery, and championing everything "Hot & New," it has meshed well with the language and spirit of gentrification.
At their worst, these videos revel in the weaponized power of online reviews. But at their best, worst reviewed videos inadvertently shine light on the cracks in Yelp's veneer of crowdsourced infallibility. Jeremy Stoppelman and Russel Simmons, former PayPal engineers, launched the site in October 2004, focusing on the tech and culinary haven of San Francisco. Not long after, business owners began raising concerns as customers' comments on the site started to have real-life financial repercussions. By 2009, a number of businesses complained that Yelp refused to investigate or remove factually erroneous, and possibly fake, reviews from their pages. A 2010 class-action lawsuit claimed that the site offered to obscure bad reviews for businesses willing to pay a $300 monthly fee. In response, Yelp denied the claims, but added a link to allow users to see the reviews the site's quality control algorithm had filtered out. Meanwhile, last year, the Hill reported that anonymous hackers were increasingly extorting businesses for money under threat of ruining their Yelp reputations.

Despite concerns about misuse, however, the site grew rapidly, going public in 2012, thanks in part to the appeal of its gamified, social media–mimicking design. On Yelp, readers can endorse reviews, voting them as "useful," "funny," or "cool," thus encouraging Yelpers to make their reviews not only informative, but entertaining enough to be included in, say, a delightful internet video. Each reviewer gets a profile that includes their "stats," like how many "friends" they have on the platform or how many reviews they have contributed. The site's most avid and "reliable" reviewers are encouraged to join the site's "Elite Squad." Only those with "a detailed personal profile, an active voting and complimenting record, and a history of playing well with others," according to Yelp's support website, gain admittance to the exclusive group. By the end of 2018, users had contributed 177 million reviews for the site, a 20% increase from the year before. And despite the attention negative reviews get, half of all business ratings on the site are five stars.
Not everyone, however, gets a loud voice or a fair shake on the internet's favorite reviews site. As sociolinguist Camilla Vasquez notes in her 2014 book The Discourse of Online Consumer Reviews, the majority of Yelp users are "internet-savvy young adults in the 18–25 range, and affluent, suburban baby boomers, with interests in culture and travel." According to the site's own demographics, the majority of users are college graduates and people who make $100,000 a year or more. This slant of user base has resulted in visible reviewing biases regardless of user location. Food writers have long pointed to how restaurants serving cuisine that originates from non–Western European countries (unendingly referred to as "ethnic food") judge such businesses against flawed notions of authenticity or perceive them as more likely to be dangerous. Meanwhile, a 2015 study by sociologist Sharon Zukin found that Yelp reviews of businesses in the gentrifying, majority-black Bed-Stuy section of Brooklyn were more likely to negatively characterize the surrounding neighborhood compared to reviews of businesses in nearby, majority-white Greenpoint. "While Yelp itself might seem to be an egalitarian space, its putative frictionlessness conceals very real class antagonisms," wrote historian Dylan Gottlieb in a 2015 report for Gastronomica. "Due to their limited economic and social capital, immigrants remain harder to hear on Yelp." Watching the slew of "worst reviewed" videos on YouTube, it's clear a significant number of them focus on businesses that appear to be immigrant-owned or in low-income neighborhoods, places where a certain well-to-do (and more likely than not, white) customer might find themselves feeling uncomfortable or insufficiently catered to.
Watching "worst reviewed" videos on YouTube, it's clear a significant number of them focus on businesses that appear to be immigrant-owned or in low-income neighborhoods.

In November 2018, before the trend hit its peak, Vice Media launched a web series dedicated to the premise called One Star Reviews. In the first episode, host Taji Ameen visits New Jersey tattoo parlor Fat Kat Tattoo, which at the time of filming averaged a 1-star rating on Yelp. As the shop's owner, Nate, etches a rough tattoo of a surfer onto Ameen's upper arm, Ameen takes the opportunity to ask the artist, whom several unsatisfied reviewers complained about by name, about his shop's bad reputation. After a tentative laugh, Nate explains that a hard couple years in his personal life impacted his business. "I might have not done 100% quality work like I used to, but no one cares to ask what happened or what's going on or whatever," he says sadly. "They just jump on the bandwagon and go about their merry way." At the end of the episode, Ameen gives the business a 5-star Yelp review, citing Nate's "new outlook on life" and raising Fat Kat's average rating to 3 stars. In a later episode, Ameen asks a "worst rated" plastic surgeon about his business's own bad reviews, to which the doctor presents copies of lawsuits he has filed against offending reviewers. "Writing a review is like a Donald Trump tweet," he says. "Anyone can say anything at 3 o'clock in the morning."
Ameen told me in an interview that getting to experience some grittier, low-regarded establishments is what attracted him to the opportunity. And indeed, many businesses featured in worst reviewed videos are of the sort that seem to be disappearing from gentrified, spit-shined urban landscapes. "In a way we're almost trying to celebrate these imperfections that we almost find to be beautiful," said Ameen. "[If] I go to one and the person is truly awful and matches all of the reviews, then I'm gonna obviously be honest and give them a bad review. It's not like we're looking to promote people. But the people we're drawn to, the businesses we're drawn to, [are] almost underdogs. And [we just want] to go and find out for ourselves what's going on with them. Maybe they got better, maybe they're still bad."
In the most-watched worst reviewed video posted on March 23, which has almost 9.5 million views as of this writing, beauty vlogger Jeffree Star travels to the supposedly worst tattoo shop in all of Houston, only to decide the business is too "sketch," as his assistant puts it, to actually patronize. With camera and entourage in tow, he tours the business's cramped interior. And though, as the video shows, the business's Yelp reviews were horrific, its lobby has waiting customers. Star takes a selfie with a fan and books an appointment to get a tattoo that night.
Back in the car, the conversation between Star and his assistant takes an abruptly somber turn. "I personally don't feel comfortable with you doing this at all," she tells Star as they sit facing each other in the back of their chauffered car. Star agrees to abandon his appointment, admitting, "It looked a little prison-y in there." With someone of Star's visibility, safety at any public appearance is a legitimate concern. However, with so much focus on the details that make up the shop's "sketchiness" — the barbed wire on the fence outside, the perceived rudeness of the shop employee, the black person in the parking lot wearing a bathrobe (their face unblurred), which Star jokingly compares to a Versace one he owns — class assumptions visibly play a part in Star's decision to leave and not come back. In the end, with the challenge unfulfilled, the video amounts to little more than a suspenseful exercise in class tourism.
Many businesses featured in worst reviewed videos are of the sort that seem to be disappearing from gentrified, spit-shined urban landscapes.

Not every worst reviewed vlogger is plagued by the same blind spots. In Ma's nail salon video, she says that at salons staffed and owned by Vietnamese people she, being a quarter Vietnamese, often gets treated better than other customers at the same salons because she can understand the language. In another video featuring a worst reviewed hair salon, Ma notes that a salon owner, who has a heavy Vietnamese accent, reminds her of her grandmother. Nevertheless, her critiques of both businesses focus explicitly on their quality of service, both of which she found to be deserving of 1-star ratings.
The most open-minded of all the Yelp-exploring vloggers is Los Angeles–based YouTuber Mar, who jumped on the trend two months ago. In her first worst reviewed reviewed video, she visits a low-rated nail salon. "I love that nail salon," she said in a phone interview. "I was so inspired. I was like, I need to find other places with really bad reviews that are secretly amazing." Over the course of her now 16 worst reviewed videos, she has found multiple places good enough to return to, including that nail salon and a low-rated massage parlor that Yelp reviewers described as having rude service. Not all of her videos end in positive assessments, but she said more often than not she has been surprised by how good the worst-rated businesses she vlogs are. But it was a bad experience with a highly rated dog daycare last fall that showed her how unreliable Yelp reviews can be. "My dog was really mistreated and I tried to leave a bad Yelp review on that page and it kept getting deleted," she says. "I think for businesses it really just depends on how much attention you just give to Yelp." In Mar's view, businesses that don't carefully and intentionally tend to their Yelp reputations are at a disadvantage on the site. "Obviously, the internet had been around for a long time, but some people still don't realize everybody, before you go to a restaurant, you're looking at the pictures on Yelp," she says. "Where I took my dog, clearly they gave Yelp a lot of attention because all their reviews were still good. But that doesn't mean it's true."
After a two-month-long height, the worst reviewed trend is likely now nearing the end of its run. But unlike most YouTube trends, it provides a snapshot of both the gamified nature of our current consumerism and the contentiousness of one of the internet's most trusted consumer review sites. Businesses rated 3 stars and below on Yelp are not merely places to think twice about giving your money. They also hold the thrill of an amusement park ride or, at their most classist, a horror film.
While many of these videos approach the customer experience as impersonal and treacherous, and small businesses as infinite and replaceable, there are those few that remind us that it can be more than a post on a webpage. At their simplest, however, what makes a worst reviewed video "good" is exactly what makes a Yelp review "good." It's not strictly about the service or business at hand. It's all about the drama. ●
---
Ann-Derrick Gaillot is a freelance culture writer based in Missoula, Montana.

Alphabet's Other Bets shows the cost of starting three businesses - Quartz
Posted: 29 Apr 2019 02:32 PM PDT
Alphabet is on a mission to be more than an ad company, and right now, it's focusing on three groundbreaking ideas to do that: Wing, Waymo, and Loon.
In just the last week, Waymo, Alphabet's self-driving car company, announced it was opening a factory in Detroit to build autonomous vehicles ahead of a wider rollout of its ride-hailing service; its drone-delivery company Wing was given clearance to start delivering products in the US; and Loon, the internet-balloon company announced a $125 million investment from SoftBank ahead of launching a service in Kenya.
But the cost of breaking that ground is showing up on Alphabet's bottom line. Unlike Google's advertising business, all three of these new companies rely on completely new pieces of hardware. Waymo needs cars and storage facilities; Wing requires drones and chargers; and Loon needs balloons and connectivity infrastructure.
Alphabet's operating losses for its Other Bets—the term it uses to list all its moonshots and early-stage businesses—increased nearly by nearly $300 million in the first quarter of 2019 compared to the same time last year, the company reported in its quarterly earnings today (April 29). Alphabet lost $868 million in the Other Bets category in the quarter, compared to to $571 million in the same quarter in 2018.
Losses in Other Bets isn't abnormal for Alphabet—the company has long used its behemoth advertising business to buoy its ideas that just didn't make money yet. Yet Wing, Waymo, and Loon are poised to launch to real customers. That means investment in more than just research and development, but a slew of new costs related to bringing a product to bear. Think customer support, marketing, office space, HR departments, and just about every other capital expenditure you can think of.
Investors didn't find the rest of Alphabet's earnings rosy, either. The company reported slowing ad sales, only posting a 15% increase in sales for the quarter, compared to 24% in the same period last year. And while the company generated $36.3 billion in overall revenue this quarter, its growth rate slowed to 17%, compared to 28% a year ago. The company's stock dipped more than 7% to $1,203.00 in after-hours trading.
Unhappy at work? Get out! - Minneapolis Star Tribune
Posted: 30 Apr 2019 05:01 PM PDT
I've worked in the mortgage business for 17 years. And over the past few years, a close friend of mine and I often talked about the depressing state of the industry. Every time I ran an idea by him about a job I was considering, he went bass bravado with eerie undertones and repeated, half-mocking, half-imploring, "Get out!" for each valiant "But, but, but, what about XXXX?" I offered.
I knew he was right. But it took four years before I actually got out for good — last December. These days, I'm a consultant to small- and medium-size businesses and a writer. Getting out was the best career decision I've ever made.
Let me tell you the back story and then offer a little advice if you, too, need to get out of the job or career you're in.
Roller-coaster ride
I started selling mortgages initially because of a successful friend, and a lack of better ideas. Then I took the ride and hung on.
As if having almost no sales during the past couple of years (following my best years three and four years ago when I earned about $100,000 annually) was not frustrating enough, I had also jumped companies three times in 12 months and four times in the past two years. Each time, there was a promise for "more leads" or "better leads" or "better service" or "better pricing." And each time, the job didn't work out as planned.
It wasn't just a case of false promises by the companies. It was also dealing with apathetic, indifferent mortgage prospects again and again.
These days, three major banks and one giant lender (Quicken Loans) control the industry. They use catchy, informative ads and are strong enough to convince today's borrowers and home buyers that they don't need to talk to a "sales guy" to get a mortgage done.
This represents a monumental shift in this business. When I began in mortgage sales, the technology was sketchy and the target market was skeptical of handling business transactions online. Times have changed. Radically.
Millennial home buyers — the biggest consumer group in housing — prefer making mortgage decisions (and so many other decisions) via the internet, rather than by working with another human.
Another big change in my field: Plentiful leads from real estate agents had been key to my earlier success. But my referral sources aged out and the ones who were left possessed a smaller number of listings, contacts and leads.
Spending a lot of time fuming about nonproductive referral sources makes a job heavy, daunting and oppressive. That was my experience.
The turning point
The turning point for me came as a result of the 2008 credit crisis that rocked the banking world, altering every aspect of the way loans were initiated, processed and approved. The environment morphed from a salesy, customer-centric, low-document frenzy to a document-expansive, regulatory and compliance-infested nightmare. I went from being a good fit to a poor one. From that point on, it was impossible to deny the realization that I didn't like the mortgage world and it didn't like me.
I stayed on, however, because I felt stuck. I knew the business was not for me, but all my other ideas, including the ones I'm pursuing now, came without immediate financial rewards. Ultimately, though, I realized that remuneration for my sales efforts was even less promising than making a major career change in midlife.
Now that I'm out, my spirits have improved. I'm filled with hope and energy again. There are a lot of positive forces coming together internally and externally.
I can't claim victory yet; all I've really done is begun playing a new game on a new field. But I have absolutely no regrets and not even the slightest temptation to go back to my former field or life.
My five tips
Now to my five tips if you think it may be time for you to get out, too:
1. If tech and the internet are phasing you out, look for a niche where not only experience, but other talents, are increasingly in need. Find the gaps and match those gaps with your skills and experience. Creative and consulting positions and projects are examples. Computers usually don't sing or dance or help children or the elderly.
2. You know the old rule "look for a new job while you already have one?" It's become easier to follow it these days, because of technology. Almost every industry has online resources that provide listings for temporary and part-time jobs. Don't be surprised if your job interviews are conducted on tape or live over the internet. Mine have.
3. "Age" is an obstacle when looking for work after 50, but "experience" is an asset. Play up your experience and skills; play down how old you are. Don't lie about your age, but don't raise it as a possible concern, either. Lately, I haven't had anyone ask me when I got my college degree — just where it's from and what it was in.
4. Look to your talents, aptitudes, abilities and skills that do not require an extensive track record to get a job or a gig. If you play an instrument, paint, sing, speak publicly, write or can otherwise demonstrate your talent on the spot, you have an excellent chance of finding at least temporary projects or work. Success on those can then lead to much more.
5. Consider a balance of your dream and the steam. The "steam" (as in steam engine) is grabbing an unskilled job you need to ensure there's money coming in and the train keeps running. Uber or Lyft driving is one way to make a decent living, if you put in the time. It's not a bad gig, and if you have the stamina, it may suffice. But if you limit your hours doing that driving (and, of course, your income), you can pursue something more fulfilling and potentially, better paying.
So, what are you waiting for?
This article originally appeared on NextAvenue.org.
Walmart: New Store in New York Shows AI's Promises, Pitfalls - Fortune
Posted: 30 Apr 2019 06:52 AM PDT
Walmart has opened a store in Levittown, N.Y. that is intended to showcase the power of artificial intelligence.
The store, announced last week, is packed with video cameras, digital screens, and over 100 servers, making it appear more like a corporate data center than a discount retailer.
All that machinery helps Walmart automatically track inventory so that it knows when toilet paper is running low or that milk needs restocking. The company's goal is to create "a glimpse into the future of retail," when computers rather than humans are expected to do a lot of retail's grunt work.
Walmart's push into artificial intelligence highlights how retailers are increasingly adding data crunching to their brick and mortar stores. But it also sheds light on some of the potential pitfalls as consumers grow increasing wary of technology amid an endless stream of privacy mishaps at companies like Facebook.
Walmart isn't alone, of course, in trying to reinvent itself in an industry that is facing a huge threat from tech-savvy Amazon. Grocery chain Kroger, for instance, said earlier this year that it had tapped Microsoft to help it build two "connected experience" stores in which shoppers would, among other things, get personalized deals—possibly on their phones as they walk inside or on screens mounted on the shelves.
Mark Russinovich, the chief technology officer of Microsoft Azure, told Fortune in a recent interview that such futuristic stores would need to handle their data crunching nearby, rather than doing it far away in the cloud—to avoid lag time. Equipping these Internet-connected stores could be a lucrative business for companies like Microsoft that want to sell computing power to retailers.
The vendors even have a name for this emerging market—edge computing. But there's no guarantee that retailers will be saved by it because consumers may balk at cameras tracking their movements while they walk up and down the aisles and being bombarded by discount offers.
In apparent anticipation of the blowback, Walmart has filled its new store with kiosks that tell shoppers more about the technology it has installed. For retailers to be successful, consumers must feel comfortable about how their data is being used and with how they're tracked.
Companies that pitch A.I. as the future shouldn't just assume that customers will go along for the ride.
Jonathan Vanian
@JonathanVanian
jonathan.vanian@fortune.com
HOTspot on 59 seeks to impact community - Gulf Coast News Today
Posted: 30 Apr 2019 02:16 PM PDT
By Jessica Vaughn
FOLEY - The HOTspot on 59 is located within the original Onlooker building (217 North McKenzie Street, Foley), and CEO/Attorney Angela Grace is hoping to put the creative energy within to good use towards helping local entrepreneurs reach their goals.
"Our mission at the HOTspot is to help our members access their marketplace whether it is local or global," Grace said. "Our goal is to help our members identify and realize their professional goals. We will help take members from start to finish no matter what stage they are at in their business or idea, and we are committed to our members getting the appropriate services for them to thrive in whatever they choose."
What started as a simple idea for a coworking space quickly grew as Grace began making connections within the community and came to realize a need for a business consultant in the area, a place where entrepreneurs could go to seek advice, tips, and warnings in every aspect of owning and operating a business. Thus, the HOTspot on 59 was created. The space is a full-service virtual community that helps entrepreneurs start and scale their business, while providing them with "infrastructure, guidance, and support so they can avoid the common mistakes entrepreneurs typically make," according to its Facebook.
To meet that end, the HOTspot comes equipped with everything entrepreneurs need to begin their dream career, filed down into three main tiers: sales and marketing, professional services, and support.
Within the HOTspot, a full media studio is offered where podcasts and video content can be filmed, edited, and marketed.
"Marketing is extremely important," Grace said. "It doesn't matter if you put your business out there in flyer form or if you put it on Instagram, you need strategic marketing. Who's your customer, where are they, what's going to reach them, how do you know your marketing is effective? We help support entrepreneurs through finding the answers to these questions and plan campaigns to reach new customers. With the internet you can have an unlimited customer base in certain businesses."
Once the questions are answered, how do you actually put the information to good use to help expand and grow your business? That's where professional services comes in, to help keep businesses moving in the right direction.
"Professional and legal services are offered here onsite," Grace said. "Most people need the structure, because they may have a great idea and have gotten traction, but now they're wondering what licenses they need, do they need to incorporate, what bank account should they use, what taxes will they need to pay, all which are important questions to new business owners."
Grace states one of the most important things for any entrepreneur is having a strong support system to help them press forward and to not lose sight or give in on their dream business. To this end, the HOTspot offers a creative, community vibe where fellow entrepreneurs can gather to discuss ideas, share thoughts and designs, and swap stories of both success and do-overs.
"If you go to the HOTspot Facebook you can watch interactive webinars and podcasts, and we'll do more in the future as our community grows," Grace said.
One of the first outreaches within the community for the HOTspot was having seniors from Foley High School visit the business to discuss their own projects and entrepreneurships among their peers. Grace stated many of the students already had plans or online shops that could easily expand in the future, and she hopes the students, along with any entrepreneur in Baldwin County, knows that professional consulting is available to them right here in Foley.
"We want to be a catalyst for bringing people together and then launching their businesses into the community," said Grace. "That's what we're doing, we're bringing people in, we're helping to make them successful, and then we're spinning them out and they're going into the community able to say that they're helping it grow, and this is where it started."
For more information on the HOTspot on 59, visit their Facebook page.